A year ago, our NGO ICT4D.at – Austrian Network for Information and Communication Technologies for Development – launched the workshop The Nimble Building Days in collaboration with the Austrian Red Cross (Wiener Rotes Kreuz – Flüchtlingshilfe). The event took place at the Kurierhaus, a 4,000 m2 refugee center in the city center of Vienna. We had a limited budget and three days to realize the embellishment of the refugee center, supported by motivated participants, the intensive use of Peer-to-Peer and other donation platforms. Therefore, the use of these digital platforms had a central role in our approach, combining solidarity, eco-responsibility (second-hand, DIY, …) with the constraint of limiting costs. Our aim was to sensitize the political sphere and the Red Cross to the financial benefits of such approach where a limited budget and the desire for a sizeable operation have encouraged us to find other ways. We considered the city as an immense source of materials, more accessible and affordable, newly visible through these online platforms. Digital tools free up creativity while contributing to making us citizens and professionals more responsible, more concerned about their environment and the project conditions. But most of all, the operation was an undeniable human success.
A year after, 2 other operations of different scales have been conducted still in collaboration by the Red Cross Vienna. Here are some pictures of the last project in Altmannsdorfer Straße (Vienna) in its final stage. Members of ICT4D.at, refugees, friends and volunteers have been working together to transform the courtyard into a a playful gr  een space for the residents of the center. Elements of our first project have also found a second life such as the "Kurierhaus Green Sofas" made out of unused Emergency bed and which have survived the whole winter. We hope that they will last for a little while. Furthermore, part of the ground floor had also been turned into a new social and educational hotspot during a previous Nimble Building Days event.
You made a wonderful job guys and happy birthday to TEAM NIMBLE! A new project including a maker space for refugees is on the way and we are always open for new collaborations and sharing ideas.
Enregistrer
We got invited by Jakob Lederer from the Institute for Water Quality, Resource and Waste Management to present our work and projects at the Vienna University of Technology due to our engagement in Mozambique and our connection to INSO, the Research Group for Industrial Software. We will deliver a guest lecture as part of the Course Transfer of Environmental Technologies to Developing Countries. In the past we worked in cooperation with the UEM and INSO within our ICT4DMZ project and we will share our experience. We will try to give a short glimpse of the topic ICT4D in general, will then talk about our ICT4DMZ project – what happened and what are our future plans and then further talk about our Team Nimble. Paul will represent our association and INSO, since he is involved in both organisations, so don't miss it:
International Development Cooperation at TU Wien
Wednesday 07.06.2017, 15:30-17:00 at TU Wien
(Seminarraum 384, Gußhausstraße 27-29, Stiege I, 4. Stock)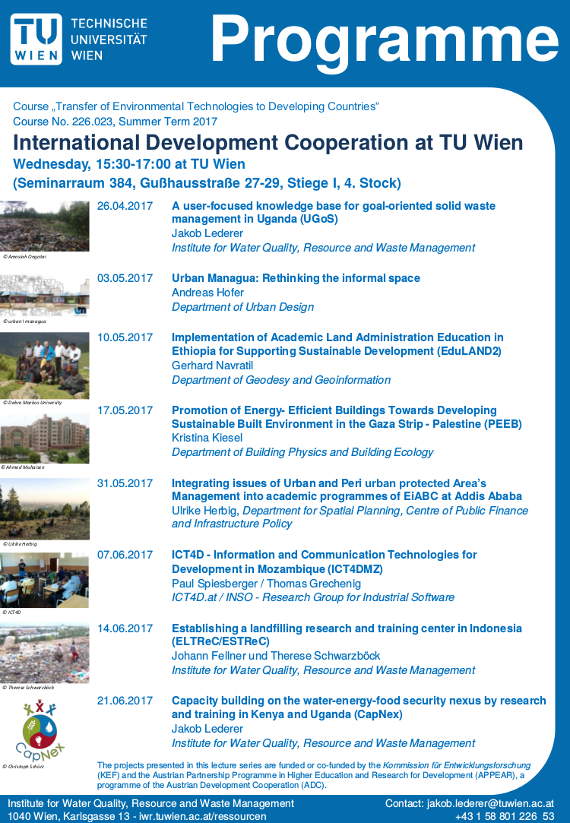 The Helpathon is a Hackathon where participants focus on developing IT-solutions for people in need. This kind of event gained a new level of importance since more and more refugees from Africa and the Middle East are seeking shelter in european countries. It took place at TU Vienna throughout the weekend on November 14th and 15th.
Our freshly re-elected chairman Paul (member of the INSO and one of the organisers of the Helpathon) invited us (Chloé Zimmermann, Florian Sturm and me) to team up and try our best. Which was not easy for anyone in the beginning – just a few hours ago Paris was hit by terrorist attacks and the news spread like a shockwave. It was difficult to focus under these circumstances. But we tried hard and figured out a nice concept after talking to Ulrike Karpfen and Elisabeth Palugyay from the Viennese Red Cross and Jochen Petri from Train Of Hope. Because two thirds of us weren't able to write code for an IT-programm we decided to take the exact opposite direction.
The idea: Provide a flexible information system for buildings and rooms that is easy to understand for both refugees and helpers.
The key: Well designed Pictograms which can be sprayed or sticked easily onto walls and also be rearranged quickly. Furthermore the pictograms can be downloaded from a website. New pictograms can be uploaded and users can recommend well designed pictograms. All pictograms should also have a positive "attitude", which means there should not be any signs that show prohibitions. In our opinion it is better to show people in need what they can do instead of what they must not do. It may be a way to contribute to the well-being of refugees and prevent frustration.
Our credo: Doing it as low-tech as possible to make it useable for every organisation.
When an architect, an IT-developer and a graphic designer combine their skills there might be some chaos first but in the end something beautiful can happen. As the deadline approached on Sunday we felt the pressure growing but we didn't give up. We finished in time and presented our idea to a jury next to 5 other teams. After a thrilling hour of waiting the result finally relieved us: 2nd place and 1000€ for the realisation of the project. A wonderful ending of this rollercoaster ride called Helpathon.
We are looking forward to the next steps of this exciting project! Stay tuned!
|