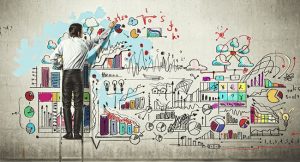 A day like today 10 years ago I decided to quit my job in IBM. I no longer wanted to wake up every morning and work 10 hours to make someone in the US richer and richer. I had volunteered in Peru and Mozambique during the summer holidays and I knew I wanted to work in development. I had however witnessed how private companies can influence policies, move governments and transform the lives of people in developed and developing countries, and it was that sweet spot between development and the private sector that was most appealing to me.
Luckily for me, the development industry has undergone a profound change over the last decade and has moved closer to that sweet spot. Old funding models and narrow focused interventions are no longer the norm. Donors are increasingly requesting Public Private Partnerships where private companies need to provide co-funding for the implementation of a program. Nowadays development objectives (including a theory of change) and business model design (including pricing) are two sections of the same project proposal. An agricultural program now needs to put women equity at its heart, focus on nutrition and food security while achieving economic, social, technological and environmental sustainability. This holistic approach can promote transformational and long lasting change, but it is also much more complex to develop, manage and evaluate than "old school" donor funded programs.
Having managed a small component of a multi-country (14) multi-million (24) multi-partner (40) program that aimed to integrate agriculture and nutrition goals using mobile phones, while attempting to demonstrate 'impacts at scale' and value for money, I can tell you: getting to the end goal is not a walk in the park. While I was still involved in the program I was approached by a researcher from Ottawa University, interested in analyzing this complex program using a systems approach to understand the relationship between its numerous sub-components and its different development goals. The result was an academic paper that has recently been published in Food Security (Springer), which will hopefully influence donors and academia to revisit their approach to complex development programs and to ensure that the sweet spot between development and businesses becomes sweeter in the years to come.
Here I leave you the abstract and a link to the paper.
International development programming is increasingly integrating agriculture and nutrition goals, while attempting to demonstrate 'impacts at scale' and value for money. These multiple goals create complexities, both from a conceptual viewpoint and a more operational perspective. This article uses systems theory to examine the mobile Nutrition program (mNutrition), which aims to improve nutrition, food security and livelihoods for rural women and children, through mobile phone-based information services.  The paper specifically uses mNutrition's work in Malawi as a case study. The systems approach reveals that, as a complex system with numerous sub-components and tensions among different goals, the mNutrition program tended to minimize connections between its sub-systems (such as content development and mobile service development processes) in order to speed up movement towards the global planned outcomes. We argue that this is likely to have multiple impacts on outcomes, including on overall effectiveness and the relevance and sustainability of the mobile message content.
In 2016 nearly 70% of the bottom fifth of the population in developing countries owned a mobile phone, meaning that the poorest households are more likely to have access to mobiles than toilets or even clean water[1]. This breathtaking reality offers a clear opportunity to use available technologies to increase the outreach and efficiency of specific development interventions. Both donors and civil society organisations (CSOs) are wary of the opportunities and challenges associated with using ICTs in a development context, and much effort has been placed on developing commercially viable and sustainable mobile services for agriculture, health and nutrition over the last few years. However, ICTs are only one piece in a bigger system and sometimes we need to step back a bit to discover how a programme is having an unexpected negative impact in the very same people it is trying to benefit.
My name is Alvaro Valverde and until recently I was working with Oxfam as Private Sector Adviser (ICTs). My work included leading two programmes that used mobile phones to advance Oxfam's work on livelihoods and women empowerment. One of the programmes was mNutrition, which aims to improve nutrition, food security and livelihoods for people living in poverty in 13 countries, especially women and children, through increased scale and sustainability of mobile based nutrition-sensitive information services on health (mHealth) and agriculture (mAgri). The second programme was Women's Economic Empowerment and Care (WE-Care), my role focused on the use of ICTs for building evidence for influencing change on unpaid care work (e.g. cooking, cleaning and taking care of the children) in Malawi.
The mNutrition programme in Malawi developed SMS and IVR services for agriculture and health in collaboration with Airtel, the government of Malawi and local content partners. The service arm concentrated on creating commercially viable services, while the content arm focused on developing scientific based behavioural change information and messages. In parallel, the WE-Care programme implemented three research methodologies to gather evidence on the current distribution of unpaid care work in Malawi and on the impact that access to mNutrition services and content had in the re-distribution and reduction of unpaid care work for women smallholder farmers in the country.
Through participatory action research the WE-Care programme identified the current challenges and unequal distribution of care related activities at the household level in Malawi. This research was followed by a household survey, where detailed data was gathered using mobile phones from almost 600 households. The findings from both methodologies supported the idea that women in Malawi have an extremely busy daily schedule, as they carry out the vast majority of care related activities within their households, apart from also engaging in income generating activities.
The third methodology was a Randomised Control Trial (RCT), which aimed to understand the impact that access to mNutrition services had on the allocation of time to unpaid care work. Participants in the treatment group received a total of 24 SMS on their mobile phones (health, agriculture and food preparation messages) while those in the control group received a total of 12 messages containing interesting facts and seasonal greetings. The findings from the RCT revealed that the mNutrition programme was having an unexpected impact on the lives of the participants: users of the services prioritized the application of those messages directly related to income-generating activities during the first two months of receiving the information, to the detriment of messages directly linked to health and food practices; this increase in the time allocated to productive work also resulted in a reduction of sleep hours and time dedicated to personal care, as well as a higher perception of the occurrence of domestic violence by participants in the treatment group.
While it is worth taking into account the short period of time in which the RCT took place, these results point to higher calorie consumption by the participants (more time spent in the field and less sleep hours) and no increase in calorie intake, which could result in a potential reduction of the nutrition levels of the beneficiaries in the short term. This would directly challenge the overall goal of the mNutrition programme and even its sustainability in the long term. These findings were used to create a set of recommendations for the redesign of the mNutrition programme and also to inform the development of future ICT4D programmes that target poor women living in developing countries. Read the complete research and recommendations here.
There are three main things I have learned from this experience: women in developing countries have an extremely busy daily schedule and successful behaviour change can only happen if women's time constraints are taken into account from the onset of a programme; more research is needed to better understand what works and what doesn't when using ICTs in a developing context, particularly for mobile based information services that aim to promote behavioural change; and ICT4D programmes should not be developed in isolation, but rather linked to ongoing development interventions and existing sources of information.
[1] http://documents.worldbank.org/curated/en/896971468194972881/pdf/102725-PUB-Replacement-PUBLIC.pdf
Tags:
agriculture
,
care work
,
Health
,
IVR
,
mobile network operator
,
nutrition
,
public private partnership
,
randomised control trial
,
SMS
,
systems thinking
,
women empowerment
What is the link between mobile value-added services and unpaid care work?
was published on 07.12.2016 by Alvaro Valverde. It files under
sub saharan africa
You can follow any responses to this entry through the
RSS 2.0
feed.
Notes from the World Bank workshop "ICTs for Women's Empowerment" in Washington.
Detailed CVs of the speakers
Samia Melhem, Senior Operations Officer
ICTs are a great equalizer, they allow people to reach places and profit from services they would have never profited without them
Promoting women employment is also an economic factor – doing things differently – e.g. women project leaders, women teachers, …
also in IT policy making – diversity and variety makes decision more successful
they have also different information needs than men – but more men are producing (internet) content
Nilufar Ahmad, Senior Gender Specialist
why is gender important in the infrastructure sector?
Sri Lanka – cybercafes have turned into "young men's" club, where women don't go to
they don't feel comfortable
solution: cybercafe in a temple, women could use it
would not be possible in Pakistan of Afghanistan
in infrastructure projects such effects should be kept in mind
women and men don't have the same power, they don't have the same needs
Claudia Morrell, CEO, Multinational Development of Women in Technology
strong focus on access when discussing gender inequalities
for women there are barriers in access – you have to ask what the barriers are to address them
literacy is important – do you speak the language the content is in? is there localized content?
women know what content might be interesting for women
women know what design is fitting for women
another key point: access to leadership, women are often excluded from careers
NGO capacity – who drives big, important issues forward in the developing world, where the civil society is not as strong as in the Western World?
Nistha Sinha, Economist, PRMGE
Gender is an important topic
solid evidence base is vital for policy recommendations
it's important to know your data source and what it tells you
Q & A
how do you think should international organizations address ICT and gender problems connected to people being victims of the international crisis – shouldn't be saving them from dying be a bigger issue?
of course surviving is more important, but ICT literacy can also be a big benefit in such a situation; any infrastructure can help save the population – streets, watter supply, as well as ICT – providing possibility to get a job
there is not enough data right now about indicators concerning gender – or does the panel know about a indicator framework? or is anybody working on that?
there is no universal framework the World Bank has adopted
figuring out the indicators is important and is still lacking
it's also vital to know what to do with the indicators – how to use them
why is there not enough support on security in the context of projects? is there a thought ensuring security so that the work becomes sustainable?
of course security is a substantial issue and needs to be looked after; generally projects in the development context need to shift their focus towards sustainability which also involves security
recommendation: number one issue for global corporation currently is (out)sourcing and finding the perfect workforce for their needs, so inject the private sector business with your views that women in ICTs have large potentials; what is the communication with the private sector to assist and collaborate on the topic?
demand for it is increasing – also in developing countries, see example of India
the comment is valuable and maybe it is possible to create a set of advice what to put in the report to address these topics
|