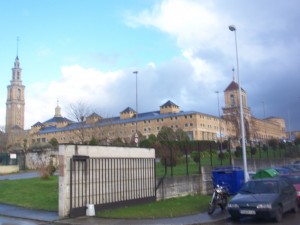 Just a short update from Gijon, where we are right now at the Cooperation 2.0 meeting at the Universidad Laboral (picture on the right).
What's really impressive here is the content sharing platform integration – the video of a speech is being put online immediately (Cooperation 2.0 youtube channel), there's live twittering (Cooperation 2.0 Twitter channel – regrettably in Spanish), FlickR (Cooperation 2.0 FlickR account) and as Ismael Peña-López is present, there's also live blogging (ictlogy.net).
Just this minute I finished my own presentation on Web 2.0 in ICT4D organizations with the following slides.
The talks so far have been very interesting, the opinions range from very enthusiastic about ICT4D to very cautious: The audience is partly the same as at Network Society Barcelona last October.
The overall topic of the meeting is "Innovation" and all the speakers so far pointed out the need for innovative applications and projects – not necessarily new ones.