Notes from the World Bank workshop on "Financial Crisis and Cloud Computing" in Washington.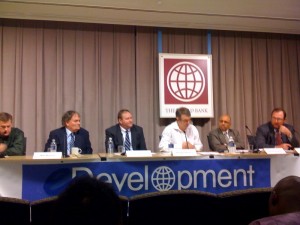 Opening Session
Welcome: Philippe Dongier, Sector Manager, Global ICT Department, World Bank
World Bank is very much learning about cloud computing – it's one of the three big topics in the initiative for government transformation
Security is a big issue here, Jerry has a lot of experience and will tell us more
Opening Remarks: Jerry Horton, Chief Information Officer, USAID
cloud computing is very much about infrastructure – CIO view
users look at it as data center and virtualisation of information
in this context for governments there are risks, but there are a lot of opportunities in cloud computing
USAID has a long tradition in IT projects around the world
.
Global Overview and Lessons from Implementers
Drue Reeves, Research Director for Cloud Computing, Burton Group
cloud computing will change the way we do business, cost models, lots of issues, it's overhyped
trust and security are clear issues
cloud computing is coming – and now is the time to prepare
IT is finally catching up with the internet
business and IT are becoming one
companies cannot afford anymore to build such big infrastructure
traditional IT is too expensive
traditional IT is not flexible enough – installation, maintenance, …
traditional IT is too complex
typically: companies have their own data centres
future: most critical data, most critical services are kept internal
cloud computing – on demand, scalable, elastic service
cloud appears infinite in scale to the consumer
cost is connected to usage, not to infrastructure
companies will use the cloud in different ways – on software as well as on hardware level
cloud computing
simplifies and optimizes IT
on demand model
vendors and trainers in cloud computing are highly professional
on the other hand
vendor lock in
the service is somewhere in the cloud
the vendors don't tell what the infrastructure look like
if something is wrong it's hard to find out what
the more similar your own infrastructure and the cloud are, the easier to move it
partnering between developing countries building their data centre
not all applications are ready to move to the cloud
what about quality of service? some vendors don't provide that
your data may move to a different country
Bob Bennett, CEO of Family Service Agency of San Francisco
NGO in San Francisco with multiple funding sources
three requirements for NGOs
make profit
meet your funders requirements
manage your client service
big challenge in 2004
no money
no infrastructure
few computers
not much knowledge about IT
solution: automating the treatment records -> Salesforce
rapid development environment
robust & scalable
tailored for all the services
possibility to interact with other organizations
we own our own customization for the critical data – for the core application there are specialists, anything can be 100% customized
everybody has a unique set of dashbords
overall the productivity increased by around 50%
the attitude to not work very much was changed, because productivity became more transparent
the system allows to track how the services are performing and to react immediately
.
Commentary by Randeep Sudan, Leader of e-Government Practice, Global ICT Department, World Bank (TBC)
cloud computing in the context of developing countries
most important aspect – infrastructure for cloud computing, broadband
a lot of developing countries don't have that in place
how are developing countries managing their data
US is very open with their data – data.gov
it would be a great thing to put this data in the cloud and make it machine readable – even in developing country
data centres are a good idea for countries to start with cloud computing
one approach is also to leverage private-public partnerships
often government worry about privacy
new approaches – citizen data is controlled by the citizens, they decide who can access what
maybe citizens find it easier to put the data in the cloud
skills that are required in IT are different to skills required for the cloud – governments should start looking into that
also universities in developing countries should provide hands on experience with cloud computing
.
Commentary by John Wille, Lead PSD Specialist, Investment Climate Advisory Services World Bank Group
mostly involved in implementing G2B services
cloud computing has great potentials to leapfrog traditional models of data storage and maintenance
particular in least developed countries there are many obstacles for cloud computing, some countries even now put services online for the first time
but the infrastructure development right now is enabling some countries to take advantage of these new services
the World Bank is required to take a more holistic attitude in terms of deploying services
there are a number of possibilities emerging for the Bank – e.g. connect isolated initiatives
what do we need to make cloud computing reality?
products & applications
portability to allow customers to move between vendors
model for a national setting
private-public partnerships
we need to understand how this is going to change the way we do business
.
Q & A
Armenia:
interested in projects connected with use – are there projects which use the cloud?
maybe the youth could be more interested as they are faster in adapting new technologies
is bad internet connection a serious obstacle for cloud computing?
Belarus:
will World Bank continue working with Belarus
are there special methodologies information security for cloud computing so there is no risk for critical information – and how to tell if information is really critical or not
what methods can be offered in the cloud to increase efficiency in government processes, how can you ensure that the capacities are not more as we need – increased costs
what cloud computing services can be proposed for the scientific area?
Russia:
are there standards for cloud computing?
are there any examples of how the state can create the infrastructure for cloud computing?
Sri Lanka:
has there been an evaluation concerning the legal infrastructure?
how about portability and interoperability between vendors?
what about security issues when data moves between different countries?
Tanzania:
how was it possible to persuade the Liberia government to bundle their forces?
Twitter:
How can Youth-oriented projects connected to cloud leverage mobile technology?
.
Youth – has to be fetched where they already are – Facebook, …,  also let them use it at the workplace, encourage them to try it out
University – services that are available are used
Belarus – will definitely be supported further
Information security – there's not zero risk, but security may be better than in traditional infrastructure because data is aĺways in motion; it's possible for people to crazy about imagined threats – so it's a good idea to start with applications with lower security risk and see how it goes;
Standardization – differs at each level, where we're missing standards is at the Software as a Service level; currently there are no standards for data security
Examples of solutions in developing countries – mostly in the private sector; in the next session there will be a talk on that concerning microfinance
Examples of states interventions to provide infrastructure – new term: government as a service, government in Korea has invested in huge data centres, can be used not only at national level; the US helped funding the Dow Jones – cloud computing should work the same way;
Legal dimension – private sector & financial institutions are controlled by national rules;
Vendor locking – almost impossible to avoid vendor lock in; controlling the data (geographically) depends on the service level agreement & negotiations with the vendor;
How critical is the internet connectivity – mobile communication is used as a way around, a lot of initiatives to provide connectivity will be critial to make the technology available; good software design can overcome limited broadband
Bottleneck between government, cloud, provider –
What kind of capacity does one need – you gain a level of efficiency by moving to the cloud; just going into the cloud
Questions and comments from the audience
Data centres are very hard to build – promise of cloud computing is that you don't need a data centre;
of course there are security concern, but it's just too hard and expensive to build an own data centre
there is no upfront investment in cloud computing
Should the worldbank provide a cloud to developing countries or create an environment where private sector would do that?
This service should lie in the domain of the countries, not the bank
How does the San Francisco NGO experience translate to developing countries?
The only big difference was the connectivity issue, otherwise the experience is highly relevant
Are there SLA templates online which help governments?
It's kind of a Wild West now, still it's about everybody to organize their security
private clouds is not an aim and it's not always necessary to keep control of your own data – it's better to provide public clouds and have good regulations;
the bigger your scale, the more going into the cloud makes sense
One Response to "Financial Crisis and Cloud Computing – Opening session & Global overview"