In the context of the International Development Design Summit 2009 at Kwame Nkrumah University of Science and Technology, yesterday (30 July) there was a public lecture on how a university can promote entrepreneurship of their students and faculty members by Paul Hudnut from Colorado State University – Technology, Entrepreneurship and Economic Development in an Academic Environment. It was quite interesting to see the "university start up" issue from another side.
Here some notes of the lecture.
.
Amy Smith – founder of IDDS
A lot of participants of IDDS are here – but others may not know what IDDS is:
IDDS is about innovation – bringing together people from different backgrounds & countries to be creative and innovative and design things
These things should improve the lives of people who live on 1-2$ a day
Everyone should be included in the process – also the people in the villages – the concept of co-creation to create new technologies
Working with villagers to identify technologies which might make a difference and share ideas
In 3 days the project teams will go back to the villages with prototypes and refine them
Important:
collaboration
people should become aware that they themselves created this solution
improving creativity and problem-solving capacity beneath people
Paul Hudnut has been with IDDS for te past 2 weeks sharing insights into entrepreneurship
how can you transform a prototype to a product
thinking about the design process
experiences in integrated academia and entrepreneurship
founding member of Envirofit – doing wonderful work and has received a lot of recognition
.
Evo Koufou – professor at KNUST
Introducing Paul Hudnut
.
Quote from Obama's speech when he was in Ghana: Africa doesn't need strongmen but strong institutions -> applies especially to universities
society puts it's trust in the job of faculties and students – training the next generations to be ready for the problems the current generation hasn't solved
what is the university role in todays world?
how can universitys mission to teach, research and service
develop useful technology
foster entrepreneurship
in this speech economic development examples from Colorado State University will be provided:
how to deal with research and intellectual property
2 company examples
some experiences what US universities have done to support technology enrepreneurship- maybe helps KNUST
definition entrepreneur: a revolutionary with a business model
25 000 students
duties: research, teaching, service to the community
Colorado state economy based on agriculture, tourism, high tech
school: innovation programs in engineering and business schools
Framework:
research university
$300m annual budget, 80% from US agencies
all inventions in the university belong to the university
super-clusters – concentrated research on: infectious diseases, cancer, renewable energy
CSU research foundation: provides technology transfer services & invests in start up companies
Strategy:
university needs to be partner in innovation process with business (there's things universities do well, others they don't do well)
research funding is a larger more certain revenue than licensing
bias towards economic development over university compensation – start ups are more important
bulk of inventions come from small % of faculty (80/20)
INNOVATION CONTEXT:
US Academic innovation:
development: science & industrialization -> computing, communication, life sciences -> networks and systems (energy, environment, health)
innovation now has the need not only for technology, but also for a business model
Innovation sources (various scholars):
innovation happens with hard work – not genius
disruptive (new world-view) vs. sustaining innovations (holding on to an old model)
innovations happen throught networks
intersections of cultures and disciplines
University paths: publish or patents?
intellectual property vs. open source
existing vs. new company
Stories about the 2 companies:
university set up a new company with new invention
university set up new company with new business model for old technology
Story 1 – Solix:
biodiesel from algae
formed at CSU in 2006
new bioreactor patents
university initial owner (5%), subsequent investments have been private
$17m venture funding
now: 60 employees
Algae can create fuel very efficiently, very few water is used to create the oil
creating animal feed, energy, biodiesel
July 2009 production began
Story 2 – Envirofit:
more innovation context  – design for the other 90%
large scale problems
solutions need to be regionally adapted and scaled
urgency
different types of problems need different types of innovation
innovation shift from pure technology to business models
people in the villages should be able to create the technology
companies may find way to disseminate stuff inexpensively
move towards open source & business models
Problem attacked- air pollution:
sources: transportation, cooking, industry, fire
kills millions of people
health effect on mothers and children
fixing air pollution may have a large impact
every month there is a "preventable tsunami"
Examples:
motor cycles produce like 5 times more pollution than cars
people cook with open fire
around the world biomass is not very much used – Africa & Southeast Asia have the highest dependence, also high death rates connected to that
household energy:
1/2 of the world's population cooks with biomass cook stoves
Business model:
what cook stove would the user want?
Envirofit:
started in 2003
funders: faculty & grad students
validating technology:
number of student projects looking at stove design
cook stove lab – fuel efficiencire, cumbustion point, …
business model:
customers
price
market research
…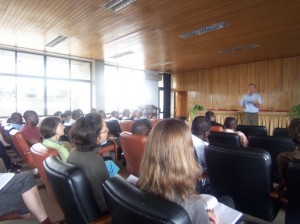 result:
60 000 stoves sold in India in first year
requires less firewood
cook really well
less smoke
number of awards, now $1m in revenues
now 50 employees
lessons learned:
innovation can't be mandated, but can be supported and facilitated
creative business models and modes of partnerships needed (networkin between academia, industry & stakeholders)
innovation may depend more on new business models than new technologies
university based start ups can provide learning, research revenue and publicity
what's next for a university to promote entrepreneurship:
what are the institutions strengths?
how can these be utilized in a changeing world?
what are ideas or problems to start with?
what networks do you need to build? (academia, business, NGOs)
don't wait to start, learn by doing
"The best way of learning to be an independent sovereign state is to be an independent sovereign state" – Kwame Nkrumah
"If you're not prepared to be wrong, you'll never come up with anything original" – Kenneth Robins
"Every institution was at one point just a handful of people in a room reciding to start something" – Paul Graham
.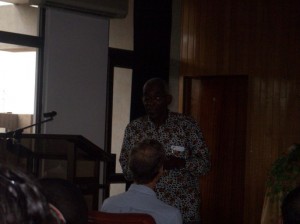 Q & A:
Evoe Kuffou: most people don't think of the universities as a business – what is a business model for the university?
academy shouldn't be a business, but needs to encourage this type of activity and has to develop a business model for that
started manufacturing traffic lights – but there is a central financial administration and everything takes too long, how did COL do that?
sometimes COL does it well, sometimes not so well – grants for research, sponsoring agency;
maybe at the point when demand is there, a new company has to be started
can a faculty which is not tenured also jump into business?
difficult, some departments at COL did that but not the university as a whole; that chapter is not finished yet
at KNUST there is no such issue, people are just not fired here; business activities provide opportunities here
what about technology parks? have you had this idea?
COL doesn't have one, other universities have, city of COL has a technology incubator, often it ends up with people having different aims and no real outcomes & it's often hard to kill a company