Due to me being in Kumasi and our planned screening of our movie Hello Africa (a movie on mobile phone culture in Tanzania) at Maker Faire Africa next weekend in Accra, I got in contact with some of the guys of International Development Design Summit which will present their prototypes at the Maker Faire.
Yesterday I showed up at their place to take some photos, watch them work at the prototypes and find out a bit about the problems which emerged.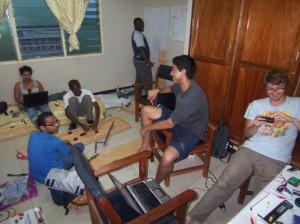 Most of the teams focus on problems which need a more engineering-type solution, but one team is into ICTs and I was taking a closer look at them. The team is very multicultural and multidisciplinary – consisting of Evan from the US who is into mobile phones and ICTs, Vaibhav from India who is also into ICTs, Mensah from Ghana working for the Methodist church, Paulina from Guatemale studying industrial design and Dr. Hiwagaba from Uganda who studied medicine.
The challenge the team sought to solve was "baby health care" – assuring that babies can be weighed and measured easily by nurses on the countryside and that the data is kept track of.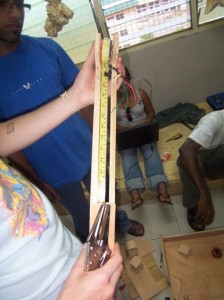 The solution they came up with was a device that weighs the baby with pressure sensors, measures the height by a infrared-sensor connected to a measuring tape. After measuring, the data is pre-formatted and senr via a connected modem as sms-message to the database. There the data can be saved and analysed. It's really easy to use and very practical. The prototype – as all other prototypes of the other teams – is currently undergoing refinement and redesign according to the feedback of potential real users from the Ghanian countryside.
I also looked at some of the projects of the other teams – and after a while I became really euphoric about the amazingly creative and innovative solutions the people from IDDS found for their challenges.
Project team "energy production" designed a device which creates electricity from copper, salt water, plastic bottles, aluminium waste and some other things – actually a low tech battery. They already used it to power electric light and a radio.
Project team "water purification" designed a device which adds always the exact amount of chloride to water to make it drinkable.
Project team "chloride production" redesigned a bike to use it to create hydrochloride from other – available – chemicals. They are working together with team "water purification" to create a feasible all-in-one solution for water purification.
Project team "refridgerator" designed a device which keeps a constant temperature of 18° and absorps gases causing fruits and vegtables to rot faster.
Project team "plastic waste reduction" designed a device that creates a material which can be used for creating rooftops, raincoats and for several other purposes.
In my opinion all these devices have enormous revolutionary potential – what if you could produce energy from waste and clean water with everyday tools which are already around?
So on Monday the finished prototypes will be presented publically at the KNUST museum and I will be there – really curious on seeing the prototypes in action and observing the ones I didn't see this time – there are 12 project teams after all.
Also check out Nialls blog – the official IDDS blog, it has far more details and pictures.