This Monday at the Great Hall of Kwame Nkrumah University was the final presentation of the International Development Design Summit.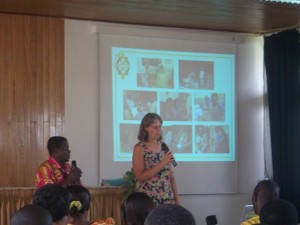 The organizers and participants of IDDS were present as well as representatives of the university and the villages where the IDDS people went to.
First Amy Smith, founder of IDDS and lecturer at MIT gave a short speech. She outlined how extraordinary this whole experience had been and showed a small video to give an impression what IDDS was like. The participants had made a lot of experiences:
how to do design – stages of design
moving projects from paper to ideas to discuss
learning a lot about different types of technologies
how to make many many things – at Suame Magazine
people from the outside came to share their visions
the village visits which gave the participants an idea who they were working with and what their desires are
building & prototyping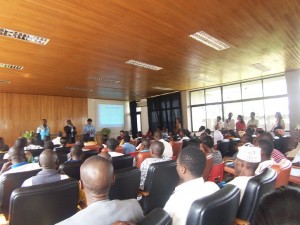 After her presentation, Rajnish Jain, one of the participants shared his impressions. He praised IDDS as an event which lights the flame of innovation and creativity in everyone of its participants.
Then all the 12 teams shortly introduced their project and the solution they found. In the following some notes on their presentations and some pictures of the presentation of the prototypes afterwards (sorry for the quality, my camera isn't the newest anymore).
.
Shea Nut Oil

Improve the Shae oil extraction process for women in rural areas
-> decreasing the time and labour involved
hydraulic powered oil press – eliminates 5 of the 10 traditional steps
response of the communities – quality of oil appeared to be the same
-> further testing necessary
.

Electricity from the river

many villages don't have electricity -> challenge: bringing it to them through the river
tested the rivers to see how fast they flow, unfortunately it wasn't enough to produce a significant amount of electricity
-> decision for another approach
children were playing everywhere -> merry-go-round to produce electricity
goes in a battery -> charging mobile phones or likewise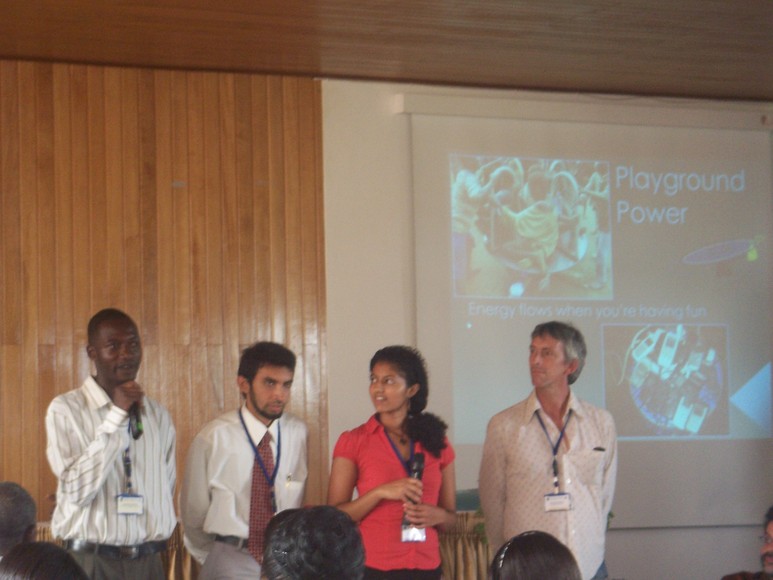 .
Chlorine dosing team – making water safe to drink
every minute 4 children die of waterbourne diseases, chlorine is an accurate and easy solution to purify the water
chlorine is available almost everywhere in the world
problem: dosing
project – creating a smple chlorine dosing machine
three simple prototypes
.
Chlorine production team – producing chlorine to make water safe
should allow people with no access to chlorine and energy to produce chlorine
everything needed
two devices with two different methods – hand-crank and bicycle
.
Cool storage team
many farmers lose valueable revenue due to vegetables that go bad while storing
they also have no access to cooling solution
-> creating a device to prevent vegetables from spoiling
absorber (corn-combs)
phase change material to maintain a constant temperature
doesn't need electricity and is much cheaper than a fridge
tomatoes last up to 8 days longer
.
Family friendly latrines
around 700 000 children die annually because of hygiene
challenge: creating a latrine which is safe to use for children and easy to maintain to have a hygienic environment
.
Cassava processing/grating machine
when processing cassavas, the grating is the most exhausting and dangerous step – injuries might occur
-> providing a machine to grate cassava
no energy is needed
protects the user from injuries
efficiency of women processing cassava tripled
.

Rice destoning
Ghana consumes a lot of rice
imports are more popular, although it is more expensive
because it is seen as having more quality
local rice has a lot more stones
stones come in because farmers thrash rice on the ground
challenge: low cost, treadle driven rice thrashing machine
rice doesn't hit the ground at all
low cost – now: 100GhC
completely, with parts, available in Ghana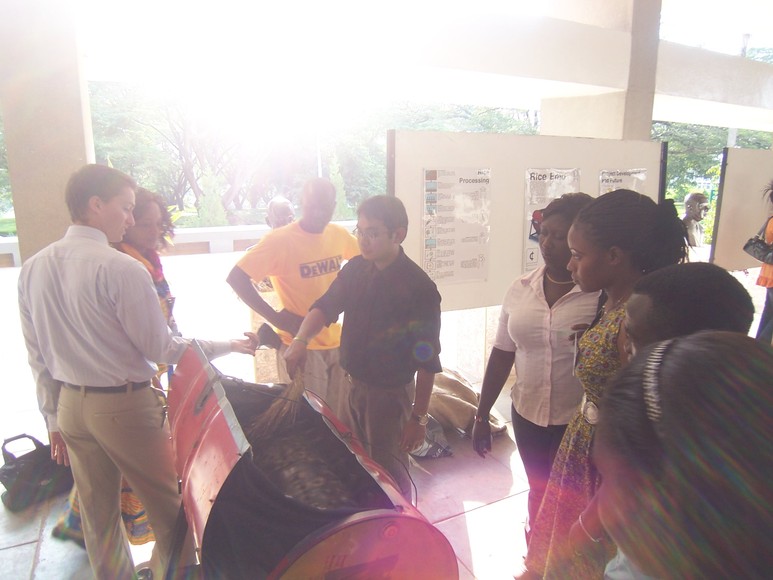 .

Local plastic recycling
plastic waste is a big problem for communities
-> creating plastic sheets which can be used for different purposes
creates income
removes waste
provides scarce material
Device:
uses aluminium heating elements
small motor for slow and steady movement
artisans created great items out of the material
.
Mobile child monitoring
challenge: tool that can improve child monitoring
many children are underweight
15 million die every year from malnutrition – related illnesses
devices currently used are not sufficient
data is stored analogue and is hard to use
device:
measures weight and height
automatically sends data to server and receives feedback
from 0-5 years
sends data immediately -> reduces human error
tested in a community – trying to incorporate as much of the feedback as possible now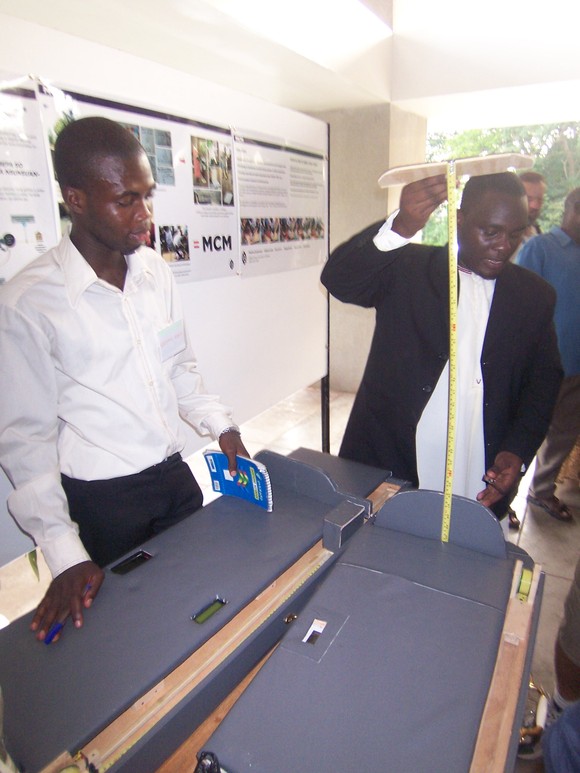 .
Small scale energy

1/4 people worldwide live without reliable, accessible access to energy
poor people spend a lot of money on batteries, keronsene, …
designed low-tech batteries from local available materials to replace imported batteries
uses aluminium cans to create electricity
to power LED lights & radios – mobile phones to come
4V battery costs 5GhC to make – our would last twice as long
manufactured and distributed at a low cost
can be built and maintained everywhere in the villages
.
Threshing technologies for groundnut smallholders
developing a machine to speed up threshing process
threshing = removing the nut from the plant with your hand
removing the nur is slow, tedious & exhausting
process can be sped up with the device
.
For more detailed information on the event and better pictures, visit the official IDDS blog.