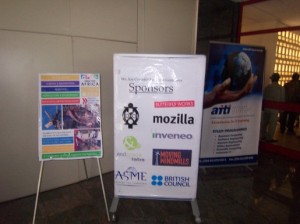 Notes from the Maker Faire Africa 2009 in Accra, Ghana from Friday 14th to Sunday 16th August.
Follow the MFA09 aggregator on Maneno.
.
Welcome speech
Nii Simmonds
The event was a journey and a collective effort
People that came here are
makers
engineers
academics
people that understand – Africa really needs to take off
.
Emeka Okafor
This is a networking opportunity, especially for Africans
The event is about
energizing
amplifying
elevating
disseminating
what already already appears, fostering entrepreneurship, but also having fun
.
Makers Show & Tell

William Kamkwamba – created a windmill producing electricity on his own in rural Malawi
movie: moving windmills
you have to start with a first step
hopefully we come up with finding out about innovations as great until Sunday
Where did the idea come from?
2001 – hunger in Malawi, no money for going on to school
-> reading books to keep up with colleagues, especially diagrams
picture of windmill
got stuff from the scrap place and just started building one
Later – applying knowledge acquired from travel to the US – building a bigger windmill to pump water
What happens if something breaks?
Williams cousin knows how to repair stuff
more people want to learn it, one already built an own working windmill
Where do the things come from?
most things are locally available
What's next?
short term: teaching people
long term: commercial company
.
IDDS – refridgerator team
Notes from IDDS final presentation
How was working with the community?
was the greates part, many ideas/advice, great feedback
they tried stuff out and helped in testing -> fostered innovation
Which design principles?
Direct feedback by endusers
Co-creation
Letting users see and try it – exploring & improving
.
Pat – multi machine
Nowadays everything has to be built using a machine tool – which are very expensive
Multi machine:
device which is easy to build
combines several machine tools
using old (from 1830s) technology
anybody can build it
There are no actual plans but there is a DVD with instruction -> which is handed out for free
Feedback of people?
it's built all over the world
the machine can be used for virtually anything
now working on a treadle mechanism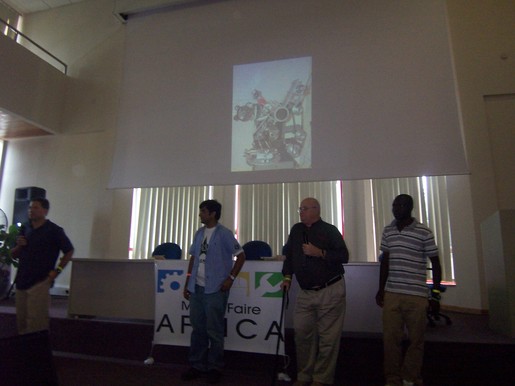 Q & A
William: what were the difficulties with the first prototype?
didn't convince the community, only the family
had to get the old bicycle of his father
Pat: which website?
Yahoo group: multimachine newsgroup
IDDS team: where is everything documented?
http://2009.iddsummit.org/
William: things that didn't work and had to be redone?
couple of things: eg bicycle chain went off all the time
William: what are the costs for a windmill and how many people does it serve?
about 50$, Williams family can live from it & it is used for charging mobile phones
General advice:
Pat: Persistence is vital
IDDS team: Sometimes the problem has to be reformulated
.

Amy Smith – founder of IDDS, D-Lab
Involving everybody in a design activity
5 water sachets -> build something from it!
Various solutions of the teams