Notes from the Maker Faire Africa 2009 in Accra, Ghana from Friday 14th to Sunday 16th August.
Follow the MFA09 aggregator on Maneno.
.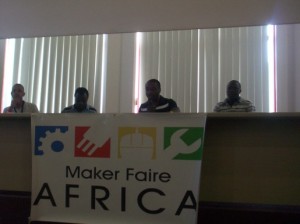 Panel: African Invention – what drives innovation on the continent?
Dominic Wanjihia, Kenya
Nana Aquah Kofi, Ghana
Emeka Okafor, Nigeria
William Kamkwamba, Malawi
Impediments of innovation
The old generation has a mindset not trusting the youth and not encouraging them to try things
Teachers are often not too creative, curious pupils are often shut down
Often education is seen with an end – a degree
Advice
Delivering constant quality is hard but quality is the key for international recognition
Look at your neighbours (Mala, Cameroon, …) before seeking approval internationally
Look at what people do, rather than what degree they have
.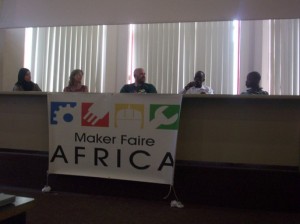 Panel: Dissemination, Models for Technology Diffusion
Erik Hersman, AfriGadget
Amy smith, IDDS
FabLab Ghana
FabLab Kenya
Engineers for change

IDDS: Create prototypes, not papers; create technology and technologists
Engineers for change:
repository for problems and solutions
project management & communication tool
network for engineers internationally
There is no mechanism with which to share best practices
Often people just can't invest in new technologies because the capital and time is scarce
.
Scott Fifer – Go Campaign Prize Announcement
NGO supporting projects helping children – the future of Africa depends on the future of its children
Scholarship for makers organizing workshops
.
Makers show & tell
IDDS – playground power team
Notes from IDDS final presentation
Is this being disseminated and how?
Thinking about using the merry-go-round for advertising
Approaching school systems
What was the biggest challenge?
.
Jodie Wu
Just finished MIT, talking about a project started 2 years ago
Technology to shell maize
bicycle used for that purpose
bike-device was rented and payed itself off in 20 days
right now – create an interface for the bike to attach any technology to it
globalcyclesolutions.com
How about releasing the designs – when you actually want to make profit?
the basic technology has been around for hundreds of years
I see it as a success when people are copying it
.
Panel: From invention to investor – getting venture finance to perfect your idea
Emeka Okafor
Mark Grimes, NedSpace
Nii Simmonds, Nubian Cheetah
Problem in Africa: many inventions don't get investment easily, the investment market is quite underdeveloped currently
Kiva.org is a great idea – allowing everybody to look at entrepreneurs in various countries and invest in their business
People talk about technology – but we need to look at basic stuff
Also corporate social responsibility programs will not bridge the gap – as big companies will not fund their ultimate opponents
Due to the crisis now is the time to make money – and eventually make the world a better place
Africa is open for business (Carol Pineau) and not different to other continents
Challenges
funding – one reason why this event is hold
support from experiences person – platforms such as Nedspace provide a solution
having an office – a company address
One model is to look at others and adapt their behavious to your environment