Notes from the Maker Faire Africa 2009 in Accra, Ghana from Friday 14th to Sunday 16th August.
Follow the MFA09 aggregator on Maneno.
.
Workshop: Localization – Suuch Solutions, Ghana

everybody can localize
provides fonts with every African symbol
different date formats, currency symbols
translations are stored in the kasaharow database
low presence in Africa
not available in many African languages – only one officially
call for people: localize Firefox to your language
site support in many local languages – currently 8
trying to foster creation of content in African languages
faster for people in Africa – optimization for low bandwidth
Localization is not just translation – new words may not have a translation in e.g. Twi
ANLoc – the African network for localization – group of localization companies, trying to formalize their procedure
Language is part of who you are – that's a huge reason to advocate localization of content and usage of language
.
Maker Show & Tell
IDDS – chlorine dosing team

IDDS – chlorine production team
Notes from IDDS final presentation
Tosh – Nairobits
Offering IT and webdesign education to disadvantaged youth in Nairobi
Teaching also entrepreneurship
Also developing Flash-games
Many great designed webpages
Curriculum is online
Paul Sika – Photographer
Photographer and entrepreneur
scripting pictures as if scripting for a movie
started casting people – young actors
important – keeping artistic integrity at the beginning of the career, not being commercial too early
Sam Kessie – filma maker

Searching for collaborators on a new movie
showing the trailer
"Mourning movies"
shot in 3 days
cost very little money
high quality
Trying to make movies from Ghana more interesting to international community – Ghana has a lot of stories to tell
Where do you get your inspiration from?
was a former psychology student – life in general gives ideas
it's often like a comedy because that's often the only way we can handle that
IDDS – energy production team

How long will the battery last using a light?
60 watt-hours of energy in a can
3 D-cell batteries
Johannes – furniture maker – planiture
Rented a room when going to university in Kumasi, but there was nothing there – even had to sit on the floor
Experimented with various materials -> Decided to create furniture from plastic bottles
All people who ses it are amazed
dream: house from plastic bottles
raising funds now
trying to rebuild all the children's centers in Ghana
All problems' solutions lie in yourself
Production cost?
way cheaper than usual chairs ~60% less
everything was from recycling
How many bottles would a house need and how long would it take?
probably millions of bottles
many bottles are donated, a woman collects them for him at the market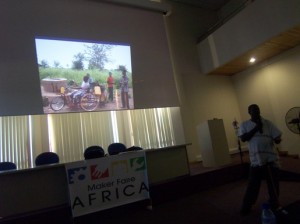 Kenneth Mubuyaete – Zambulance at Disacare wheelchair centre
Organization provides aim for people with disabilities
should empower them to be able to earn a living on their own
Generating a device to easily move people with disabilities, creating several devices for disabled people now
Where does the material come from?
most things locally, things that are not produced locally from the region (Kenya)
IDDS – plastic recycling team
Florian Sturm, ICT4D.at – Hello Africa, a movie on mobile phone culture in Zanzibar
More information on Hello Africa
2 Responses to "Maker Faire Africa, Accra, Saturday – Workshops"
Sam Kessie Says:
August 19th, 2009 at 16:08

Hi,
Just had a couple of corrections for the information you have on me from the Saturday Aug 15 presentation.

Sam Kessie – filmmaker

Searching for collaborators on a new movie

* showing the trailer
* "Mourning movies" – This is Mourning Motives
* shot in 3 days
* cost very little money
* high quality

Trying to make movies from Ghana more interesting to international community – Ghana has a lot of stories to tell

Where do you get your inspiration from?

* was a former psychology student – life in general gives ideas
* it's often like a comedy because that's often the only way we can handle that intense drama and chaos life generally throws at us.

Thanks 🙂

Irwin Mestayer Says:
March 10th, 2010 at 13:46

You made a lot of superior information there. I did a seek out concerning this subject matter and encountered a number of folks will likely concur along with your website. Thanks