Notes from the Maker Faire Africa 2009 in Accra, Ghana from Friday 14th to Sunday 16th August.
Follow the MFA09 aggregator on Maneno.
.
Emeka Okafor – Announcements
What is happening after Maker Faire?
Announcing of prizes:
Multi machine prize: encourage individuals in Ghana to put together multi machines by the end of the year – 500$
Next Maker Faire – hopefully in Kenya, Nairobi -> looking forward for a Maker Faire price – 1500$
Acknowledgement of the partners and sponsors
.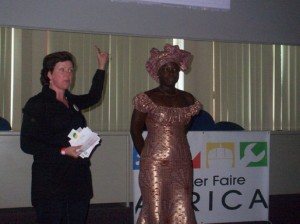 Emer Beamer,  Patricia – Match a maker
Searching for people with AutoCAD skills, for a sys-admin internship in Ghana or somebody with skills in Shae-butter production – look at Match a Maker, soon to be announced on Butterfly Works
.
Mark Davies – Esoko, Wayan Vota – Inveneo, Miquel – Maneno; Building SMS applications and bandwidth ICT models
Phone is perfect for applications as the reach is really good
Various examples:
Various free APIs
RapidSMS
FontlineSMS
InfoBip
YoohBulk
IntelliSMS
Clickatell
SMS – the lowest common denominator, but also hightest cost per data
Maneno – specifically designed for low bandwidth
everything compressed (images, …)
design very light-weight
Advice
low number of requests
Google page analyser
Ajax has to be used cautously – can be very annoying
Where do web developers in Ghana host websites?
usually in the US
because of price reasons
web hosters in Ghana can't assure 24/7 availability
maybe hosting content in Africa would be a good idea – or at least Europe as it's closer to Africa (lower latency)
What about only designing websites for only Africa and not caring about the rest?
For technological discussion – new Accra technology group, meeting every month
.
Prizes for engaged people
One Response to "Maker Faire Africa, Accra, Sunday: Sessions"
???? Says:
November 21st, 2009 at 05:01

????? ?? ???????!