Notes from the Africa Gathering London – "sharing ideas about positive change" – an event about business, IT, social causes and Africa.
.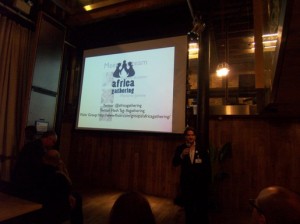 Ed Scotcher – Introduction
Africa Gathering is already in place almost a year and has grown into this event – giving space for people to present their projects which might not be that big, but still innovative and important
The money which is made is going to a prize for a project which is presented
Mariéme Jamme
We are the leading platform in London today to share ideas about Africa and innovation
Africa is a great continent, a lot of things happen there, we are here to find out how to improve our continent
.
Leon Benjamin – Winning by Sharing
Personal background – child of different cultures, coming from the IT sector
Biggest story of the 21st century – from industrial age to a networked one
The things the basic institutions nowadays needed to survive are mostly gathered around command and control
Advances in technology, prosperity, but at what cost?
The cost of command & control
Diabetes – e.g. appeared in India with Modern work and life models
Work Rage – stress, suicides
Inequality – no more middle class, huge wage differences, rising poverty
Environment – business "owns" the environment
Animals have a different way of living and have totally different needs to survive
Self-organization
Transparency
Trust
…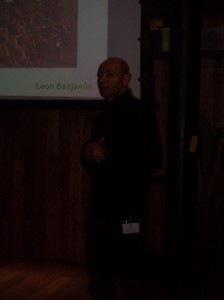 P2P production values
Open Source Software – also Google, Facebook, … couldn't exist without it
P2P lending – microfinance
Prosperity without growth – economic prosperity other than GDP growth
Creative Commons – crowdsourcing
Open democracy
Guide for entrepreneurs
Different thinking about ownership structures – Visa, a chaordic model; Ricardo Semler, Semco employee contract; txteagle, separation of work
Different thinking about labour models – fractional work, "the future is about less",
We need antibodies
we need different types of leadership
P2P, self-organized
power from the bottom, not from the top
Ubuntu – I am because we are
Q & A:
What steps need to happen in Africa?
Connectivity – the penetration of mobile phones is not yet enough
.
Ken Banks – Frontline SMS – The business of social mobile: Mobile empowerment and the art of invisibility
Empowerment – build something, then take a step back and let other people take over
"Never doubt that a small group of thoughtful, committed people can change the world. Indeed, it is the only thing that ever has." – Margaret Mead
Centralised vs. Decentralised communities
Many people have fantastic ideas, but they can't realise them because they don't have access to certain resources
We have to do something about it
Who has control over the stuff communities are producing? Who is controling?
The local people vs. the professionals
Long tail theory
High tech, expensive, infrastructure heavy solutions vs. easy, cheap, free local solutions
In rural, poor areas, the easy solutions tend to work, but the complex ones don't
FrontlineSMS
already documented on this blog e.g. at the April Africa Gathering notes
empowering people in various countries – e.g. monitoring elections, working with Ushahidi visualizing stuff
"Text messages saving lives"
Students in the US set it up
Out there and running
People run it themselves now, the community is present
Important things to think about when starting a project
hardware requrements
make it run on its own
make it cheap or free
forget the internet
assume there's no technical knowledge
provide space to connect
be multi-discipliary
appropriate technology, low tech
collaboration, not competition
connect with your users
New concept FrontlineSMS Credit
One system, microcredit solution
Presentation tomorrow
2 Responses to "Africa Gathering London – Friday, presentations 1"
ismael peña-lópez Says:
October 10th, 2009 at 11:24

FrontlineSMS Credit?
http://credit.frontlinesms.com/

Did not know about this!

Florian Sturm Says:
October 10th, 2009 at 13:03

Yes – it was just announced today 😉