Notes from the Africa Gathering London – "sharing ideas about positive change" – an event about business, IT, social causes and Africa.
.
Bill Liao – Neo.org
The future of humanity
Where do we get our commerce from? Scarcity
A lot of revenue from oil and cars
Oil prices go up and down – which cause other people to lose money
We live in a consumer society – but what if there are no consumers?
People – the society gets older
Trustworthy people – are abundant
Many people are getting informed and inform themselves
trying to control that is hardly possible
it's about the context
5 billion people of 7 billion are not engaged in enterprises
Entrepreneurs are working in relationships, not alone
Nintendo increased their market share by engaging the community
We all want to contribute
More doers
Less talkers
Globally aware, locally focused
Happy Planet Index
Thrivability
you don't want to just survive in this world, you want to thrive in it
starts with trust
find the commons – confluence of gifts and commerce
be vulnerable and open
be authentic
assist others & loyalty
Neo.org
Happiness?
idea: Company Happines Index
happy companies – happy ecosystems
happy companies make happier workers
but the 5 billions are missing in this picture which are not entrepreneurs
need for a happiness leapfrog?
we need the developing world to save us
weforest.com
the rain forests keep us alive, we have to conserve them to survive
rain forests create rain, not the other way round
reforestation of the planet is important, it's simple, doable, sustainable – please support the movement
.
Sean Moroney – AITEC
Events in over 50 African countries "ICT exhibitions and conferences"
e.g. how to use the newly available bandwidth in East Africa
ICT events in Africa still work in isolation
associations & industry connections are lacking
people want to keep their ideas for themselves
top-down scenario with a strong disconnect between traditional and new developments
Real-life gatherings such as this Africa Gathering don't really take place in Africa
it's tough for young professionals and researchers
Professionals in Africa work in isolation and under extreme pressure
it's hard for them to find people to collaborate
skilled people are in huge demand
It's beautiful that so many non-Africans talk about the future of Africa here
Internet is becoming more and more important in Africa
Dictatorships and authoritarian regimes add internet as third battlefield
What is needed in Africa
young people
mentoring
democracy
This event shows young people how to become part of "good gangs" – teaching how to be creative and innovative
Q & A:
How to encourage and motivate the leaders to give the mentoring?
the leaders can't give what they don't have; events like this here might help – for the lead
Also informing and educating people in general helps – power and responsibility
Are things getting better in Nigeria – concerning spam, identity theft, …
people are aware that there is a problem, there's a project called "rebrand Nigeria"
many Nigerians work hard, these people do not represent all Nigeria
Maybe the reason is the crisis in leadership – same as here? What can we do to inspire business leaders?
more inspirational input, professional development events & networks
.
Teddy Ruge – Project Diaspora – Mobilize – Engage – Motivate
How many people in the diaspora are making a difference by investing in fellow Africans?
Project Diaspora
Motivate people who want to invest in Africans
Engage those who are doing for Africa
Mobilize that want to do something but don't know how
In the US there are 4-6 millions members of the diaspora
The missions of the project
making sure that the money goes to community development projects
if the money is given to the community, everybody is better off, not only the person you had in mind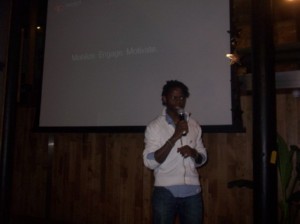 Does Africa understand the benefits of customer service?
a way of survival – if I please you I will eat today
all products salesmen in Africa sell are shaped for the community needs
a lost customer is a lost revenue opportunity
Customer service as path to prosperity
The word needs to be spread that African time is not fast enough & quality needs to be high enough for the West – customer service can be learned
Africa is defined by a single story only – mostly problems and poverty, but it can be so much more
Customer service as the core of Africa's digital future
complaints about customer service online
based in Kenya
We have potential to move forward
Comments, Q & A:
How do orgaizations in the west know who / how / when to trust?
Get somebody who speaks the language and knows the customs, he/she will understand
Let's start to celebrate success sories
Organizations in the west have to involve
don't just throw money
success indicators, control
Try to give education to the people, communicate with Africans, learn from them
Education is the only thing I would ask for aid – it's an investment
One Response to "Africa Gathering London – Friday, presentations 2"
Mark Kaigwa @ GotIssuez Says:
October 16th, 2009 at 14:31

Thanks for the mention guys.

Great to see Teddy, Africa Gathering and the summary.

Feel free to talk to us about our vision for customer service, Africa and evolving a culture where feedback is acted upon.

We'd love to hear from you.