Notes from the Africa Gathering London – "sharing ideas about positive change" – an event about business, IT, social causes and Africa.
.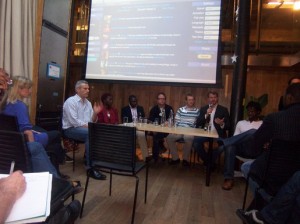 Panel discussion – How can Africa seize the web?
Teddy Ruge, Richard White, Mariéme Jamme, Adesina Iluyemi, Justin Lyon, Guy Collender, Charles Warren
How can Africa seize the web?
JL:
different angle – with mobile platforms, even without of internet
Possibility to take away a lot of money from Western Union by using a web platform
AI:
get the bandwidth in, but there's also a lot of innovation around mobile phones
Voice XML extending the abilities of sms
How will the web change business, what potentials are there for Africa?
MJ:
Africa has stories – seizing the web by telling our stories
we need to be critical, to blog, to embrace the web, getting visibility
we need to become trusted to become profitable
Are companies in the west really taking Africans seriously?
GC:
The multidisciplinary approach is vital – only with the combined teamwork it's possible to get anywhere
It's exciting that bandwidth comes to Africa, but technology is no silver bullet, we also have to look at the policy aspect
Is the web helping in the people's impression of Africa & changing this picture or not?
TR:
Actually both, other people are already telling Africa's story for us, 99% is inaccurate
In terms of business and credibility it is important to just engage with people who do business
The quality of production in Africa is the same as in the west – provided there are the tools
Is the web a business opportunity or an empowerment opportunity?
RW:
What's exciting – African businesses being able to compete with any other business from any country
There is a market for products from Africa
What can be done to improve the user experience for people?
CW:
Stop developing your apps for the device, start developing web apps for the browser – that would be already great for Africa
As long as you have access to your users, it's easier to fix things if you're using a browser
What's being done with open source? Is it being pushed – as it is a big opportunity for Africa?
AI:
It doesn't really matter if it's open or closed source, it's important that it works
It's more about business models
TR:
It's an open market – we have a great opportunity to write our own software
"If it works in Africa, it'll work anywhere" – same for apps, Africa is the best testing ground
How can IT be used to generate income – without becoming techies?
JL:
TR:
Why not creating mobile apps and selling them on platforms?
AI:
It's about business models – most mobile apps are sold because of consumerism
The environment for consumerism in Africa is not given
So things are sold internationally
Should social media be taught in schools to encourage mutual learning?
MJ:
Just started a project to do that
We have to start teaching social media – to create credibility for Africa
The government of South Africa has concern that Africans can't e.g. Twitter, … so at the World Championship all comments would come from Europe
CW:
Waiting for the presentation where kids are pulled in to create things which are really fun
How to create a fun experience, teaching young people without that they know they are taught something
What about quality of content? How to make sure to make traustworthy, unbiased content? Crowdsourcing?
TR:
Crowdsourcing – example: following & retweeting people I already know
Enhancing free flowing information by personal contacts
AI:
Local content is important – quality comes from how it's produced
Creating a network based on mobile networks alone
MJ:
Africa has to create more content first, before talking about credibility
CW:
Google can sort out trustworthy when there's enough data
Can we seperate form and function? User experience is different in Africa.
CW:
Representation of information should be minimized – put the content first and take design then
The biggest block for seizing the internet in Africa is a lack of ability – through corruption or otherwise. If Africa can achieve the legislative framework to prevent people from abusing the internet power coming in soon (e.g. by people wanting to make money out of others), the potential can be realised.
AI:
right now we squeeze every bit out of the technology we have
there are a lot of factors influencing internet in Africa – but it's going to take a long time
CW:
Example: three weekends in a row internet usage skyrocketed in Iran
Cause: the local carrier was providing free internet access from a mobile on weekends
Cost is an important point – possibly impeding potential of internet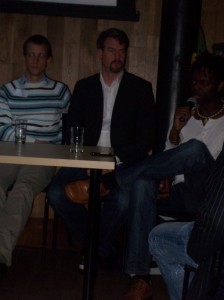 JL:
There needs to be more companies, more competition
MJ:
In the next years there will be a big difference in that
There are two needs to be understood concerning cables – international & national law. Some cables are coming from different continents. Is there a legal framework? Internationally there is a framework which prevents a monopoly. But what about national law? Competition is a way forward in that respect. People also have to know what's going on and how to have a say.
It's a vicous circle – the internet brings freedom but what if internet doesn't come?
GC:
There's also a problem in content infrastructure
Other language content has to be considered
AI:
Operators in Africa claim that there's no business model to roll out – because of poverty
They rely on the Western model
TR:
What people forget is that just because most people in Africa make few money doesn't mean there is no market
Few make business models for these people
All the mobile companies make a lot of money – even the poorest people find a way to buy credits
Now taking phones away from Africa isn't possible anymore, we can't go back
Forget creating stuff for the web browser – look into the future
There's txtEagle – crowdsourcing microtasks – there's Google Voice sending free text messages for free, there's the Skype business model – a lot of opportunities.
Once we've seized the web – where will Africa be in 15-20 years?
TR:
Focusing on Uganda – there will be a lot of revolutions caused by technology, even political ones fueled by the enhanced possibilities to communicate
JL:
A collapse of space – communication with people all over the planet
Explosion of small communities – even only present online
GC:
Global citizenship, global powerstructures changing
Traditional banking sector will be bypassed by other models e.g. FrontlineSMS Credit
CW:
African cities will be media capitals of the world
AI:
There will be African industry, local innovations coming from Africa
We need policymakers for sustainability and business
MJ:
New African leaders will advise many governments
The mentality will be changed
RW:
Knowledge and expertise and support will come from the west instead of charity