Notes from the Africa Gathering London – "sharing ideas about positive change" – an event about business, IT, social causes and Africa.
.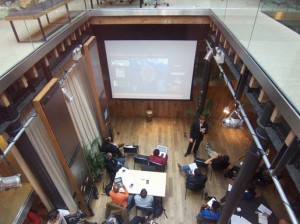 Glen Mehn – Appfrica Labs
Not many technology incubators in Africa
Appfrica
In business since about one years
5 start ups founded
Active in Uganda
founded by Jon Gosier
11 months old
12 employees
Recruiting young developers
Encouraging developers – fail early, fail often and learn from these errors
Learning by doing
effort
persistence – push people forward
relationships
Q & A:
What's the secret in getting investment?
Mostly a track record – we've done work with the UNICEF, … – or networking
.
Ben Lyon – Credit SMS – is now FrontlineSMS Credit
New tagline – the goal is to make every financial service available by 160 characters, in every area, how remote it may be
There's 54 money transfer systems on the continent, there's more to come
Mobile money
There's 4 people involved in the process
sender, cash-in agent, cash-out agent, receiver
47% of money transfers take place via M-Pesa
There's obviously a need for that
People found ways to transfer money with the devices they have
but generally in Africa there are many areas with virtually zero such services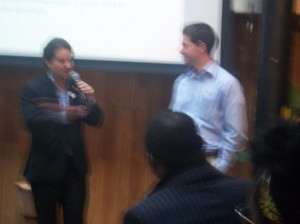 Initial idea: integrating the functionality of FrontlineSMS and a financial model has huge potential
A Nation wide bank run from a single laptop
Hardware: connecting a laptop to a mobile phone, carrying out the mobile payments via sms
Adding microfinance
Q & A:
What about security?
Security is huge – we had trouble for months, but two coders in Kenya fixed it
Some transactions can be encrypted, this functionality is used
Other groups look into secure sms or fingerprints and biometry
How about marketing?
We give the software away for free
Getting pilots out there and make people share the information about them
It should sell itself
.
Molly Matessich – Africa Rural Connect
What are we doing?
Trying to find solutions to the agricultural challenges in Africa
Connect those who live(d) and work(ed) in Africa in the agricultural sector
Working in global collaboration – National Peace Corps Association
Cultural exchange and technical corporation
Active in 180 countries all over the world
People in the Peace Corps can connect with the people and are therefore targeted in this program
Created a platform, collaboration between different projects
ARC was launched in July 15th 2009
over 65 nationalities are represented
Many projects were added to ARC
e.g. Jon Gosier, CreditSMS
there is a contest in "best projects"
but any project gets displayed and can be contacted from anywhere
give a voice to people who didn't have a voice before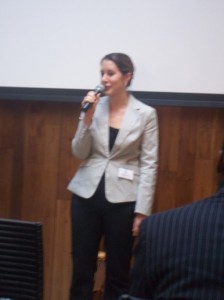 www.africaruralconnect.org
create an account
add an idea or browse the ideas
comment on ideas, vote for ideas
it's also possible to "improve" ideas
Spread the word – social media, traditional media, connections, always looking for partnerships
Q & A:
Seems like a big bottom up approach – why has it taken us so long to find out that we have to ask the "ordinary" people on the ground
There is no infrastructure, sometimes people speak different languages we don't understand
People have a sense of control, they want to do their project, not anybody else's
How do you make sure qou can implement the ideas which are on the top?
During the next year we want to make our peacecorps volunteers check the projects
We just work on the ideas until they are good enough for real world impact
How do you handle big organizations buying in the idea?
We are trying to get people from every side involved, we are trying the best we can
Does it help democratize communities as well – do communities come together at non expected places?
Our goal is for that to happen
A lot of communities still happen offline
The failure of many projects is that they don't have a community buy-in & participation