Notes from the Africa Gathering London – "sharing ideas about positive change" – an event about business, IT, social causes and Africa.
.
Noemia Bacar – ICT in Mocambique
How are doing with ICT as a woman in Mocambique?
I am very proud to be the leader of the ICT unit of KPMG in Mocambique
Only few women are in this field
How is KPMG doing today in Mocambique?
KPMG is the longest established consulting company in Mocambique – since 1990
in 2007 a new line of service – IT advisors
new product and new market – helping clients developing new businesses, implementation reviews
Africa has got a continuity problem – how are you dealing with that in Mocambique?
companies are often not ready for this
we are trying to convince companies that it's important to mitigate risks
.
Nick Short & Andrew Hagner & Niall Winters – Royal Veterinary College
Map of the last six months
quite a lot has happened – Africa Gathering helped a lot
New partners: Bloomsbury Colleges, London International Development Center (LIDC), African partners – very important as reality check, Novoda – commercial partner, Vetaid – NGO in the field providing a different viewpoint, Google.org, SACIDS, Vodafone
Research funding, government funding (JISC)
Project overview
livestock development – NGOs replacing government services for livestock – rise of community animal helath workers, but they are isolated
mobile possibilities, e.g. an Android platform we are working on now
pilot study in Zanzibar
Undergraduate research team
RVC team of currently 9 students
project on East Coast Fever
Use of phones
collecting data with Google Open Data Kit – collecting many paramaters
recording locations
communication
updating team blog
Advantages of phones
quick upload
XML formatted
paperless
keep in contact
input from world experts
also several technical constraints
Pros vs. Cons
great advantages
but phones are not affordable – financial support?
What do the local vets want?
educational tool & learning resource
record production data
management tool
ruggedness
Mobile opportunities
usage is widespread in Africa already
affordable handsets and tariffs
sample projects: Google.org & Uganda health care
Perspectives on Learning – Where next?
Challenge – how to use mobile phones to support learning?
Can learning be a more engaging process than traditionally?
How to design learning experiences around the mobile device
Why is this important?
user generated content is more accepted – "caring and sharing"
students sharing content
emphasis on mobile learning + Web 2.0
What about an African context?
a lot of things emerging – mobile phone coverage, data collection tools, sms sending tools
mobile is the dominant technology for learning
next project: use mobile devices to produce content locally
Q & A:
If you help animals you help people too – do people understand that message?
There's an international movement now to see the whole ecosystem – animal and human health – as one
Who are the kind of people you would like to get in touch with here?
People get involved in different ways, just get in touch with us and we'll find out
.
Mira Slavova – MMD4D – Mobile Market Applications in Africa

Interested in markets
What would a visitor from Mars see in social structures on earth?
In the west – interconnected communities and companies
In Africa, a lot of enclosed societies, not interconnected
More and more penetration in Africa due to the business models
impact of mobile phones
blurring of livelihood and lives
extending markets
strengthening households, families, communities, …
significant instances e.g. M-Pesa, TradeNet, Esoko, txtEagle
Liberia: Trade at Hand
civil war, poor infrastructure, lack of standardisation
inefficiences in food supply chain, adverse impacts on women
project: Trade at Hand
posting and receiving offers per sms
research challenges
use and social construction of the technology
impact on markets
adoption
business model
innovation challenges
application development
literacy
localisation
Q & A:
Are people already understanding the value of the mobile phone concerning markets?
Users are very enthusiastic, we are working on educating the user side
Example of Tanzania
Bus drivers stopped taking passengers but make the middleman for people from the village and the city to trade their offers on demand by order of sms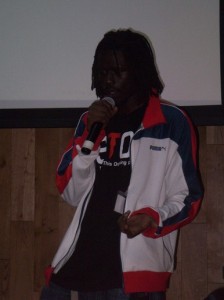 .
Emmanuel Jal – Rapper
Former child soldier in Sudan – "forced to be a war child"
Puts his fight into the music
It's hard telling the story but somebody has to do it – for the people who have no voice
The different ethnies and religions are no problem, the oild and the fertile land is a problem – everybody wants it
NGOs right now are only buying time, the aid has to change to fix Sudan again
empower the young people
more education
Telling his story – how he was cast away from home, recruited, trained for being a child soldier in a refugee camp, and the long and painful journey of his escape
Right now – trying to raise money for a school in his village to give the young people a chance
Link to Emmanuel Jal's charity
Q & A:
Have you done workshops with musicians to share the experience
I do stuff at schools with the kids, they could be the next leaders so I try to teach them how to be good leaders
How much have you raised for the school so far and how much is your aim?
Aim: 1 000 000 $ from 1 000 000 people