Where does a computer come from? Who produces the parts for it? And under what conditions?
Yesterday I was at an event organized by the Austrian Computer Society and the Austrian NGO Südwind about "The way to a fair PC".
There were two presenters – Kevin Li from the NGO Globalization Monitor in Hong Kong and Anderea Ben Lassoued from the Austrian initiative Clean-IT.
Kevin Li presented about the situation of Chinese workers in Southern Chinese computer part factories. People there work under very bad working conditions, are forced to work overtime without payment and are exposed to health hazards. The workers have few possibilities to protest against these conditions.
Globalization Monitor tries to shed a light on these conditions and to empower the workers. They help them to organize themselves and published several research papers and even a book – No Choice but to Fight – about the workers situation.
Andrea Ben Lassoued from Clean-IT tackles the problem of the exploitation of Chinese and Thai workers by computer part factories from the other direction – the Western one.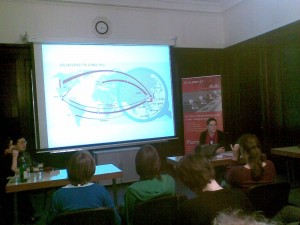 Clean-IT – as part of the European initiative Procure IT fair – tries to put pressure on the big computer manufactors to take resposibility for their supply chains. As a matter of fact the big brands – Apple, Leneovo, Fujitsu Siemens, … – don't produce the parts for their computers themselves, but buy them at various factories, mostly in South East Asia. If they would insist on socially benificial working conditions in these factories, the workers there wouldn't be.
So Clean-IT makes people and organizations aware that they can express their desire for fair-produced computers when buying them.
The presentations and discussions were really interesting. I was not really aware of the problem before and I think it's really important to make people conscious that they have the power to improve the living conditions of people living far away – only by altering their buying decisions.
So – go to the Clean-IT web page and see what you can do!