Notes from the first Lift @ Austria conference from 19. to 20. March 2010 in Vienna, Austria.
.
After the framing talks (LIFT @ Austria, day 1 – part 1) and a delicious lunch, the participants of Lift @ Austria conference split in three groups to discuss certain aspects of "enabling" in depth. I joined the group on Enabling Structures meet Enabling Metamorphoses. The workshops were initiated by two short impulse talks. Information on all the groups and speakers can be found at the Lift @ Austria conference program page. Abstracts of all talks can be read at the Lift @ Austria speakers page.
Pictures of the speaker are either shot by myself or taken from the website of the conference.
.
Sava Dalbokov – good.bee holding
Cross-pollinate! Financial and Support Platforms for Social Development
Good.bee holding:
Banking the unbanked
Microfinance (act), capacity building (teach & learn), community solution (orchestrate)
Economic sustainability
Changemaker initiative together with Ashoka
Enabling capacity: f(freedom + leverage)
Important attributes for projects which are supported in the social entrepreneurship sector:
Economically sustainable
Hard to measure social impact – one approach: is it scalable?
20-50k support
.
Jean-Henry Morin – University of Geneva, Dept. of Information Systems,
Switzerland
Social-Micro-Innovation : Leveraging the Crowds as co-Innovation Enabler
Wisdom of the tribes – Seth Godin
self-organizing crowds gathering around a leader
Inspiration:
technology
economics (access, information, transparency)
innovation
Limitations: the elite few
inhibiting quality in various sectors
collective intelligence can manage complex decision processes much better
Sectors to be reformed:
scholarly publishing
research funding
project funding – innovation marketplaces
.
The following discussion can't be transcribed, it was very inspiring and circling around the topics mentioned above, creative commons and the issue of ownership in groups. The resulting poster for presentation is depicted below.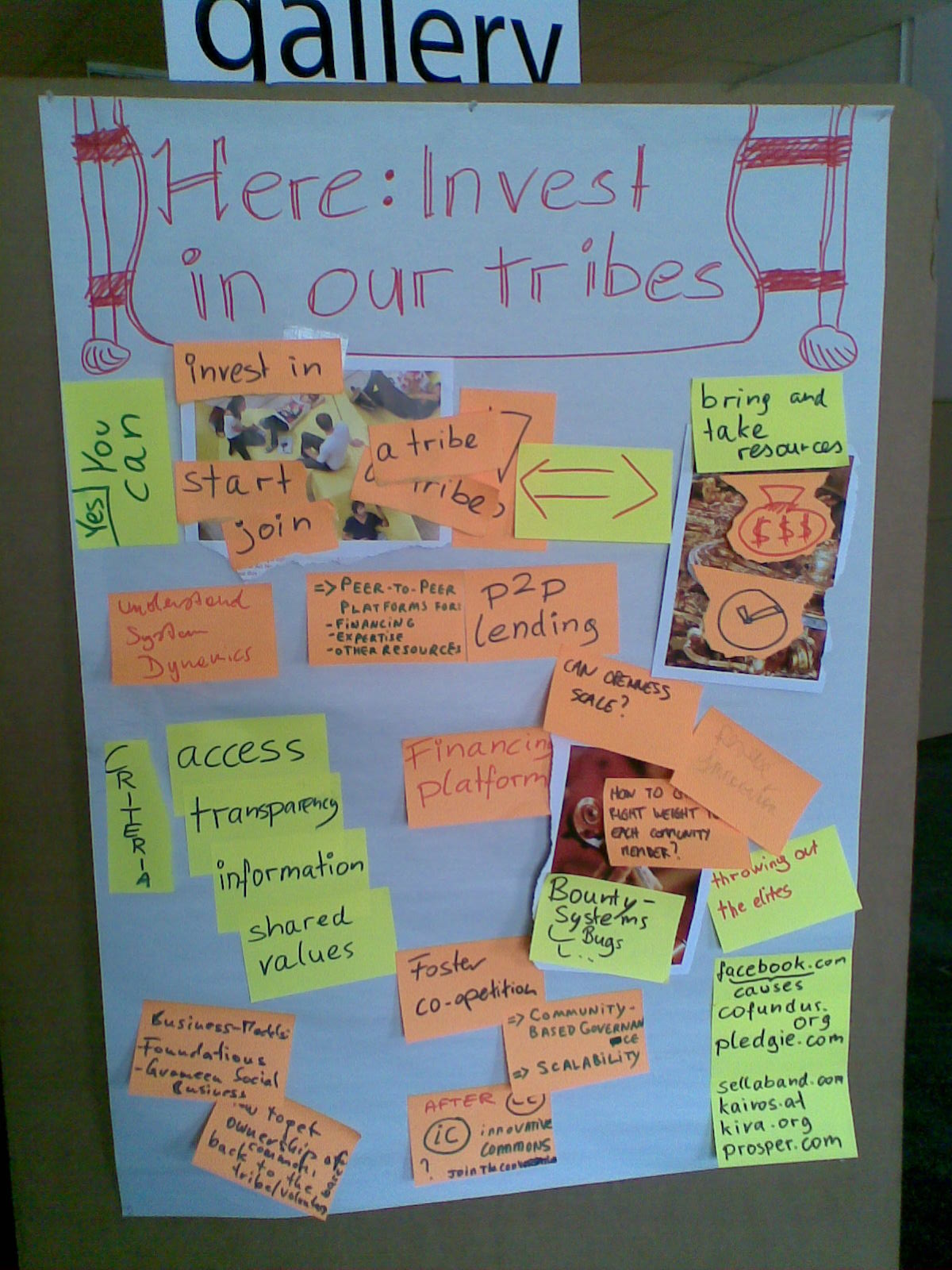 The conference ended very comfortable – with a visit at one of Vienna's wineries where discussions and networking continued.