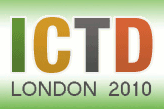 At ICTD2010, the biggest ICT4D/ICTD conference this year, just recently the accepted papers and posters have been publicized. The topics cover the most exciting and current topics in ICT4D today, and we are proud to announce that the paper we handed in  – "A Qualitative Study of the Impact of Mobile Phone Usage on the Social Life in East Africa" was also accepted as a poster.
Registration for the conference has also opened already – so make sure you get a ticket before it's too late. There's also the possibility to apply for a scholarship for people to participate in the conference who might not otherwise be able to do so. Just as a reminder once again the dates:
What: ICTD2010 conference

Where: Royal Holloway University, London

When: 12. to 16. December 2010
ICT4D.at is partnering with Roayal Holloway for this event. Currently we are working with various other people of ICTD2010 to get the pre-conference platform up soon. We will host it here on our server. Furthermore we are working on a media strategy, as we are providing our video and radio skills to the conference organizers.
A lot is happening – and ICTD2010 promises to be a really exciting event. So make sure you check it out!