This year's Internet Research conference in Göteborg / Sweden has a special focus on sustain
ability, thus one of the key note speeches is dealing with Green IT.
Peter Arnfalk from the International Institute for Industrial Environmental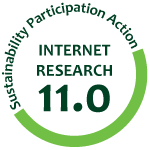 Economics at Lund University presents the concept of how we might ensure sustainable development by 'greening' of and greening through IT. This includes all three pillars of sustainability – environmental, social and economic interests.
As the electric energy used for IT will double within next 5 years and we are already producing millions of tons of e-waste a year, some of those valuable, some hazardous, some both, it is absolutely time to make our IT related patterns more efficient. There are several concepts concerning Green IT, reaching from greening IT products, over de-materialization (e.g.: 'paper-free office'), to new functional solutions in society (e-banking, e-care, teleworking, online meetings,…) and environmental applications of IT (measuring air/water quality,…). These concepts partially are picked out and instrumentalized on various political levels: supranational (OECD), international (EU) and national (in Arnfalk's example: Sweden). But there hasn't been enough research on Green IT (partially due to a lack of funding and related funding policies) so it is not always sure that such environmental policies really improve our usage patterns… or did you know that the total CO2 emissions from e-mail are 7-20 times higher than postal mail?
There is another issue Arnfalk singles out as major challenge of the Green IT idea: What happens after we rationalized our processes, made our energy usage perfectly efficient and are able to save a decent amount of resources? It is obvious that we would use these resources to produce more goods and increase consumption… So in parallel our consumption patterns should be adapted to be sustainable as well!
Links:
Keynotes @ IR 11.0 ||  The presentation slides will be put online soon!
Peter Arnfalk @ IIIEE at Lund University
The Green IT Report ||  Related blog
Tags:
Green IT
,
sustainability
Green IT @ IR 11.0
was published on 22.10.2010 by Isabella Wagner. It files under
global
You can follow any responses to this entry through the
RSS 2.0
feed.