Notes of the World Bank ICT Sector Unit event Global CIO Dialogue on the Future of Government Transformation on 8 November.
Trying to bring the learned lessons from practicioners all around the world (UK, Moldova, Singapore) to real-life projects.
.
Philippe Dongier, Sector Manager, Sector ICT Unit, The World Bank
Opening remarks – Introduction of speakers and country audiences
The World Bank is working right now with Moldova on a large government transformation project and this project is also introduced today
.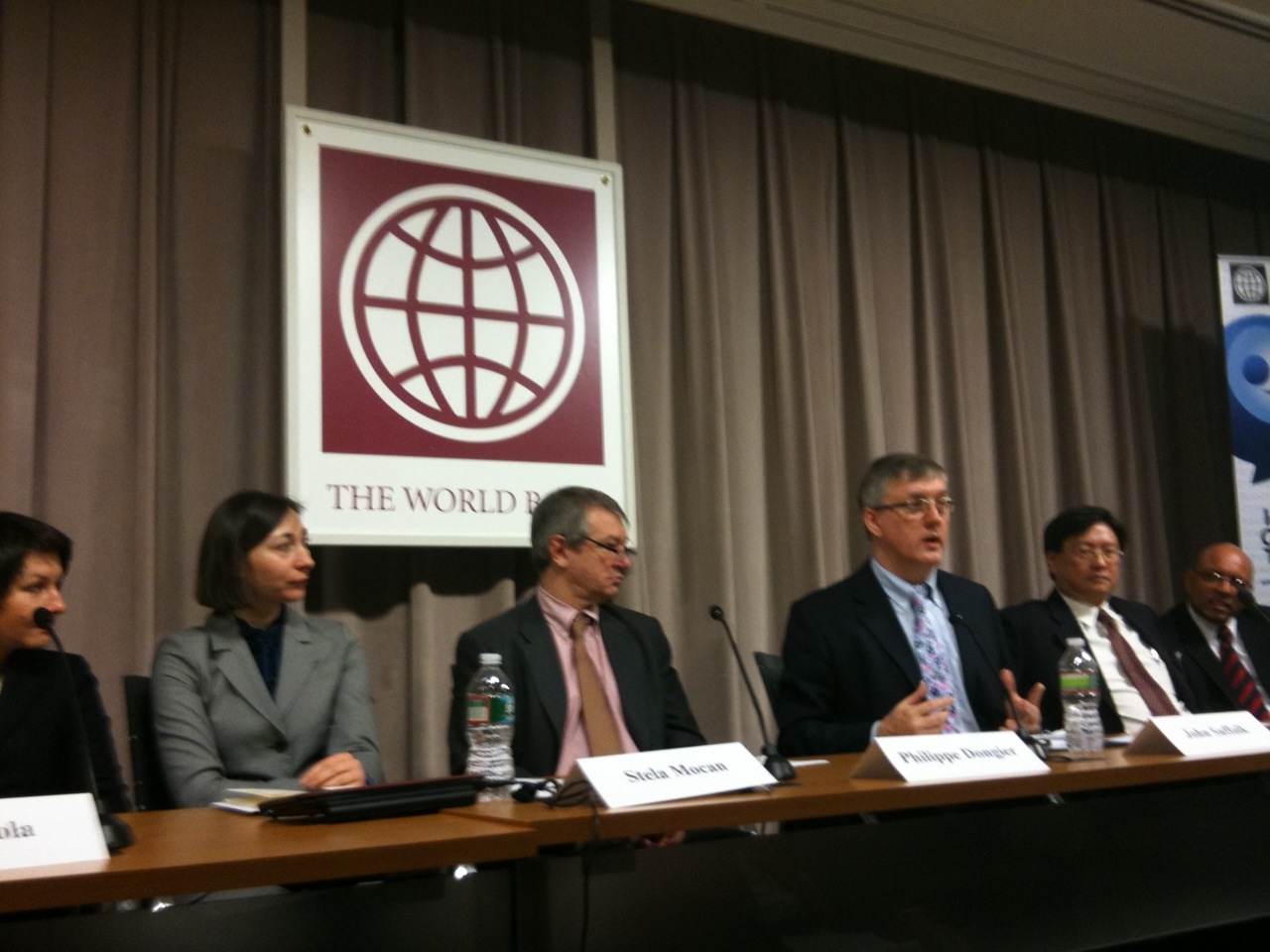 Keynote Address by John Suffolk, UK Government CIO
"Somebody somewhere in the world has already solved the problem" – bringing people together has a large value
It's difficult to predict the next steps of technology – nobody knew that Facebook, Twitter, … would change the world like that
Governments must respond to the changing needs of globalization
different media for services (paper, telephone, online forms, …)
governments are online
countries' agencies are very integrated (fed, state, local) – also because of consumer demand
outsourcing of sectors to the private sector
Example: iTunes to get text for police officers to different languages when trying to arrest people
Different countries have expertise concerning different eGovernment sectors – mobile services, identity management, …
Tranparency is an issue
we publish crime data – quickly Android application appeared to show crime in different areas
UK approach: publishing as much data as we can
The next technology changes cannot be predicted – but what are the trends?
we have stopped worrying about the future – nobody can keep track of it
risk is rising
approach is important: which outcome do I want to deliver?
everything pervasive is interesting
not into long term contracts
not paying big license fees
scalable services
all things mobile
combining small services rather than having monolithic big systems
Where should I start?
there is no single start position – everybody has a different start position
start where you can simply and quickly achieve something
try to pick services which create an infrastructure for another service
Summary
it's critically important to bring parties together – learning from each other
we need to think about where we want to be in 5 years time – past problems are already gone
anything you can do with teaming up with other countries to solve a similar issue will reduce your risk and learn from each other
.
World Bank Project Example: Moldova Governance eTransformation by Stela Mocan, Executive Director of e-Government Center, Moldova
Video on the Moldove eTransformation
Start: December 2009
Partnering with Singapore – to get in touch with best practices and experience
Becoming part of the eTransform initiative
bringing the best experts in IT for development to the country (Singapore, Estonia, UK, Croatia)
learn how to work in synergy
definition for an eTransformation strategy / roadmap
modernizing & reforming the government as prerequisite of the economic development
own eGovernment center as driver for eTransformation
Aims: increase accessability to government services, network government, enhanced participation, improved productivity of the government, increase economic competitiveness
We have to win the hearts and minds of the citizens and politicians – overcoming the resistance to change is the biggst obstacle
We are still looking for partners for this initiative and are happy to share our findings and learn how to work in synergy – companies, civil society, …
.
Panel discussion on the future of government transformation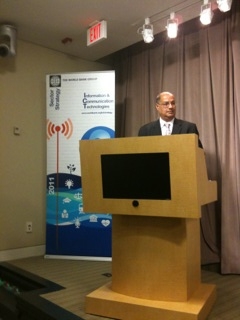 Moderator: Randeep Sudan, Lead ICT Policy Specialist, the World Bank
How do governments think about the upcoming technologies, service approaches and the challenges coming with it?
Panelists:
James Kang, GCIO, Singapore
Bryan Sivak, CTO, Washington DC
Dona Scola, Deputy Minister of ICT, Moldova

John Suffolk, UK Government CIO
DS: Main challenges for government transformation
change management: understanding the complexity of eTransformation – changing the society as a whole, getting support from people from all sectors of the society; ensure maximum inclusiveness and ownership of addressed people; understand risk connected to it
overall competitiveness of a country: 2 pillars – quality of governance & productivity and competitiveness of the economy; ICT is the biggest enabler for both
change of attitude towards technology: using only what we already know – big inhibitor so far; now also outsourcing services
BS: Main challenges and how to address them
DC has been leading in ICT for a long time (starting 1998), releasing data and motivating people to do something with it
technology is not the answer to the problems which exist – underlying issues have to be tackled first: connectivity (high) vs. adoption (low); if people aren't connected, government services don't help – digital divide is a big issue
changing the culture – risk tolerance is critical; make things more open, let people try things; inorder to innovate, people have to fail
first thing to do is to focus on the people
JK: how do you track the future & how do you prioritize?
we live in exciting time, a lot is shifting to the citizens
next step: collaborative government – no more government providing the solution but government partnering with people (private sector) offering the solution
trends that are coming: cloud computing – how to use a public cloud (security issues); business analytics – metadata is growing faster than data, new insights; mobile devices; open data; government as a platform; social network– getting closer to the citizens
for governments – create a strategy; today it's all about speed and integration; outsource to the private sector; find international partners to share and to learn; collaboration is the way to go
JS: how do you prioritize with government cutting budget?
generally rethinking the way services are provided
take out the overlap – leveraging buying technology in masses
asking private sector how to make stuff simpler for them and therefore cheaper for the government
move towards the citizens, not big buildings but mobile solutions coming to the citizens
crisis & budget cuts make you rethink the way you did things – crisis as a chance
.
Perspectives and questions from participating country audiences (Albania, Azerbaijan, Belarus, Georgia, Kazakhstan, Macedonia, Russia and others, TBD) as well as the Washington audience. Moderated by Deepak Bhatia, Head of e-Gov Applications Practice, Global ICT, The World Bank (TBC)
Q & A
Belarus: Advice on using digital signatures and digital athentification & identification?
Moldova: How to create demand for eGovernment services beneath citizens, private and public sectors?
Serbia: Current job – how to support IT departments and people who work directly with the customer. The biggest challenge we have is to motivate people in the administration to join the team.
Tanzania: Many activities in eGovernment since 2000. Questions:
How do you manage the eGovernment in the absence of a robust identity management – identity theft?
How is Moldova dealing with sustainability of the IT projects – maintaining and running the services after launch, funding, human resources?
How do you deal with procurement issues?
Example for the types of e-services Moldova is intending to provide?
Kazakhstan:
What specific actions can be taken towards government cloud computing?
What's the relationship between using industrial platforms vs. open source – how many percent use each?
Audience:
Where do the financial resources for the Moldovian initiative come from?
How have you been able to collaborate with other ministries to align with their development plans?
What are the "low-hanging fruits" concerning eGovernment?
BJ:
Identification questions is interesting, the US doesn't have a national identity card; we're currently trying to implement a district-wide ID; every agency in the city has the ID needs;
encouraging eGovernment to the citizens by providing value-added services, not only the data; in the agencies people need to understand data is not only for external, but also for internal usage – show them the power of data
JS:
identity questions – we have different identity numbers (car license, …), design services so they can cope with that
how to drive change – students expect to do things online, you can start with that; go where there is a demand for online services
cloud computing – it's important to be careful on the security level;
open source vs. proprietory: lowest risk for lowest price; key: open standards
tranparency: we publish everything except personal data
JK:
we have an identity system, it's a huge investment; we have to work with the banks – having the transactions there to come in
how to create demand – for agancies: governance model to care for all the difficulties agencies have; for citizens: have lower costs as result of services and people will do it
moving to cloud computing – go for hybrid (public & private) clouds, standardize on technology when designing for different agencies – interoperability is key
open source vs. license – everything has their advantages, we evaluate both, it's just a different model
cloud: make sure that everything you put in the data is portable, we have to get more specific when we talk about the "cloud"
open source vs. proprietory: it's a case by case thing, we use both
aligning agencies: we control all the IT spendings in all the agencies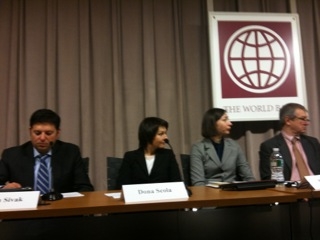 DS:
Moldova is still in the design phase – final stage of feasibility sudies – so not too much experience yet
sustainability: rely on private-public partnerships; the main question: how to assure that the investors are interested to invest in Moldova? try to position Moldova as a regional technology hub; trying to attract ICT specialists by offering career possibilities
question of procurement – hopefully covered by private public partnerships
sharing best practices – mid December we'll launch the eGC (eGovernment Center) website and will put everything online; we are currently launching a public-private partnership conversation as the private sector is a key stakeholder
.
Closing remarks by Philippe Dongier, Sector Manager, Sector ICT Unit, The World Bank
Only a minority of IT investments pay off – but when they succeed the return can be very high
quick information flow
co-investing with other organizations
learning from each other is vital
3 Responses to "Notes of Global CIO Dialogue on the Future of Government Transformation"
S. Furlong Says:
December 6th, 2010 at 17:15

Hello Florian Sturm;
I very much appreciated your summary of the Nov 8th discussion on the Future of Govt Transformation. In the event that I am not able to participate on line on Dec 9th, may I ask for a summary of the upcoming Transformational Government Workshop?
THank you kindly,
S. Furlong
Ottawa, Canada
SFurlong@territorialcommunications.com

Florian Sturm Says:
December 11th, 2010 at 22:06

Dear Mr. Furlong,
regrettably we didn't manage to attend the Dec 9th event, as we are busy preparing our coverage from ICTD2010 conference London.
For future events relevant to ICT4D, we will try to have coverage on this blog again though.
Best, Florian Sturm

imgur Says:
April 3rd, 2016 at 12:19

This is also possible if they offer SEO as part of their service.
One should keep in mind that communication lines for live support are kept open for paid accounts, who are
given top priority. The amount of space required by
a website should also be considered while choosing a web host.