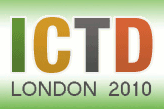 From Monday 13.12. on we will be reporting from this year's biggest ICT4D / ICTD conference – ICTD2010 at Royal Holloway, London. Our main job is to shoot interviews, sessions, presentations for a video-diaries for each day of the conference. People who can't participate in person should that way get an impression of the discussions, talks and generally the vibe at the conference. Furthermore we will produce one video report covering the whole conference.
Al our material will be uploaded to our Youtube channel and some of it will be featured here on the blog.
So make sure to check it out frequently!