As already mentioned in the last post, our in-service training for teachers in digital media skills in public schools in Ghana at Keta Senior High Technical School is over now and Margarete is back in Austria again. So it's time for a sum-up and some lessons learned.
Here's a group picture of all the participants.
.
School
Keta Senior High Technical School is a very large school with about 80 teachers and more than 2,000 pupils (due to Margarete's informations). Some of the teachers participated in our program – it was a voluntary decision to expand their knowledge about information and communication technologies.
In the beginning it was necessary to find out what the teachers wanted to learn – considering the different skills levels of the participants
figuring out what the best outcome will be
every day Margarete assessed the interest of the particpants  and adjusted her program to the audience
Currently there has been a government program put into place where teachers are given laptops to use them in their courses. The timing of this government program fits nicely with our project.
The projector donated by Fritz, another of our members, was very helpful during the course.
Generally the feedback of the teachers was very good . They expressed their appreciation to learn more about ICT and digital literacy. The participants enhanced their ICT skills during the two weeks course and they developed new ideas for their class teaching. Different methods of pedagogy in class teaching (Ghana / European practice) were figured out.
The topics covered in the course included
basic ICT literacy
usage of MS Office programs such as MS Word, MS Excel and MS Powerpoint
basic internet-skills –how to use internet for better learning and teaching good practice skills (e.g. evaluation of websites)
how to enhance teaching and learning using digital devices
creating a digital portfolio (as an example for future teaching experience)
Challenges with the lab
internet connection only on the last day
PCs were no too well maintained – many disconnected parts & the working ones were full of viruses
power outages – but only 1 full day course had to be cancelled
Headmaster Mr. D.K. Sedanu-Kwawu was involved and is very positive and forward-thinking. He is very much interested in the potentials of ICT in teaching and learning.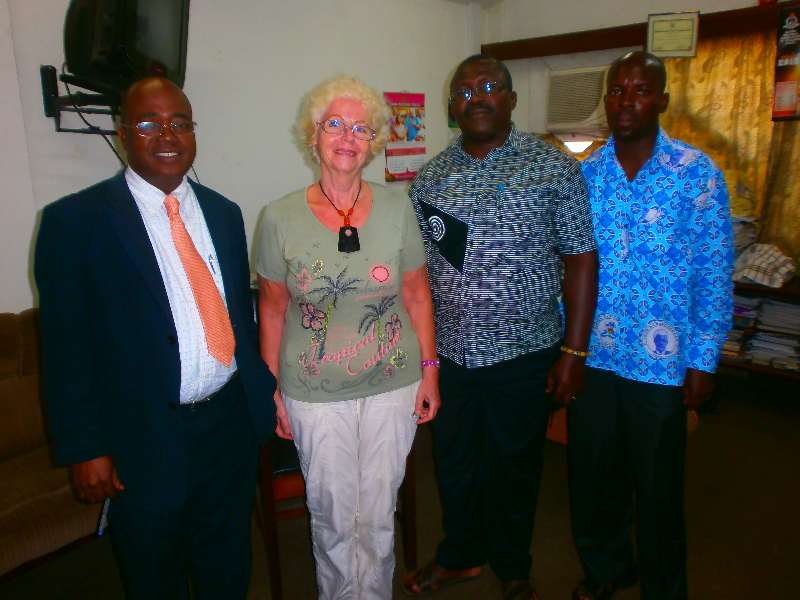 Ministry
The day before departure Mr. D.K. Sedanu-Kwawu and Margarete met Mr. Abu Stephen.
Mr. Abu is Deputy Director-General & Director at the Basic Education Division and reponsible for ICT in education
Mr. D.K. Sedanu-Kwawu & Mr. Abu are looking forward to further activities
Keta School could become a pioneer project
It was a very interesting meeting, Mr. Abu already answered to a mail of Margarete – looking for further cooperation
Margarete also met with Dr. Bella Bello Bitugu, country manager of the Right To Play project who handed over Margarete a present on behalf of the Keta School alumnis to Margarete – a wooden stool with the sign of Keta School carved in.
Planning

We should continue with this project and plan for a next course, maybe continuing with the same group to widen their experience and build up a Trainee group, or maybe same content with another group of teachers
Organisation of the course and Margarete's arrival and stay in Keta was perfectly fine, the mobile internet (MTN) worked perfect and and allowed her to stay connceted with Florian and Fritz in Austria and Worlali in the Netherlands.
Margarete will try to get Gameli and Eldad involved in an online project in Graz – already
talked with doctor father about this.
.
Finally we want to express our sincere thanks especially to Gameli Adzaho and to Charles Amega-Selorm who organised everything on the spot and headmaster Mr. D.K. Sedanu-Kwawu. It was very kind of him to offer Keta Senior High Technical School to help make this project a success.
We're looking forward to working with you soon again!
Big thanks and appreciation also to our member Worlali Senyo who initiated the project and virtually kept in touch with everybody during the whole period.