After the project ICT4DMZ started in July 2012 – we wrote about it in an older blogpost – we are still on it and right now; Anders and Florian are on the spot for another work package.
This work package is about planning projects that meet the demand of the broader population, while at the same time offering a practical guide to students how to get from a project idea to a software concept. The two software concepts developed in this course will be implemented in the coming work package – in February 2014.
So the course started on Monday with 12 students from 2nd and 3rd year informatics and 2 people from 3rd and 4th year geograpy studies with GIS background. This is a group picture of the students and Florian.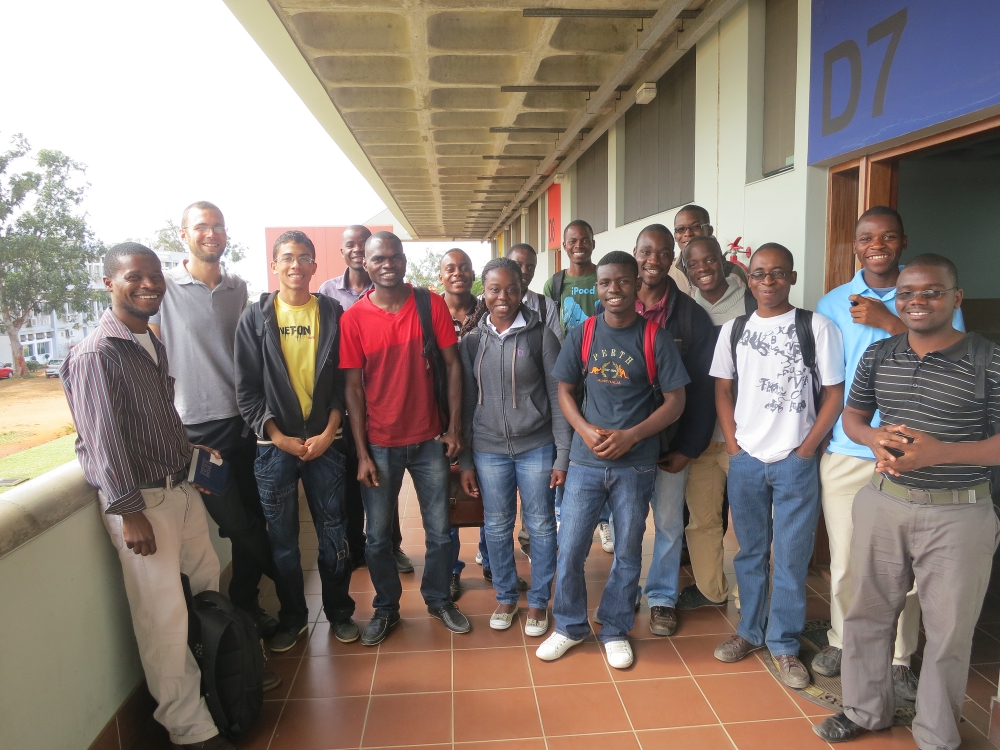 So far we've initiated two great ideas which we will develop into a concept:
– Safe/Beautiful Maputo
A service which provides information for places in Maputo. Users and officials from different institutions can share information if places are dangerous, safe, interesting for tourists or have any other special characteristic and how they can be reached. Tourists and citizens of Maputo can use this information to plan activities or their daily trips.
– Complaint Center
This application should provide an interface between customers that have bought a product and want to place a complaint and companies that should care for this complaint. Finally the rating of companies due to their response to complaints will also help future customers decide where to buy a product.
Additionally, we introduced the students to a voluntary excercise called "MyMaputo", which is an introduction to open source web filmmaking. It could later be applied for client demos of the finalized software concept.
Of course we were also heartly welcomed by our project partners at UEM. We met with the professors Emilio Mosse and Andrei Shindyapin and their staff and they already showed us around in this beautiful city.
We were positively surprised to find out that just across our office is the Centro de Informatica – CAICC (http://www.caicc.org.mz) which includes an ICT4D department. We got in contact with Polly Gaster and Luís Neves, who were kind enough to brief us on their mision and current activities.