Anders and me are back in Austria now after an exciting month in Mozambique, working for the project ICT4DMZ at the Universidade Eduardo Mondlane in Maputo. We had a great time and would like to thank our partners on the spot, Emilio Mosse and Andrei Shindiapin. Below there's a group picture with them and Marcia, a future PhD student in Maputo and Vienna. We are very happy that we can offer her this opportunity together with APPEAR and TU Wien.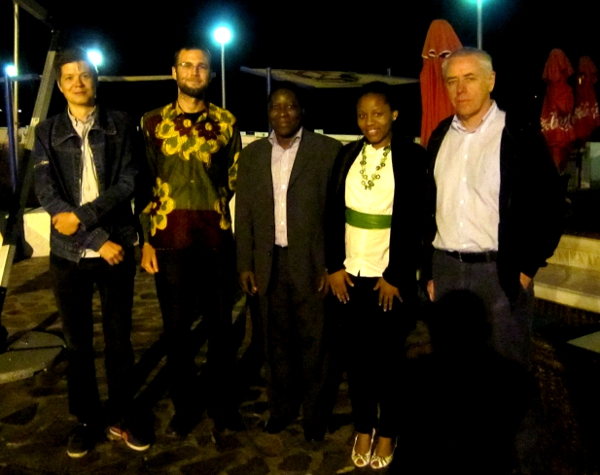 All in all we have had quite some time in several lessons with the students to bring forward the concepts for the two applications they were interested in creating. In this blog post you can find some pictures of how we worked together. Of course after three weeks we could only touch some things and the use case diagrams, list of system components, UML diagrams and mockups we created are a first draft only. However, I'm proud of everything we produced and it gives a good impression what the applications should do. Now it's up to the students and their supervisors to work on the projects until February, when two colleagues, Paul and Philipp will come to Maputo to deal with implementation of the two applications. We will try to keep in touch with the students and hopefully they will find time besides their many duties at university to continue their efforts with "Safe Maputo" and "Complaint Center".
Additionally to the course, Anders and me held two presentations for students of informatics and journalism about current developments in media. We dealt with topics as diverse as the Raspberry Pi or PRISM and received a good deal of interest.
Finally I can only express my hopes that what we've said and done has helped the students broaden their horizon in general and increase their insights into software creation. I had a good time working with the students and am looking forward to keep in touch and observe the development of the applications.