The ICT4DMZ project is now running quite a while and after three amazing weeks in Maputo we are one big step further to reach our goals. Philipp and I (Paul Spiesberger) tried to bring the students of the Universidade Eduardo Mondlane (UEM) in Maputo on the right track.
In more than eight workshops we gave them the tools and the knowledge to start programming for their projects. At the beginning we tried to find out on which level their skills are and what we can expect. From that point on we knew that we will have to give them a short introduction to modern software development in a team as well. Up to that day the students were exchanging code with Dropbox and they had almost no structure or/and organisation for their teamwork. At that time we were glad that Florian and Anders did great work a few months ago. They helped them with team roles and project documentation a lot. So it was not necessary to cover that important part too. In order to give them an easy tool to handle their code and the organisation of their projects, we introduced them to GIT and Bitbucket. The students were impressed by the GIT workshop and we were happy to see over the next days that some of them were porting their "Dropbox projects" to their new GIT repositories. Working with Bitbucket-Issues was not that successful at the beginning, but we are sure that this will change over time. From that point on we were ready for programming and we split up the group by the two projects:
Complaint Center
The goal of this project is to create a website which can handle complaints about a company or a product. It should gather information or feedback and help to improve their services. Philipp started with a short tutorial about the PlayFramework and helped to set everything up. After that he assisted with his expertise as much as he could.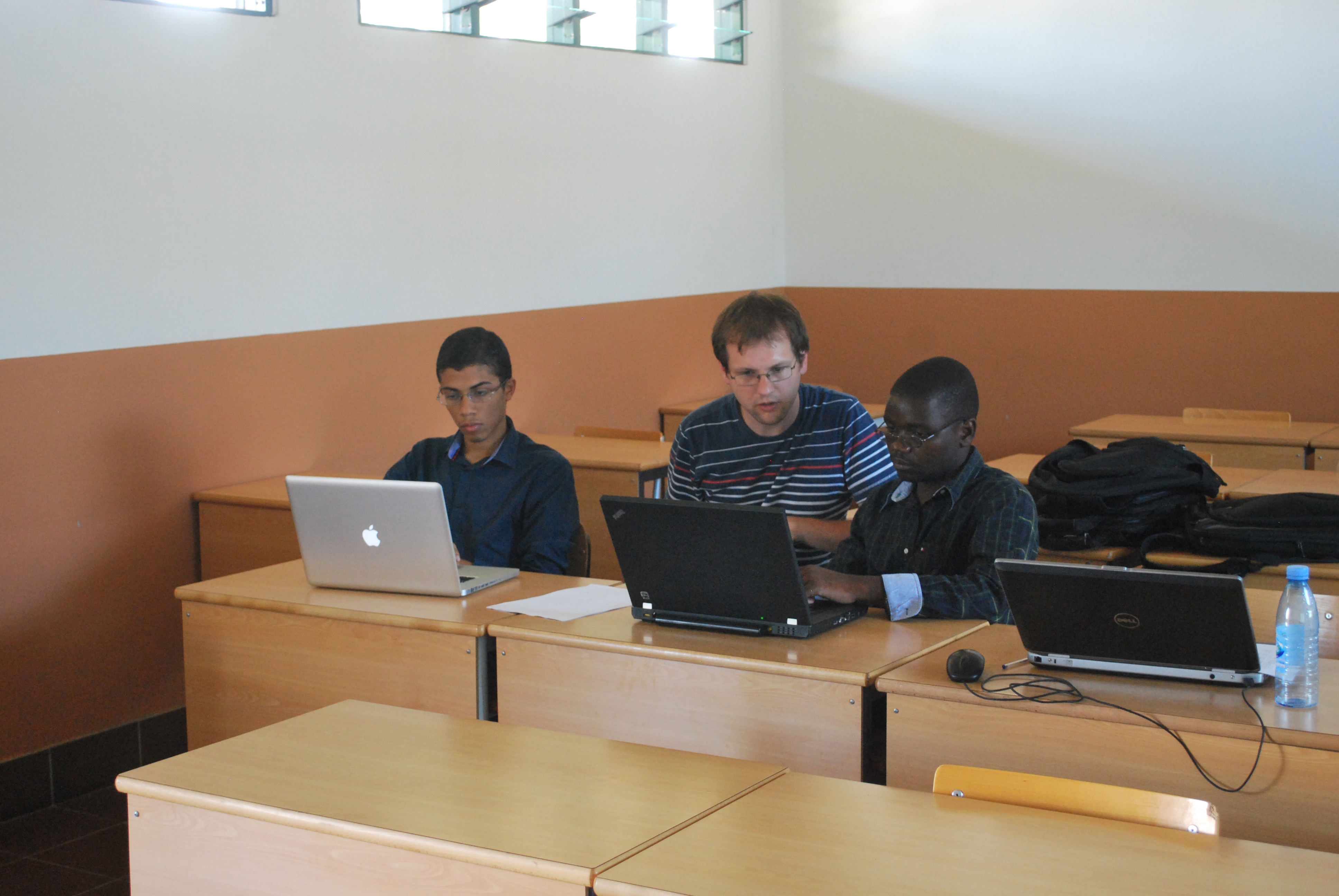 FindUEM
The other group is working on an Android app for students to find POI like lecture rooms, Wifi hotspots or public power plugs at the UEM campus. I started to teach them the basics of Android programming and helped them to set up the project. Since Java programming and developing for Android are quite different, it took a little bit longer to write the first line of code. I tried to explain step by step the important parts and assisted as much as I could.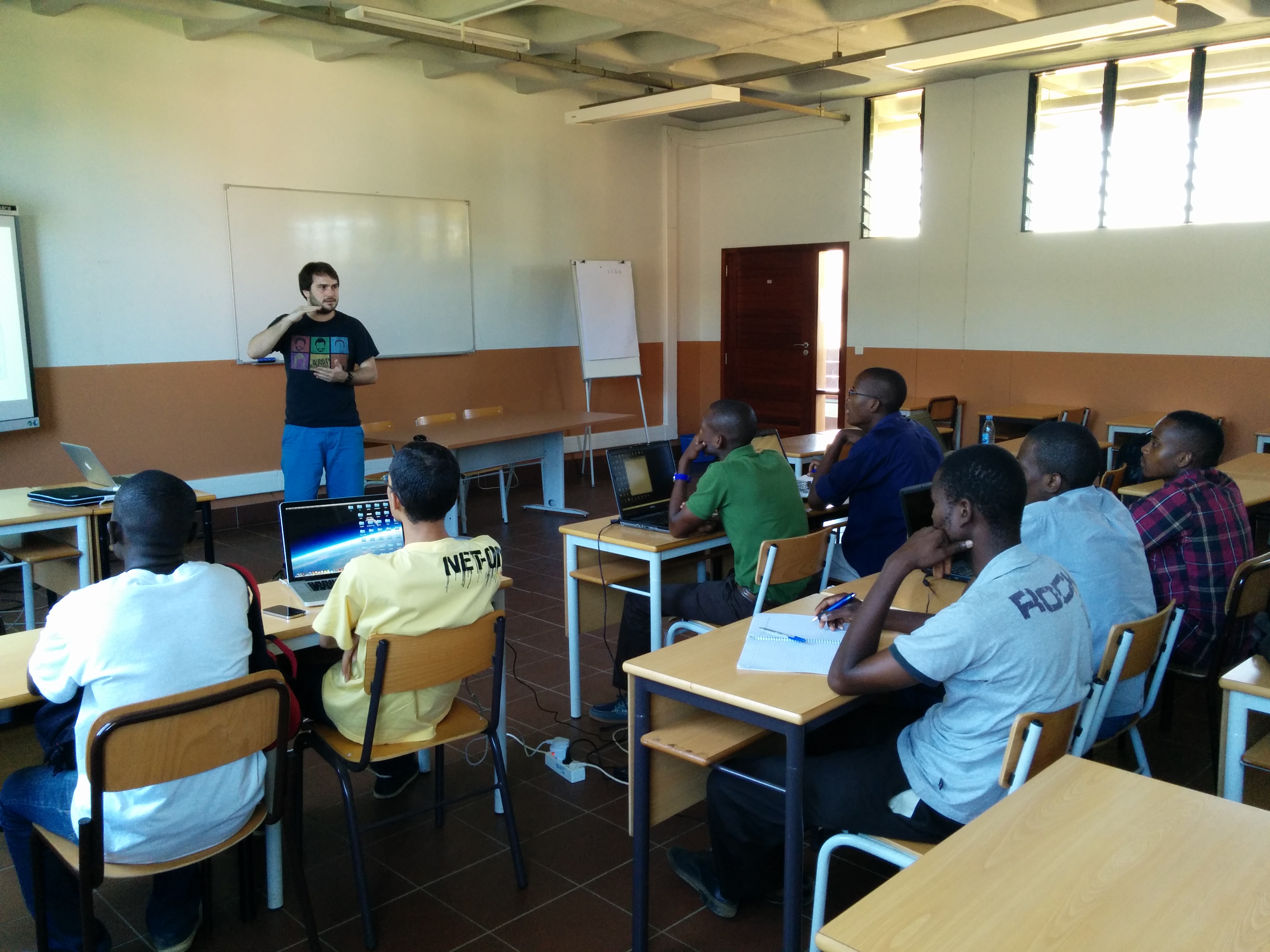 In total we worked about 27 hours in three weeks with the students. We had some troubles finding the right time slots for all students, since they had different time schedules during their weeks. Especially at the beginning we did some workshops twice, so no one missed the introductions to the technologies. After that, not all students attended to our workshops all the time, but we were never alone.
From now on, we will assist via Skype and e-mail remotely from Austria. We have a good feeling for the outgoing of the projects and hopefully the students keep engaged in the next months as they were during our workshops.
During our stay we also helped the UEM to use Moodle for a first test run. We hope that in the future this modern way of IT supported teaching will be expanded to other lectures and faculties to strengthen the teaching abilities at the UEM.
In addition Philipp and I were working hard on our master thesis. Philipp is doing research on big data for emerging countries and for that he conducted some expert interviews. I am interested in user interface design for mobile devices in emerging countries like Mozambique. So I did a survey with students to find out their mobile phone usage and habits.
Of course we also found time to travel and to take a look at this beautiful country. When you talk to people in Mozambique, experience the beautiful landscape and take the time to look behind the curtain, then you get the feeling that this country is moving fast forward. The question is in which direction. The currently discovered massive resources (minerals, oil, gas) can have a positive or a negative impact to the society. There is also a new party growing really fast and it is gaining more and more influence. In the last few months the country was almost slipping into a new civil war. But one week before we arrived, they managed to find a compromise and elections are going to happen in the future. But I think that despite the fact of great poverty, corruption and the lack of education, Mozambique has the ability to find the way to a great and rich future.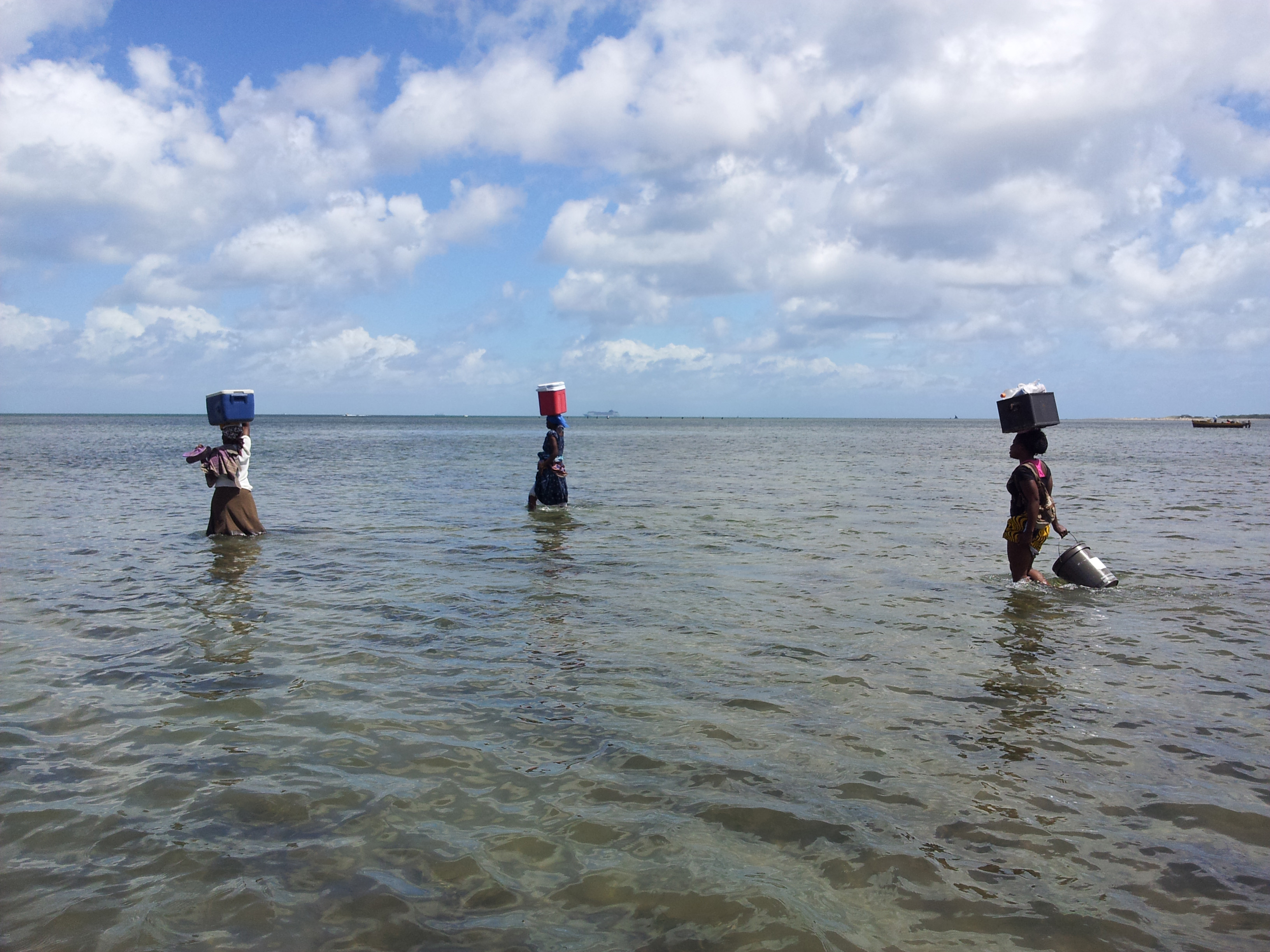 Last but not least I would like to say thank you to Emilio Mosse and Andrei Shindyapin. We are lucky to have this partner and friends in Maputo, who are willing to share their valuable time and love with us. Also a big thank you to the students for their great effort and time!
Philipp and I are excited to continue the work and we are looking forward to meeting our friends in Maputo again.
Tags:
africa
,
Android
,
education
,
empowerment
,
ICT for education
,
ICT4D
,
ICT4D.at
,
ICT4DMZ
,
Maputo
,
mobile
,
mobile phone
,
mobile phones
,
UEM
,
workshop
Modern software development workshops at the UEM Maptuo
was published on 03.03.2014 by Paul Spiesberger. It files under
sub saharan africa
You can follow any responses to this entry through the
RSS 2.0
feed.