I remember a phone call in October 2018. Birgit, now member of our NGO, asked me if ICT4D.at wants to be part of an Erasmus+ funded project involving several countries on the African and European continents. The premise: Supporting and mentoring young social entrepreneurs and leaders from Namibia, Romania, Zimbabwe, North Macedonia, Mozambique and Austria and empowering them to solve societal challenges of their communities and to work for a better world.
Of course I felt immediately intrigued and so were the other members. After some calls with the partner organisations and internal meetings we decided to become part of this journey. We tried to plan ahead as profoundly as possible. We prepared for our trips and gathered ideas for workshops. And we were looking forward to meeting young social entrepreneurs and the teams of Mladiinfo and Young Africa in person. What we didn't have in mind during our preparation phase though was a global pandemic.
Time to celebrate resilience
Three and a half years later YES We Care 2 recently reached the finish line. The project got quite a beating by COVID and all it's strings attached. That means we had to cancel our plans in 2020 after the project was already up and running for a few months. It was possible to move workshops and meetings to online spaces of course. But the overall outcome of the project became uncertain and we weren't able to organise real life meetings. Our goals seemed fall apart almost entirely. The organising teams therefore had to reset and come up with a new timeframe for the rest of the project. And they did a good job.
Despite the major setback and thanks to the commitments and organising work of the involved teams it is great to see that YES We Care 2 turned out to be a resilient undertaking in the end. We can now sum up certain milestones and show numbers and achievments reached within the last years:
3 contact making seminars took place in Africa
40 young people were skilled up on SE topics within the online events
2 online trainings were held for educating young entrepreneurs on Sustainability and Communications
24 social business and ideas were mapped in 6 countries
11 videos of young social entrepreneurs and experts were created
The YWC2 website reached more than 6.300 users and gathered 14.000 page views (Feb 2019-Oct 2020)
And the YWC2 Instagram and Facebook pages gained a lot of traffic and interactions (Instagram: 390 followers, 71 posts; Facebook: more than 1600 fans and followers, 170+ posts which reached more than 50.000 people)
To celebrate the achievements I had the pleasure to create info graphics and illustrations that visualise the milestones and numbers of YES We Care 2. 🙂
Feel free to use and distribute the graphics considering the CC terms below.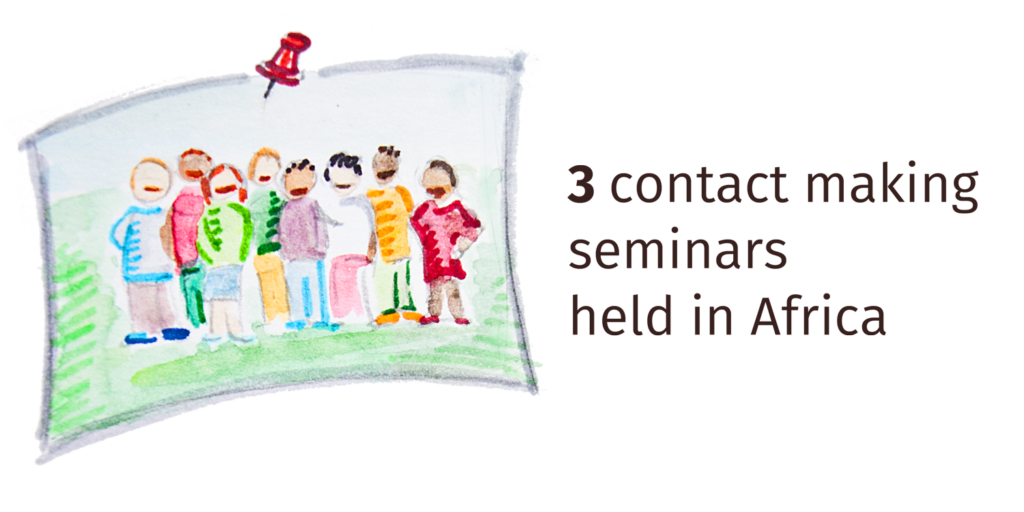 This work is licensed under a Creative Commons Attribution-ShareAlike 4.0 International License.