The inaugural pan-African meeting of the Python programming community (Pycon Africa) took place on the 6 – 10 August 2019 in Accra, Ghana at the Bank of Ghana Auditorium, University of Ghana premises which had 323 attendees mainly from all parts of Africa and beyond.

The conference had attendees coming from Madagascar, Namibia, Egypt, Kenya, Nigeria, Italy, Senegal, Benin, Togo, Ghana, Ethiopia, Zambia, US, Netherland, Zimbabwe, Germany, Brazil etc.

The conference kicked off with an International visitors' tour of Accra, where guests were taking round to experience the way of life and also visit tourist sites within Accra. Some places of the visit include; Independence Square, Makola Market, Cultural Centre, National Theatre just to mention a few.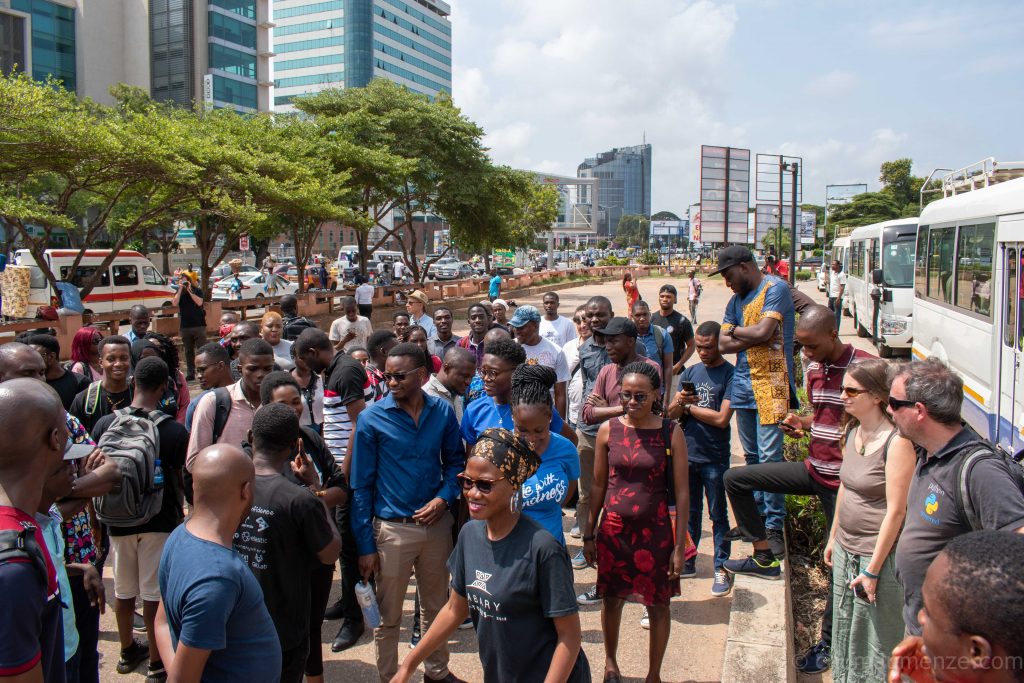 Aside that, there was a beginners day session at the conference venue led by Joey Darko to introduce newbies to the Python programming language.
The opening ceremony started with a cultural display of Ghanaian dances such as Adowa, Agbadza, Damba Takai and many more.

Here is a video of me dancing with Django Girls attendees who also served as volunteers
After the opening dance, Marlene Mhangami the chair for the conference mounted the stage to welcome everyone officially and also introduce the executive team behind the organization of the conference.
Moustapha Cisse took over to present a keynote on 'AI : The potential for Positive Impact'.
Afterward, talks scheduled for the day started and runs till mid-afternoon, where a plenary discussion was held on 'The role African technology communities play in the global technology ecosystem, and how the growth of these communities can be nurtured' on the panel were: Solomon Apenya – Andela, Daniel Roy Greenfeld – Britecore, James Yankah – Brompton group and Marlene Mhamani – Pycon Africa Chair

Anna Makarudze the Vice President of the Django Software Foundation then concluded day 1 with a keynote on 'Diversity in tech: An African's Perspective'

Day 2 started with an energized keynote by Ewa Jodlowska the executive director of the Python Software Foundation on 'Our Stories' where she spoke about the PSF and what they are doing including grants for the 1st Python in Education. She ended her keynote speech by saying "Help one another, talk to one another, code together and work together".
After her speech followed by other interesting talks of which one captivating talk was that of Anthony Shaw: Standing out in a world of 20 million developers of which he touched on: setting small goals, picking your skillset, having two specialities, focusing because that makes you faster, timeboxing, learning to learn, imposter syndrome, & how to have successful interviews
Kojo Idrissa finalized the conference with another epic keynote on: "Kojo, #Python, and You"
After Kojo's keynote, there was lightning talks presentation and guess what? Well since you didn't make it I am not gonna tell you. Keep reading
The conference was a huge success all because of the amazing sponsors: Python Software Foundation, Britcore, Andela, Django Society UK, Django Software Foundation, Django Danmark, Nexmo, Django Events Foundation North America, GoFundme, Python Academy, Real Python, Aktech Labs, SikiLabs, Torchbox, Read the docs, Wildfish, Caktus Group, Weekly Python Exercise, ICT4D.at, Khophi Photography and to all GoFundMe and Sharing ticket donors thanks for the kind support.

For others, Pycon Africa was a place to connect with coworkers they never met in person for the first time while for some an avenue to meet their mentors in the Python ecosystem.
The conference also provided networking opportunities, collaboration on open source projects, remote jobs, and so much fun😎

Thanks to all who helped one way or the other to make Pycon Africa a memorable one.

If you're reading this, you don't want to miss Pycon Africa 2020 in August at Accra, Ghana.
Start making preparations ASAP.

More pictures of the conference can be viewed here:
1. https://photos.app.goo.gl/nJV519frPtwPvFmP8
2. https://photos.app.goo.gl/eJsTYitHRSTgQsFVA
3. https://photos.app.goo.gl/3zyT4WcAWjsoPtBG6

I promised right, the conference ended with sprints, tutorial session, and a lightning #PyDance to avoid burnout.
>>>End()
The Junior Camp Ghana Program is a career mentoring series in high schools in Ghana. It is run by the GhanaThink Foundation.
The program allows industries and persons to share their stories, experiences and knowledge with students in second cycle institutions i.e. Senior High Schools (SHS).
It also connects students with mentors who provide their wisdom about their areas of expertise, management, leadership skills, career success factors, industry insights, communication skills. Through the program students are inspired to match similar career goals, concentration, career fields etc.
Junior Camp Zion College was held on the 30th of June 2018 and started with an opening prayer lead by one of the students.
Harry Akligoh, the Volta lead for Junior Camp Ghana took over to talk about the program and the purpose of our gathering.
The mentors then introduced themselves and what they do.
I was opportuned to lead a session on:
1. Why learn programming
2. Opportunities available
3. How to become a successful developer
4. Why acquiring a digital skill is essential in today's era.
5. My experience / story
Other sessions lead by mentors includes:
1. Techpreneur – Dakey James Sewornu
2. Education and Entrepreneurship – Courage Christson Tetteh
3. Legal Education – Elorm Ashiagbor
4. Finance and Accounting – Cryspin Kavaarpuo
5. Sexual and reproductive health and volunteerism – Ekissi Victor
6. Creativity and Innovative thinking – Harry Akligoh
7. Healthcare and Sciences – Precious Adade
The assistant headmaster was pleased to have us around impact the students.
At the end of it all, we proposed to the school that we want to set-up an ICT club/society to equip the students with digital skills.
During our mentoring session we realized a lot of students are having interest in programming, IOT, animations, graphic designing etc but don't have the exposé hence the need to have a community to spark that interest.
The mind blowing ideas from the students needs support to make them a reality.
In the years to come great developers will start coming up from Zion College in Angloga and also partaking in competitions.
Upcoming female developers
The assistant headmaster was so excited to hear this laudable idea and can't wait to have this club on campus.
Our hope is to commence the club when school resumes next academic year.
It's my dream to also see other High schools in Ghana exposing their students to technology.
The program ended with both participants sharing what they've learnt and also the mentors sharing their experiences with the students.
Indeed, Living Tomorrow's Career Today.
|