Team Nimble
The NIMBLE BUIDLING DAYS will take place on July 8th, 9th and 10th 2016 in refugee home Kurierhaus Lindengasse of the Viennese Red Cross.
It is an event where we want to help refugees find new perspectives in their difficult daily lifes. Therefore we decided to put a team together and create a place where they feel save, where they can come together in a nice atmosphere, where they simply are happy to stay for a while. Together with the refugees we will make over the Kurierhaus to achieve this goal.
Together, creative and effective for families in need!

---

Here's the whole story of Team Nimble and the Nimble Building Days
More than half a year ago we participated at the Helpathon TU Vienna. It is an event where people join together to work on concept for specific issues. Every group has to have a name. So we decidet to call us "Team Nimble" – swift and skilled.

When an architect, an IT-developer and a graphic designer combine their skills there might be some chaos first but in the end something beautiful can happen. As the deadline approached on Sunday we felt the pressure growing but we didn't give up. We finished in time and presented our idea to a jury next to 5 other teams. After a thrilling hour of waiting the result finally relieved us: 2nd place and 1000€ for the realisation of the project.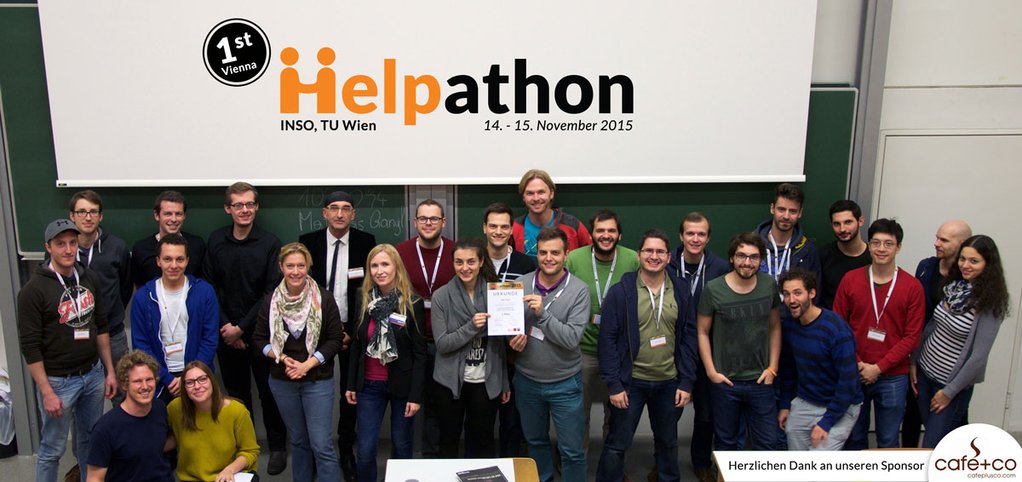 Connect and collect…
Immediately after the price ceremony we decided to continue the work on our concept. So we moved on and started to meet the organising team of the Red Cross Vienna to gather more information. Also we met the teams of two refugee houses in the Vordere Zollamtstraße and in the Lindengasse. Lots of photos and notes were taken, several interviews were made, overall we collected valuable inputs for our concept to become a really helpful system that enables easier communication between refugees and employees of the Red Cross.
A good talk can save hours of work…
Packed with impressions we returned to our desks and tried hard to figure out the next steps. We thought of the best possible way to pull off the implementation of an easy to use visual communication system. It seemed so clear in the beginning: Work out a concept, gather information, refine your idea and a raw diamond turns without a doubt into a perfect one. However we realized that there is in fact so much more to consider. What we did before was important investigative work but also just a scratch on the surface. And so after a really nice and intense meeting our small team decided to push the project to another direction.
An event to help those in need…
What we learned after hours of research was a wide overview of the variety of challenges the Red Cross faces every day in the refugee houses. Some are big, some are smaller but often the staff can't solve even the smallest problems because they simply don't have enough time or the problems are too specific. That's why we came up if a new concept: Organise an event where volunteers and refugees work together to solve as many of those big and small problems as possible. And so six months after the initial event the foundation stone of the Nimble Building Days was laid.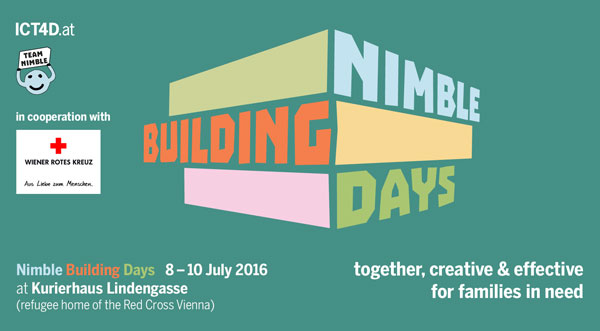 The conclusion of a piece of hard work…
The Nimble Building Days are an event that gives us the opportunity to help people who where forced to leave their homes behind. The ones who received shelter are living in temporary refugee houses like the Kurierhaus Lindengasse. The Red Cross Vienna satisfies basic needs however they lack infrastructure like free internet access and the overall atmosphere of the rooms is rather spare.
Together with the inhabitants of the Kurierhaus and employees of the Red Cross we try to help those people and their families to live normal lifes again.
Now we are looking for support! Participate in the Nimble Building Days or make a donation! Send us a private message on our Facebook page or write an email to office@ict4d.at
Here is our event page.
Our dear friend Anders made a short film to promote the event. It reflects the positive energy of our team. Enjoy!
Together, creative and effective for families in need!
Team Nimble is looking forward to hear from you!