As we had our 10 years anniversary last year – the NGO was officially formed on 8 November 2008 – I spent some time reflecting how this whole thing came to be and how it all developed. And I'm happy to share these thoughts with you in this blog post.
The reason why I got interested into the field of ICT4D is connected to my year of Erasmus student exchange during my Master studies in "Wirtschaftsinformatik" (management information systems). I went to Sweden from August 2006 to July 2007 and attended several courses at the Department of Computer and System Sciences of the University of Stockholm. At that time they had a Master course in ICT for Development with several courses which I got interested in. Nowadays, there's no Master course anymore but still a research focus on ICT4D (https://dsv.su.se/en/research/research-areas/ict4d). There were hardly any "Westerners" doing the course, but a lot of people from Bangladesh, Iran or Pakistan. The courses were rather theoretical in nature, but still it got me hooked – I always wanted to do "something good" with my studies.

So after this year in Sweden I wanted to pursue my interest in ICT4D further, but there was nothing similar like these courses at any university in Vienna. But still I made the topic ICT4D one focus of my Master thesis which I started in 2008 (- can still be downloaded here by the way: http://othes.univie.ac.at/3571/). In the course of writing it I was pointed by a common acquaintance to Martin Konzett who had also a big interest in ICTs connected to Africa. He is a coder himself and has personal ties to Zanzibar. We met at a cafe in Vienna and he was super enthusiastic about starting an organisation in Austria, doing a movie, a blog, going to conferences and starting projects. He had also the concrete idea to develop the organisation to run as a business – e.g. through outsourcing programming or web design to Africans we had educated in a project. I found all this very exciting and we decided to join forces.
Our first concrete activites were the movie Hello Africa and this website and blog.
For the movie Martin went with Martin Tomitisch (lecturer in Human Computer Interaction – he became the third co-founder) and Anders Bolin (film maker) to South Africa and Tanzania to document how everyday life in these countries was connected to mobile phones even then already. At that time people in Austria hardly thought of Africans as mobile phone users. The movie – called "Hello Africa" – got great feedback, was shown on festival and watched by many people. It was released under CC-license, so it can still be watched on Vimeo for free under https://vimeo.com/4664795.
The blog started on 28 April 2008 with a definition of the term "ICT4D" as the first post. In the beginning Martin and me published a blog post almost every day. We referred to all sorts of ICT4D projects, news articles and documented our own activities. To gather content and to document the whole ICT4D research scene we also went to several conferences and ICT4D-related events around Europe. There we interviewed researchers, activists and policy makers and put the videos on our Youtube channel and blog. My "highlight" was the ICTD2010 conference in London (http://www.ictd2010.org/), where we interviewed Tim Berners-Lee, Geoff Walsham, Ineke Buskens or Tim Unwin among others. I still remember the interview with Tim Berners-Lee, because I was super nervous and the questions I asked him weren't very smart. All the videos are still up on Youtube – https://www.youtube.com/user/ict4dat/videos.
We also formed a partnership with the e-Development group of the World Bank to cover their events and webcasts on social media, mostly via our Twitter account (https://twitter.com/ict4ddotat). However, we also weren't so avid Twitterers and the eDev group didn't really have an enthusiastic online crowd to watch their streams, so that was most times rather redundant
Several people joined at this time. Worlali Senyo, a Ghanian ICT research analyst became interested in our NGO and became a member. He has been supporting our efforts in Ghana ever since. Also Isabella Wagner (then – student of the master course "Society, Technology, Science") joined the NGO.
Through the movie project and Martin's ties to Zanzibar we started our first project there in 2009. It was called "Zanzicode" (http://zanzicode.ict4d.at/) – inspired by the project "Zanzibits" which also took place there at that time. (http://zanzibits.blogspot.com/) The aim of Zanzicode was to "help build the personal careers of our graduates as well as to kickstart a local web development community". To achieve this, we "provided free education in the field of Web Development to a small number of talented and motivated students of poor background in Zanzibar, Tanzania". We got a little funding from the Austrian Development Agency for this project and also the NGO "Leos" from St. Pölten gave us a donation. The courses ran for around two years in total and we had different people teaching programming on the spot – first Martin himself, Dan Hamm and Fritz Grabo (then informatics student at TU Vienna) who joined the NGO afterwards. All in all the project was ambitious but rather small and worked quite well. After two years we didn't have anyone on the spot any more who was willing to organise the courses in a way we thought made sense, with a strong focus on Open Source. So we terminated the courses around 2011.
Afterwards it became a bit more quiet, also due to Martin Konzett moving away from Vienna and investing less time in the NGO. We experimented with ICT4D "Stammtisch" in Vienna where several people attended over the years – for example Christoph Derndorfer from OLPC News. We also had guest lectures at the university from time to time. We also worked on the book "Social Business Forge" – focusing on tax and business issues around the field in which our NGO was active. This project was spearheaded by Paul Pöltner (then – student at TU Wien and aspiring tax consultant), who also initiated our next big "development"-project.
This next big project was called "ICT4DMZ – Information and Communication Technology for Development in Mozambique" (http://www.ict4dmz.org/). Its objective was to "to strengthen universities' capacities for improved access, use and application of ICT for social development and economic growth in Mozambique." The framework for this was a collaboration of Vienna University of Technology – more specifically the Research Group for Industrial Software (INSO) – and the faculty of Informatics at the Universidade Eduardo Mondlane. ICT4D.at was facilitating the collaboration and many members were involved and made trips to Mozambique to teach, learn, connect and support – including the new member Paul Spiesberger (then student of informatics at TU Wien). I was also there myself in 2013 for three weeks, teaching a course in software development – here's two blog posts about that: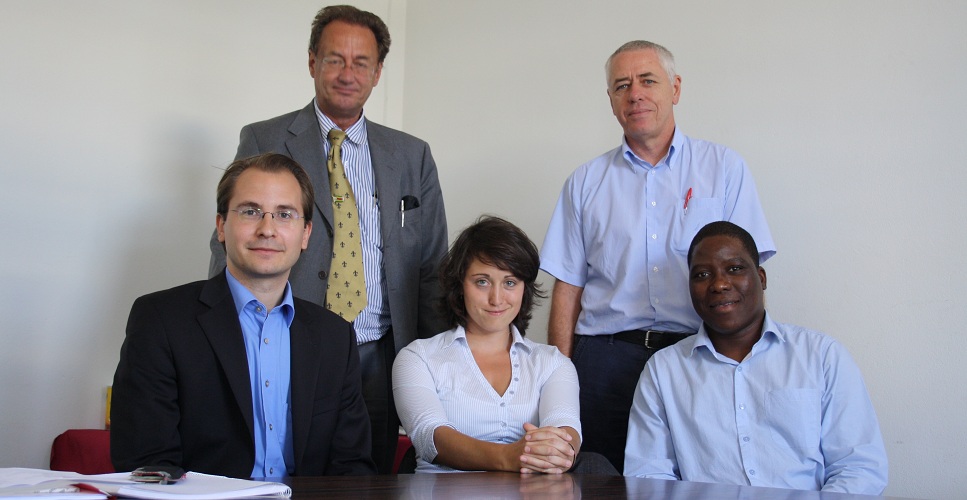 The valuable lessons learned from this project were, that although there's huge potential in the motivated students and teaching personnel at this particular university, it's hard to create a sustainable impact, even though the project budget was fairly large compared to our other projects. We educated personnel which would eventually leave the university and work in the private sector, funded unnecessary hardware and had a hard time wrestling with university bureaucracy on the Mozambiquan side. We applied for follow up of this project – as this would have made it possible to profit from these experiences, but funding was denied although we handed in the application three times. We still have ties to the university, with Paul supporting some students in their app-programming efforts (see e.g. this blog post: https://www.ict4d.at/2015/09/06/ourmoz-wins-world-banks-apps4maputo-contest-in-mozambique/) and also with our project partners, but no other funding opportunity has come up in the mean time.
Another project which started at about the same time, in 2012 also had a big impact, even though it relied almost exclusively on voluntary work. Our member Margarete Grimus initiated and carried out this project in partnership with several students and staff of the Keta Technical High School in Keta, Ghana. The project focus was on using available technology, such as the mobile phones of students to create teaching materials from the internet. For this, she spent some time in Keta for three consecutive years, one time joined by another new member – Michael Pollak – to teach staff and students about difference ways to use the internet for teaching. Here's a post of her stay there in 2014: https://www.ict4d.at/2014/06/20/news-from-ketascomobile/.
One of the students who took part in this project is Noah Alorwu, who has been active since, launching programming initiatives and workshops. Here's some blog posts about that:
Through the project in Mozambique and other small activities, Paul Spiesberger became more and more involved in the NGO. In 2015, when I felt that I had led the NGO long enough, he decided to take over the role of chair person and has acted in this role since. I'm grateful to have been able to pass over this role to him, as since then new energy has come and we have become more active again.
The first signs of this new activities were the involvement of Georg Steinfelder (graphic designer & artist) and Chloe Zimmermann (architect), who joined together with Paul, in the Nimble Building Days, improving refugee housing in Austria – https://www.ict4d.at/2017/04/10/nimble-building-days-3-integration-through-collaborative-work/.
Also Alvaro Valverde, development professional at CABI has become engaged in the NGO in 2017 and is supporting us since with his experience.
Paul himself has made ICT4D a part of his work at TU Wien and through this has built ties with SSE Puttaprthi in India (http://sseptp.org/). He is also doing research in ICT4D, which allows him to attend a lot of exciting events:
Right after our 10 years anniversary party in November 2018 we had at our annual "vision meeting", several new possibilities emerged for the NGO. One is the Erasmus+ project "Yes We Care 2", which allows us to network with NGOs from Macedonia, Romania, Namibia, Mozambique and Zimbabwe around the topics of Social Entrepreneurship. Another is the project TEQtogether, which is committed to changing men's attitudes and behaviours towards women and technology – https://www.ict4d.at/2019/02/25/teqtogether-teams-up-with-ict4d-at/.
More projects are in store and potential new members are motivated to get more active. You'll hear about that on this blog for sure!
I'm looking forward to 10 more exciting years!
— Deutsche Version weiter unten/German Version below —
Dear friends, companions and like-minded people,
the "Austrian Network for Information and Communication Technologies for Development" – our NGO ICT4D.at celebrates this year their unbelievable 10th anniversary.
In the last 10 years we carried out projects in Tanzania, Mozambique, Ghana and Austria, produced a movie, released a book, published quite some research papers, organised and participated in many events, presented our work in many guest lectures, continuously reflected about ICTs and development work and had a lot of fun while doing all these things.
We would like to invite you to our 10 year anniversary party to celebrate our achievements with us!
Venue: Schikaneder in Vienna
Time: 31. October starting at starting at 06:00 PM

We are happy to welcome you to a nice and relaxed evening with pictures, posters and video-clips of our projects, two live bands and maybe one or two short speeches.
Hopefully you will find the time to party with us and we would like to kindly ask you to confirm via mail at party@ict4d.at or Facebook Event.
With best wishes,
your ICT4D.at Team
— Deutsche Version/German Version —

Liebe FreundInnen, WegbegleiterInnen und Interessierte,
das "Austrian Network for Information and Communication Technologies for Development" – unser Verein ICT4D.at feiert heuer unglaublicherweise sein 10-jähriges Bestehen.
Wir haben in diesen 10 Jahren Projekte in Tansania, Mosambik, Ghana und Österreich verwirklicht, einen Film produziert, ein Buch publiziert, ein paar wissenschaftliche Beiträge verfasst, viele Veranstaltungen organisiert und besucht, ein paar Gastvorträge gehalten, viel über das Thema ICTs und Entwicklungszusammenarbeit reflektiert und hatten viel Spaß dabei!
Um das zu feiern laden wir Dich/Sie/euch herzlich zu unserer 10-Jahres-Party ein:
Ort: Schikaneder in Wien
Zeitpunkt: 31. Oktober ab 18:00

Es erwartet euch ein lustiger Abend mit Fotos, Postern und Video-Clips von unseren Projekten, zwei Bandauftritten und vielleicht ein, zwei kurzen Reden.
Wir freuen uns wenn Sie/Du/ihr dabei sind/bist/seid und bitten, uns in dem Fall per Mail an party@ict4d.at oder Facebook Event kurz Bescheid zu geben.
Beste Grüße,
dein ICT4D.at-Team
|