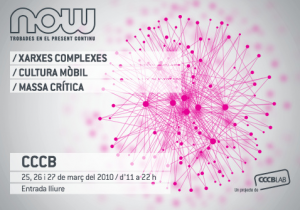 We are very pleased to announce that our documentary received an invitation to be showed at the NOW festival in  Barcelona, at the CCCB (Centre de Cultura e Contemporània de Barcelona).
The festival is going on between 26-27/3, and Hello Africa is to be screened on Saturday 27 March, 19:00 in the main foyer, listed under the New Activism category.
The festival describes itself like this:
NOW is a reflection on the present based on the scientific, technological, artistic, social and spiritual transformations that are taking place at the start of the 21st century. It is a process of research, creation and dissemination that aims to bring together different local and international agents involved in the actions that are promoting a change of paradigm in the information and knowledge society and in globalised cultures.
If you want to follow the event on Twitter, the hashtag is #now10. There is also a live streaming of the ongoing events on their webpage.
Tags:
barcelona
,
CCCB
,
documentary
,
hello africa
,
ICT4D
,
ICT4D.at
,
mobile phones
,
NOW
,
screening
,
Spain
,
UZI Magazine
Hello Africa goes to Barcelona this weekend
was published on 25.03.2010 by Anders Bolin. It files under
global
You can follow any responses to this entry through the
RSS 2.0
feed.
I am back from Barcelona and as I already stated it was a great event.
Not only did I meet Ismael Pena-Lopez and Ethan Zuckerman, two people which were very influential to me while I wrote my thesis. Also the quality of the talks was partially terrific.
A very broad range of subjects were covered – the speakers were from areas like journalism, art, politics and technology of course.
For me it was very interesting to see the different levels of adoption of new technologies in different fields. While the more tech-savy people were all assuming, that blogs, twitter, facebook and likewise are state-of-the-art, other people only now discovered the power of these tools. While some speakers pointed out the potential of new technology to support existing structures (parties, newspapers, …), others preached the sissolving of these structures and the formation of totally new organizations and networks.
The whole course had the tagline to connect the "connected minority" with the "disconnected elite" and I think from that viewspoint the event was a big success. Much of the dicussion was Spain-centered (I guess 90% of the people attending were Spanish) so it's difficult to apply the drawn assumptions to Austria, but I agree on that there is a great need in Austria, too, to connect "geeks" and decision makers.
Especially in the ICT4D field, the collaboration of traditional development assistance organizations with more tech-savy people would be crucial. As I learned in some informal talks, many organizations are still hostile to change and modernization, and even the academic community in this field doesn't have the most modern approach – Christian Kreutz subsumed his thoughts about that already some time ago.
It's substantial to make decision makers and traditional organizations realize the potential of contemporary technology, and the easiest thing for that is just to sit down and do something – like Tom Steinberg with his amazing projects in e-democracy and transparency. Also Ethan Zuckerman pointed out (link to his talk), that this is the way things are happening in Africa – people just do things. Folks there are remarkably innovative and another important thing to do is to show people here how creative and ingenious inhabitants of lesser developed countries are – to also change the perception of these people in public opinion (like Ethan does with Global Voices Online or Erik Hersman with AfriGadget). For changing the world to the better, we must include lesser developed countries in the emerging "networked society" and to do this it's necessary to first perceive them as equal partners.
They don't need our pity, old computers or spare crops, they need public attention, transparency and equal opportunities – may it be economical or technological – then they will help themselves.
In this context we, ICT4D.at, try to inform people – this blog and the ongoing film-project are our first steps.
Another subject I heard a lot about this week was the election campaign of Barack Obama and how for the first time a politician at least partially understands the power of new technologies. While most politicians recognize the internet just as a tool to raise money for their campaigns, Obama uses it to create a community around his claims. He can focus on providing his vision, which is then disseminated by his followers. That way he creates an own channel which transports his views, he is no longer reliant on mainstream media. The implications of this fundamental change in doing politics for democracy as a whole are yet to be seen, the people I talked to had very different and interesting views on this topic.
Besides the sessions, I talked with Christian Kreutz about his ICT4D delicious-feed. It's a great project to keep track of news in this field and combines several blogs on ICT4D. I will take a look on it and make efforts to improve it.
Also I talked to Adrien Mangin from Cyber-Volunteers. They are organizing a workshop on technology for social change in March and I hope to attend that.
For more detailed information of the different speakers I once again point to Ismaels blog – ictlogy.net.
|