A Research Study on Information and Communication Technologies for Development: Mobile Phones & Empowerment
The past two years I worked on my Master's Thesis which was part of our ICT4DMZ project in Mozambique. I had the pleasure to work with local students and develop an Android application with them. FindUEM is an application which helps students to find PIOs (Point of Interest) at their campus, you can download it from the Play Store. During my stay I conducted my research on if this Android application is usable by the students. Not in terms of usability, but rather if they have access to the technology. So I conducted a survey regarding students' mobile hardware and on how they use their phones. Back then, only one third was capable of using the Android application regarding hardware and Internet connectivity. So I started to develop a concept of a SMS based FindUEM, which grants access to everyone in possession of a mobile phone. During my research SMSSync was published, which does similar a things and underlines the importance of my research. Out of 451 students, only one did not have a mobile phone. This shows once again the exceptional potential of mobile hardware in the field of ICT4D. My work got recently published as a book and you can buy it here. If you want to know me about this topic, then do not hesitate to drop me a mail or comment below.
The abstract
This book analyses and challenges the fast and dynamic movement of new mobile technologies, particularly in developing countries like Mozambique. The work places itself in the research field of Information and Communication Technologies for Development. The focus lies in the context of mobile technologies in developing countries and on how people can access information on these devices properly. An Android prototype application designed to navigate people around the campus was developed in a lecture with Mozambican students at the Maputo Universidade Eduardo Mondlane. A survey carried out as part of the research indicated that the Android application is not accessible to certain students due to a lack of technology and connectivity. Therefore, an alternative SMS based interface is introduced to meet the criteria of Human Computer Interaction for Development and Universal Design. The new solution uses already existing and cheap infrastructure, focuses on low-end hardware, works along with future-proof alternatives and does, in comparison with the Android application, not exclude potential users.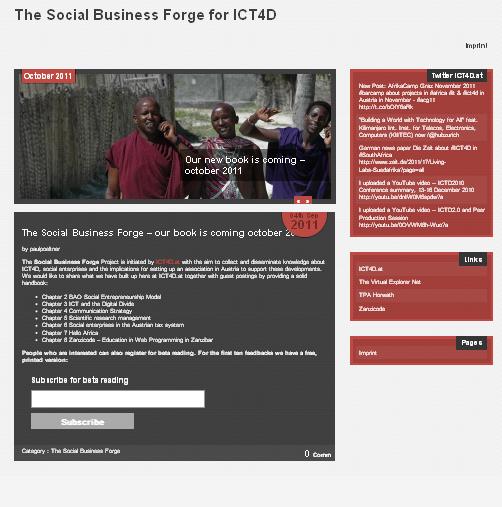 Our project "The Social Business Forge", which has been running for quite a while now is now about to finish! IT's a book about our experiences, knowledge we gathered on the way of becoming and being ICT4D.at. Project leader Paul puts it into words:
The Social Business Forge Project is initiated by ICT4D.at with the aim to collect and disseminate knowledge about ICT4D, social enterprises and the implications for setting up an association in Austria to support these developments. We would like to share what we have built up here at ICT4D.at together with guest postings by providing a solid handbook [from the Social Business Forge page].
The whole thing is a book which we will realease online and which you can also order as printed version. We want to release it in October. Additionally to many general chapters on running an organization like ours, Chapters on our projects Hello Africa and Zanzicode are included.
As it should be an ingoing project with updated and new chapters periodically, you can now even apply to beta-read the book and have your comments included in a coming version.
So check the Social Business Forge website and we'll notify you again when the book will be finally released.
The last days I read the remarkable book The Bottom Billion of Paul Collier. I learned so many relevant things on development of lesser developed countries that I really want to recommend you to read it.
Generally, Paul Collier is
"Professor of Economics and Director of the Center for the Study of African Economies at the Oxford University, and former director of Development Research at the World Bank. [from the book]"
He wrote the book "The Bottom Billion" as a contribution to research on "Why The poorest Countries Are Failing and What Can Be Done About It" – as also the subheading says.
The studies which he conducted over several years with some colleagues (and which are published on his homepage) are the base of the book. I like his approach to explain highly controversial and disputed political questions with exclusively statistical instruments.
Many outcomes are surprising even for people who are highly interested in the topic of development – like me. Questions such as "what causes war?" or "does aid help?" are answered by statistical research and the interpretations seem quite reasonable.
So in the following I will line out some findings that I found interesting and that also have relevance for ICT4D (or for which ICT4D could be relevant).
– A key factor for ensuring that revenues for resources or aid money is spent for the good of the country (resulting on faster growth rates of the economy) and not "lost" on the way is a free press.
In this context I thought of bloggers which, in some countries, exist, even if there is no free press. I would be interested if their inluence is similar – actually I am quite positive about that. So maybe initiatives such as Rising Voices or Global Voices Advocacy have a real economic impact?
– For landlocked countries which are dependent on their neighbours, there are two ways to escape their situation which involve ICTs.
One possibility is to become a center for e-services and attract foreign companies to outsource there. This could foster economic growth – and I even would extend that suggestion beyond the scope of landlocked countries. E-services are easy to outsource and their popularity seems to be rising and rising. Any low-wage country offering such services is attractive to companies.
The other possibility is to "create a transpartent and investor-friendly environment for resource prospecting [from the book]". Here ICTs could help as well with tools in e-transparency and e-democracy.
– To raise productivity, labor force in less developed countries need private capital, which is always scarce in such countries.
Here I thought of microfinance and platforms such as Kiva. With Kiva, capital can be allocated directly to the ones in need. By the way – just recently the initiative into(context) has been launched to optimize Kiva, providing the lenders faster with more accurate information about the progress of the borrowers' businesses.
– An aiding-instrument which has a very high impact compared to the money spent, is technical assistance by foreign specialists. Especially after a new leader comes into power, it pays off to send skilled workers into a country, training the local population.
Here I thought of Geekcorps, an NGO which sends technically skilled people in less developed countries to teach the local population to set up their comunications infrastructure.
– According to the book, the key medium which can bring tranparency and foster change in lesser developed countries is the radio.
Though development on the IT and especially mobile sector is advancing quickly (Nokia's announcement was of course a big step forward), I agree that we must not forget the well-established ICTs already in place – such as TV or radio. With combining these "old" and "new" technologies a lot can be achieved.
.
In the book, the possibilities of ICTs are not mentioned specifically, a more macropolitical set of policy measures are proposed. In this TED-talk for example, Paul Collier expresses more closely some of his ideas how to improve the situation of the bottom billion with policy measures.
Still, in some examples such as the ones mentioned above, there is potential for ICTs to help. The book provides a very good framework where, in which context and when certain measures should be applied. So in my opinion this is a must-read for people who are interested in development generally.
|