Bamboo, Tin and Callabashes is an exhibition currently being held in the Leopold museum in Vienna. It's just a small exhibition, but still very interesting, fascinating objects and great pictures.
The exhibition features children's toys from different regions. From the description on the Leopold museum official page
In this exhibition, the Leopold Museum will be showing over 250 items from the one-of-a-kind toy collection of Austrian ethnologist Dr. Fritz Trupp. The items come from Africa, Asia and Latin America, and they were created from everyday materials by children for their own use.
One thing particularly interesting is how skilled the children get in creating their toys. Often they are made from scrap material which the children just find on the streets – or they even search these materials on waste-yards.
Several of the objects reminded me innovation of the Afrigadget kind of innovations. The picture below shows movie projectors which actually work – with a candle or flash light.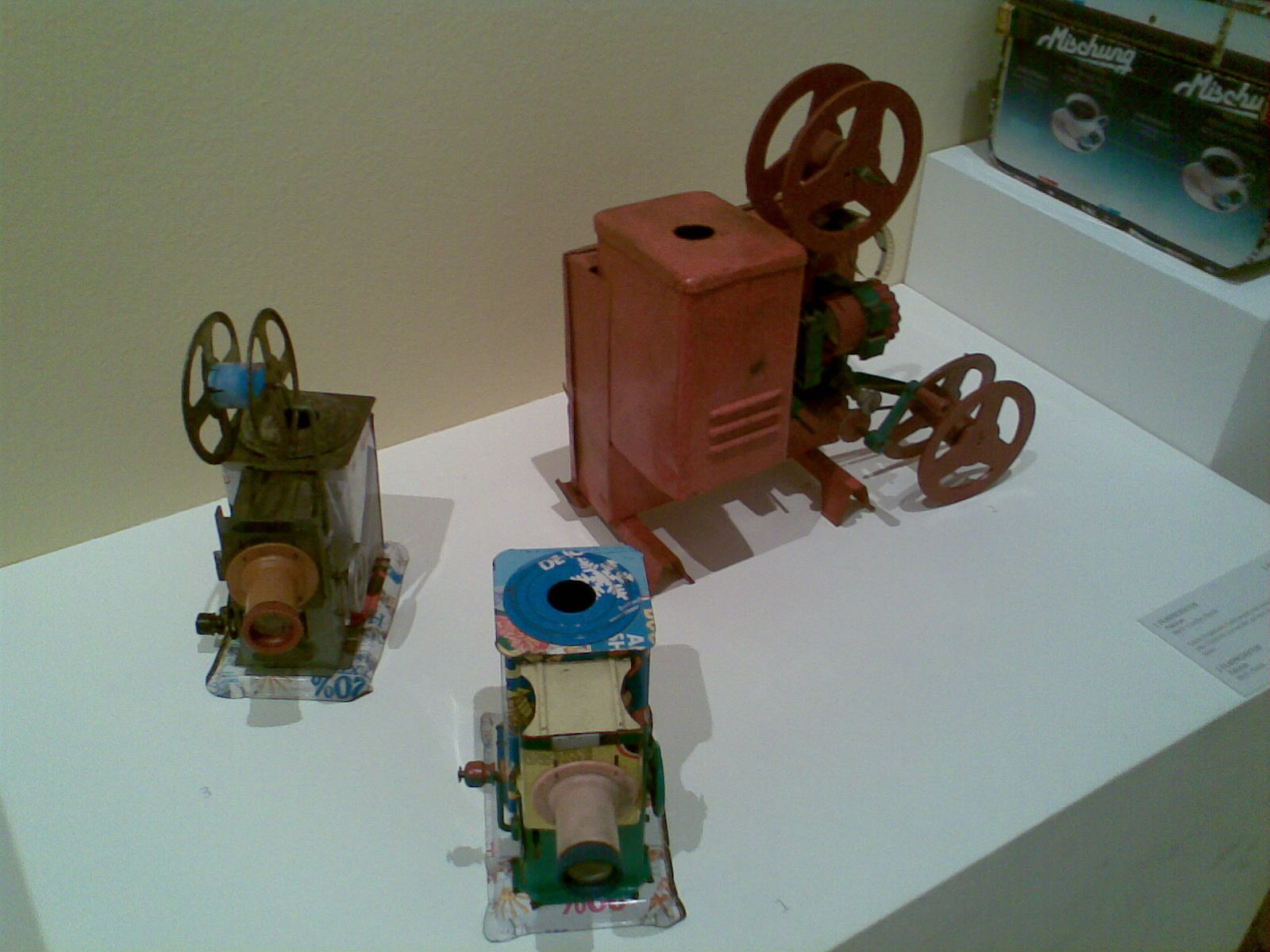 Another interesting aspect is what actually moves and inspired the children to create their toys. The picture below is pretty sad – children building toy weapons, helicopters or chainsaws.
Just recently I saw a TED-Talk on self-organized children learning by  Sugata Mitra which impressed me deeply.
He talks about his "Hole in the wall" experiment where he tested the skills of children in India to teach themselves without supervision by adults. He put a computer and a keyboard in a slum area and just waited what will happen.
The outcomes were amazing, as these children tought each other English and basic computer skills within few day. Just because they were interested in this new device, they figured out quickly how to use it. As they needed English for surfing the internet, they just learned it
I would have never expected that and I'm sure if you see it you'll be suprised of the incredible abilities of children as well. He repeated the experiment several times in various parts of India and had similar results, so it was not just coincidence.
|