Bamboo, Tin and Callabashes is an exhibition currently being held in the Leopold museum in Vienna. It's just a small exhibition, but still very interesting, fascinating objects and great pictures.
The exhibition features children's toys from different regions. From the description on the Leopold museum official page
In this exhibition, the Leopold Museum will be showing over 250 items from the one-of-a-kind toy collection of Austrian ethnologist Dr. Fritz Trupp. The items come from Africa, Asia and Latin America, and they were created from everyday materials by children for their own use.
One thing particularly interesting is how skilled the children get in creating their toys. Often they are made from scrap material which the children just find on the streets – or they even search these materials on waste-yards.
Several of the objects reminded me innovation of the Afrigadget kind of innovations. The picture below shows movie projectors which actually work – with a candle or flash light.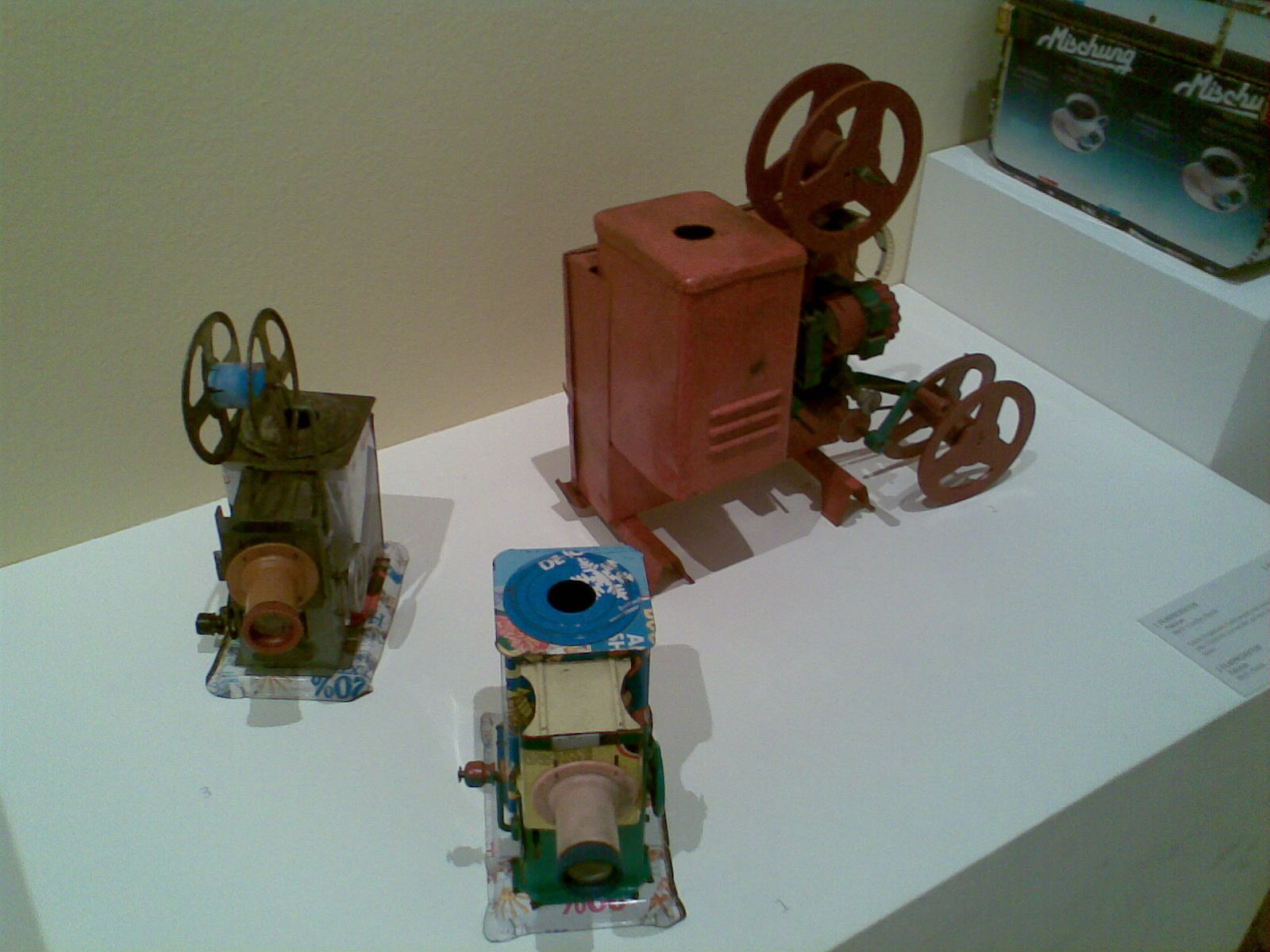 Another interesting aspect is what actually moves and inspired the children to create their toys. The picture below is pretty sad – children building toy weapons, helicopters or chainsaws.
In the recent issue of brand eins there is an interesting article on "Design for the other 90%". It is about an exhibition in New York and Toronto which focuses on simple solutions for big problems – various articles designed for "the other 90%" of the world's population. The designers focused on an easy and feasible production process so the products can be manufactured in less developed countries by local craftsmen – innovation from constraint.
There are some ingenious pieces such as solar powered battery chargers, simple and easy to use water pumps, water filters and purificaton tools and also some which were already mentioned in posts of Ethan on or on Afrigadget.
Check out the website of the exhibition – it's really worth visiting.
The Mobile Life Events are a series of conferences and exhibitions that explore the influence of mobile technologies on social life.
The next upcoming event organized by mLife is The First International Conference & Exhibition on Mobile Society (mSociety 2008), which takes place in Antalya, Turkey, 18-19 September 2008. Among other topics the event covers "Mobile Development – impact of mobile technologies on social and economic development" – definitely a potential panel for ICT4D projects.
The session is chaired by Stephane Boyera, who is W3C staff, where he is responsible for "the future work on the Mobile Web in Developing Countries, and how W3C can help bridging the Digital Divide." He is also the scientific coordinator of the EU FP7 project Digital World Forum, focusing on the use of ICT to leverage economic development in Africa and Latin America.
See also Technology events in Africa and Participatory Design for Development 2008 Workshop.
|