Although we haven't announced any news during the summer, we were not only travelling and relaxing but we were also working behind the scenes.
One major outcome is a proposal for a new project in Ghana with exciting local and Austrian partners, which we want to start later this year.  The main objective of this project
"is to equip teachers in public schools with skills in internet research and presentation to support their teaching and learning process" [quote from our proposal]
By assisting teachers to use the internet, we think several aspects in education can be improved. This in turn makes not only the teachers, but the students and other stakeholders benefit. By teaching teachers, we are aiming for a multiplier effect and replication across the country.
We will publish more about the project and our partners (Ghana: Worlali Senyo, Charles Amega Selrom, Gameli Adzaho;Austria: Prof. Emerita Maragete Grimus) as soon as we're finished planning and have concrete dates.
However, we will present the proposal on 1. September in Linz at the event "Mein Beitrag zum Wandel" at the "Create Your World" subfestival of "Festival Ars Electronica".
Check here for the exact time and date of the "Create Your World" event.
We're proud to get the chance to present there and I'm sure we'll get to know many interested and interesting people.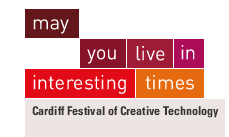 Our documentary Hello Africa continues to tour the world. Previously shown in Accra, Ghana, at the Maker Faire Africa event, 14-16 of August (Which we attended and covered in detail here) , and just recently we were honoured to be invited and have it screened at a festival event called May You Live in Interesting Times, in Cardiff, Wales, 22-24 of October. This was a three-day festival "that celebrates the latest intriguing uses of everyday technology and social innovation, enabled through shared ideas", and the film was screened daily on their festival hub. Here's a brief description of the core idea behind the festival:
.
"With technology now firmly placed in the everyday we have put together a festival programme that explores how participation is increasingly the driving force behind much digital content. Mass-technology has enabled individuals and communities to become connected and share information."
.
Unfortunately we had no possibility to attend this great event ourselves, but according to Carolina Vasquez who is a festival coordinator there, the movie was highly appreciated by the audience and a "great success". Check out the screening program here, and the Hello Africa entry here.
ZIFF is the Zanzibar International Film Festival, and was (almost) in full swing when I arrived here. It is a magnificently (dis)organised event which brings film makers, entrepreneurs, NGOs and chancers from all over East Africa and beyond. Martin (of whom more later), as well as running an NGO which brings sustainable technology to local people, made a film about the growing use of mobile phone technology in Africa. It is well worth watching (will publish the web version sometime). More below. It is an acknowledged fact that in Africa, the mobile phone has leaprfrogged land-line phone technology; almost all people here have a mobile – a SIM card costs £0.50, and calls are cheap. More of this later.

We spent several convivial evenings at ZIFF, which is held in the old fort, a double-chambered structure, open to the air. One chamber has a sort of amphitheatre, where the films are shown; the other is an open area with a stage at which concerts took place into the small hours. There is a well-stocked bar in each. Entry was a problem ("residents" get charged £0.50, foreigners £5 or £10).

The first evening passed pleasantly enough – we finally joined up with a group of Belgian film makers who, like many others here, are involved in the general East African cultural scene, which seems to be thriving. Subsequent evenings were quieter, but we were constantly bumping into Martin's endless contacts, some local, some European – one who came to Uganda/Kenya/Mozambique 5 years ago, and forgot to leave. All manage to make a living, sometimes precarious, but I'm slowly (quite rapidly, actually) realising that you do not need a lot in the way of material goods. It helps, and I know that I am leaving (I hope not for ever) in a few weeks, so a slightly disingenuous thought.

Apart from a few "big" movies, most of the them were sparsely attended. There was an endless cycle of films about AIDS, mostly well-meaning, but I wonder if they ever reach their target audience. Another cycle with harrowing stories of young women in traditional societies, mainly Moslem, who had a relationship, got pregnant, were abandoned and then had to face the most appalling consequences. (While predominantly Sunni Moslem, Zanzibar does not go in for that sort of thing.) One charming film from Cameroun about a couple of friends who compete for a girl (a beautifully choreographed picture of village life); the father wants to marry the girl off to a corrupt politician; she finally succumbs for the good of her family. Her erstwhile fiancée, meanwhile, is in jail after being stitched up by the politician. In the final scene, reminscent of The Graduate (Dustin Hoffman, Anne Bancroft – remember?), the boy is released from jail by an honest policemen and, reconciled with his friend, they race up to the church just as the bride is about to say "I do". They charge into the church, the girl runs off with her boy, after they have barred the door of the church with a giant pole through the door handles.

The last evening was a gala event, and we went down with the Zanzibits students, who were in a mood of ebullient effervescence. It is hard to exaggerate this; they were absoultely fizzng with good humour. They had made a short film in their class – a series of folk tales and fables, engagingly animated and making liberal use of local children. Another upload for sometime. Finally, Madame Karoume (the mother of the current president of Zanzibar; his father was the first president after indepence, so she is a double first lady) made an endless speech, in Swahili but, like the actor reading the telephone book, never boring. The guest of honour was Danny Glover (Colour Purple), who had previously been driven through the streets in a convoy of Unicef jeeps with blaring sirens. He was rather the worse for wear (or, as they say, tired and emotional but without the emotion), and made a rather uninspiring speech. Then the winning film was shown (an excellent, if violent, film about modern South Africa) and, true to form, everybody (or at least the bigwigs and a sizeable proportion of the audience) left as it started and migrated to the bars and music for more networking.

As a sort of postscript, there was an extra day on Sunday at which Martin's film – Hello Africal – a cinema verité film about mobile phone usage in Zanzibar was screened to the normal sparse audience. This will also be posted in due course. The streets are now much quieter, and the nightly street market (inter alia, excellent Zanzibarian Pizza, which is not a pizza at all, for £0.75) has migrated to Africa House, which I have not yet visited.
Dan Hamm, our member on site wrote this wonderful review of ZIFF 2009 here: http://hamm.co.uk/zanziblog
|