Is it a game? Is it an application? Is it an instrument? A tool maybe? … Well everyone of these answers might be right.
Another question: What is the connection between gears and music?
In this case the answer is simple: foreverloops.
In September i met Ulrich from foreverloops at the "Play Austria" fair in Vienna. After talking to several exhibitors and game developers, after hours of playing i felt the need to end my visit. One last game caught my eye, at least it seemed to be a game at the first glance. It was the beginning of a really nice half hour of playing and talking to Ulrich, one of two programmers of foreverloops. We decided to stay in contact for a potential workshop.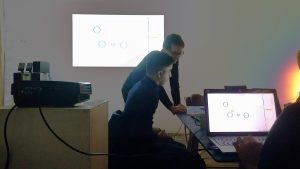 This workshop took place last week in the Kulturzentrum of "Flucht nach Vorn" in Vienna. We invited young refugees to participate and to spend a few hours of playful beat producing together. Our friend and ICT4D.at member Chloé was also part of the fun. The setting reminded me of a LAN party: One big table with laptops, concentrated facial expressions, headphones. Ulrich and i gave a short introduction about the functions and features. It only took us a few minutes to explain the basics. When you try out foreverloops yourself you know why: It is by all means playful and it is of utmost fun to discover the variety of beats and possibilities on your own. After the first hour we already saw quite complex gear systems on each screen. Ulrich showed some tricks during a coffee break for the participants to dig even deeper into the world of drum'n'gears (might this become the newest genre in the pop music industry?).
What particularly fascinates me of foreverloops is that you can build very complex gear systems with totally simple methods. The concept of loops and adding sound sample after sound sample works almost immediately without reading a handbook or playing an annoying tutorial. You can create very short loops but it is also possible to build really big pieces of music that go on for hours and hours before looping for the first time. Ulrich said that even he doesn't know by far all the possibilities of this gear system. Fascinating!
Another cool feature is that you can produce even visuals in an intuitive way. Just use video or picture samples out of the sample library. Or use your own music and video pieces. A true source of neverending inspiration for hobby and professional musicians. As well as a potential tool to do awesome live art performances… I admit it…i became a real fan boy.
In the end we presented the brand new creations with a projector and quite powerful speakers. It was great to hear and see all those different audiovisual pieces: Some sounded happy, some dark, some fast, some slow…in a feedback round we discovered that people can use foreverloops as a powerful way to express feelings or dreams. And we all agreed that it is just fun to play with gears to make music.
Thank you Ulrich and Marlene from foreverloops! You brought a wonderful new tool into this world. I hope many will discover your work in the future.
You can get foreverloops via Steam:
http://store.steampowered.com/app/725610/foreverloops/
Or take a look at the youtube channel first:
https://www.youtube.com/channel/UCWZcM997e6oae9iGfJu2lOw
Have fun!
I am no newbie to the EYA. Four years ago Paul, me and two friends of us won the Award in the category "Go Green" with our App/Game Woody. So i already knew the organising team and over the years we kept contact. I was a juror in 2016 for the first time and it was so much fun that i was looking forward to do it again this year…
In my last post i talked about our network as a small and stable yet dynamic family. I can find many of these qualities in the community of the EYA. Although in a different way. It is large and shrill and posh and everyone seems to be busy being the next big Start-Up CEO. In an interesting workshop, conducted by two wonderful friends from Syria, my group amongst others noticed that we all lack a significant resource: Time. For ourselves.
I want to compare the well organised and tight festival program with a river steadily and strongly flowing. Sometimes you can find people floating next to you at the same velocity. I had many such encounters throughout the last two days. And although it sounds stressful, in fact it has always been energetic and pleasurable. As well interesting and demanding. Personal background stories mixed up with social business models. Example: My dear friend Attila and i just met again after one year and had to catch up in a 10 minute coffee break which ended up having a conversation about how the factor "efficiency" can affect design in a very negative way. When the bell rang we were still standing in line for coffee but almost forgot the river running towards the next workshop.
In the afternoon the winning teams presented their projects to the jury and the festival audience. After last year's experience i knew in advance that our mission to choose the overall winner would not be easy. The rules for each contestant: exactly 3 minutes of presentation time and 3 minutes of Q&A by the jury. 17 projects and about 2 hours later we were all pretty much filled up with inspiring ideas … and we were exhausted. The contestants were free to spend a nice evening in Graz. For the jury the work just started at that point. At around 11pm and after a we discussed the presentations and projects we finally elected the overall winner.
"Erase All Kittens" confused with it's name but also won the hearts of many people in the jury and the audience immediately. As they state on their website: "E.A.K. is a revolutionary, online game that provides kids aged 8-14 with knowledge of both computational thinking and professional coding languages, to effectively prepare them for 21st Century degrees and careers." Not only it was clearly the most innovative project but it was also the best presentation: I had no struggle at all to understand the concept and their goals within the 3 minutes (almost no questions needed). It amazes me how the team combines the logic process of coding with the ease of playing a fun game about kittens.
Here are the winning teams of the 9 different categories.
In a big evening ceremony on the next day the winning teams were honored by officials and celebrated themselves afterwards. We all know how important partying and dancing is. Sometimes it feels like shaking of the weights of hard work. Especially after so many hours of conceptualizing, creating, designing, coding, calculating, marketing etc. I congratulate and thank the teams and the organisers for making it once more a special experience!
The European Youth Award is a wonderful source of inspiration and gives insights into the young social entrepreneur and start-up scene. At ICT4D.at it is nice and helpful to be part of this international network. I talked to several people about our work as an NGO and there might emerge collaborations in the future. What i definitely know though is that i will be happy to spend some quality time at the EYA again next year.
Tags:
app
,
competition
,
Erase all Kittens
,
European Youth Award
,
game
,
Graz
,
ICT4D.at
,
inspiration
,
jury
,
ngo
,
quality time
,
start-up
,
workshop
Erase all kittens! – spending quality time at the European Youth Award Festival 2017
was published on 03.12.2017 by Georg Steinfelder. It files under
eastern and central europe
,
Europe
,
global
,
middle east and north africa
You can follow any responses to this entry through the
RSS 2.0
feed.
|