We are from time to time getting requests from groups or individuals who want to contribute to this blog or want to share their own projects with us. So we decided to give some of them the possibility to publish here and reach out to our community. More on this in a coming blog post.
One of the projects – Sendinel, a piece of open-source software which helps to improve
communication between clinics and patients in areas such as rural South Africa is introduced here in the following. The author of this intro text to Sendinel is Johan Uhle, bachelor student of computer studies at the Hasso-Plattner-Institute at the University of Potsdam, Germany.
______________________________________________________________________________________

Regularly going to a clinic or hospital is the basis of good health-care. But traveling to a clinic is, especially in rural areas, connected with a lot of effort, time and cost for the patient. Therefore patients only want to go to the clinic when they feel that it is really necessary.
This is one reason why patients sometimes do not attend follow-up consultations or vaccination appointments. On the other hand some people come to the clinic more often than necessary, because they have to check if something they are waiting for, like a medicine or a lab result has already arrived.
Thus it would be good if clinics could remind and notify their patients when they have to come to the clinic again.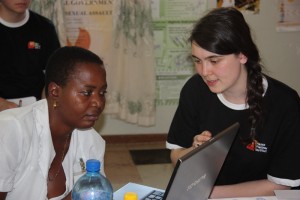 Sendinel is a software that does this by sending SMS and automated phone calls to patients. When a
patient is at a clinic, the doctor, a nurse or admin clerk can subscribe the patient's cellphone number to one of the following reminder or notification services:
• Patients can be reminded of follow-up consultations and vaccination appointments
• Patients can be reminded when their lab results have arrived
• Patients can be notified when a medicine is in stock again
• Patients can be informed about specific topics by the clinic. An example is to inform all pregnant women about the next gymnastics training.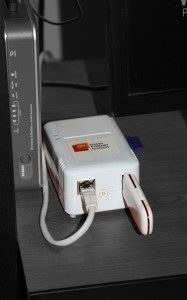 To send the messages no internet connection is required because the messages are sent via an USB 3G Stick with a regular local SIM card. The Sendinel team has successfully deployed the server application to a clinic in rural South Africa on a Plug Computer which costs less than 100 $.
If you want to know more about Sendinel please visit the Homepage at http://www.sendinel.org. The software is published under an Open Source License.
Sendinel has been developed by a team of seven Bachelor students of IT Systems Engineering at the Hasso-Plattner-Institut in Potsdam/Germany. The project is part of the graduation process and lasts for about nine months until July 2010. The team is currently looking for people who want to use and further develop Sendinel.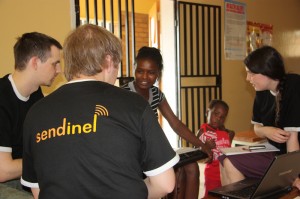 Partners of the project are SAP Research Pretoria, the University of Cape Town and SES Astra. These partners also made it possible for the team to go on a research trip to South Africa in March 2010. During that trip, Sendinel was deployed in a clinic. You can read more about the trip and the resulting findings in this blog post on the Sendinel Blog.
|