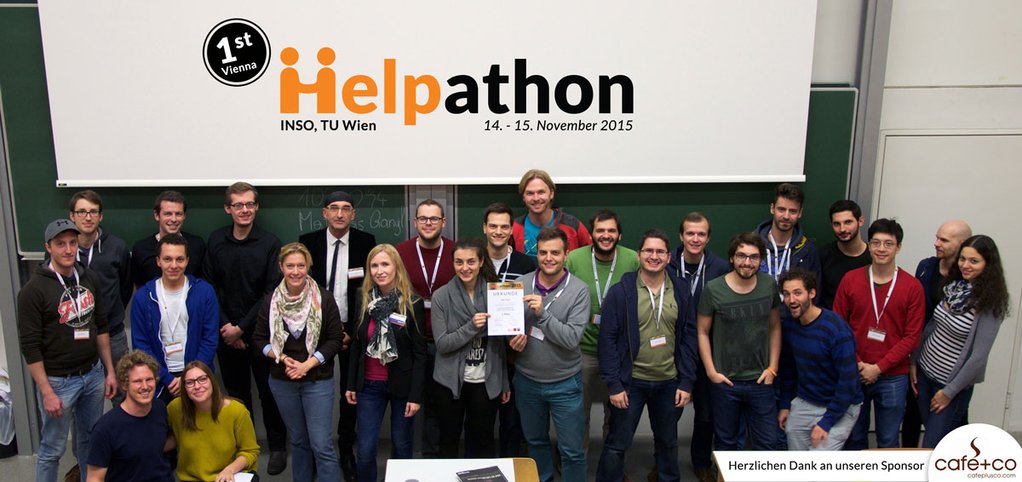 The Helpathon is a Hackathon where participants focus on developing IT-solutions for people in need. This kind of event gained a new level of importance since more and more refugees from Africa and the Middle East are seeking shelter in european countries. It took place at TU Vienna throughout the weekend on November 14th and 15th.
Our freshly re-elected chairman Paul (member of the INSO and one of the organisers of the Helpathon) invited us (Chloé Zimmermann, Florian Sturm and me) to team up and try our best. Which was not easy for anyone in the beginning – just a few hours ago Paris was hit by terrorist attacks and the news spread like a shockwave. It was difficult to focus under these circumstances. But we tried hard and figured out a nice concept after talking to Ulrike Karpfen and Elisabeth Palugyay from the Viennese Red Cross and Jochen Petri from Train Of Hope. Because two thirds of us weren't able to write code for an IT-programm we decided to take the exact opposite direction.
The idea: Provide a flexible information system for buildings and rooms that is easy to understand for both refugees and helpers.
The key: Well designed Pictograms which can be sprayed or sticked easily onto walls and also be rearranged quickly. Furthermore the pictograms can be downloaded from a website. New pictograms can be uploaded and users can recommend well designed pictograms. All pictograms should also have a positive "attitude", which means there should not be any signs that show prohibitions. In our opinion it is better to show people in need what they can do instead of what they must not do. It may be a way to contribute to the well-being of refugees and prevent frustration.
Our credo: Doing it as low-tech as possible to make it useable for every organisation.
When an architect, an IT-developer and a graphic designer combine their skills there might be some chaos first but in the end something beautiful can happen. As the deadline approached on Sunday we felt the pressure growing but we didn't give up. We finished in time and presented our idea to a jury next to 5 other teams. After a thrilling hour of waiting the result finally relieved us: 2nd place and 1000€ for the realisation of the project. A wonderful ending of this rollercoaster ride called Helpathon.
We are looking forward to the next steps of this exciting project! Stay tuned!
|