Today I had the pleasure to be part of the first day of the Mobile Learning Week (MLW) in Paris with its keynotes and discussion rounds. Last year the conference was focused on education in a mobile context with the focus on Skills for a connected world, as the MLW title implies. It seems, that this year it was hijacked by the trending ICT topic Artificial Intelligence (AI) and the education part was left out a bit. I can only assume why, but it seems that the UNESCO is shifting its focus and tries to spicy up their events with more buzzwords. AI is a trending topic and, besides its real significance, used most of the time to sell/promote things to people who have no glue about it. A couple of years ago it was the buzzword Blockchain Technologies to trigger interest and as far as I can remember, before that it was Cloud Computing. Yes, all of these technologies did or are changing the way we use and live with technology, but as before, most people are using the term AI more like this wonderful meme:
I am reporting from the MLW only from the first day, which is called "Principals for AI: Towards a Humanistic Approach" and the discussed AI topic fits more into this definition. To be fair, the next upcoming days will apparently stronger focus on education in combination with with AI and will have sessions such as "How can AI improve learning?", "How can AI boost education and learning management systems?", "How can AI be harnessed to reduce the learning inequitability?", or "Will AI promote equity and gender equality?".
Therefore, this blog post is not about Mobile Learning, but rather AI itself and summarizes some of the statements. I am pleased that at least some of the speakers were asking questions in the right direction and I hope this will continue in the upcoming AI-Education sessions. AI is happening and used world-wide, but as it is with every technology, it is just a tool and only gets a meaning or purpose when used by us. The question is not for what we should use AI and what it can do. This will be figured out anyway by the private and public sector due to demands by the market and the people. The real questions are:
Who is creating the AI, in which context was it created and what are their biases?
How transparent is it?
Who owns the AI and who has access to its tools?
Is it inclusive? Does it really mirror the society and context it is used in? (minorities, gender, sexual preferences, etc.)
How can we test and verify the decisions an AI takes for us?
Who is responsible for errors and accidents because of AI?
How democratic is the use of the AI? Who decided what we ask and for what we use it?
I am sure this list can be extended, feel free to do so, the more discussion the better. Please do not get me wrong, I favour AI and I am exited about the new possibilities AI offers, but I miss often a real discussion about pressing issues and questions. The buzzword topics Blockchain Technologies and Cloud Computing did not have the same impact capabilities as AI has. As a society we need to discuss how we would like to use AI in a democratic way. If we do not, then we will end up like China, where AI is used to control people in an unprecedented way. I personally want to live in a world were AI is enriching my freedom, not used to limit it or just to display me more fitting advertisement on Google or Facebook.
Furthermore, these questions are seldom asked for people in low-income countries. They are excluded from potential benefits of AIs already straight from the beginning. Our main goal must be to use AI to improve the lives of those who need it the most. For me, this would be a real intelligent use of Artificial Intelligence.
Here are some key statements I favoured during the key note and discussion rounds:
"Artificial intelligence is a false term, it's neither artificial nor intelligent. It is created by us and it is our responsibility."
"I work in many African countries and some of them have no freedom of press, no mandatory primary schools and a weak economy, but they develop an industry 4.0 and AI strategy for their countries. They don't want to fall behind, but lack of the basics."
"IEEE is currently working on Ethical Aligned Design for all who design technology and for the users as well. We work on how to put principal into practice, e.g. use standards to be implemented by the industry which have ethics at the core."
"Behind every data point are actual people and we should not forget that."
"Solidarity should be a core principal of AI."
"African questions have to be taken into the context of an African problem. The design of an AI must take the people and their context into consideration"
"Many people say, that we need more women in AI"
"The current AI situation is reflecting the unfair distribution of wealth in the world. Definition, access and implementation are key."
As proposed after the successful workshop at KETASCO last year (see
https://ict4d.at/2012/10/06/keta-project-looking-back/) a follow up workshop on the topic "Learning and Teaching with Digital Technology had taken place in September 2013 in Keta. The school is still growing and hosts now about 2.800 students, another 15 classes in a new block open next year.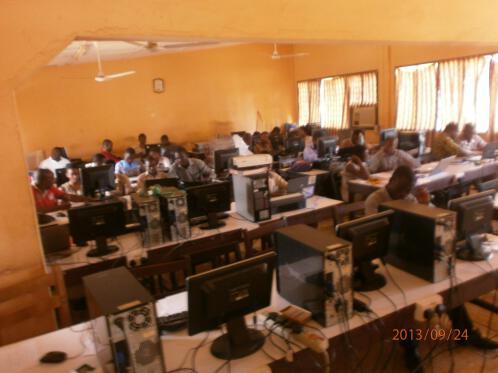 The second workshop focused on development of content for mobile learning with teachers and students and was scheduled for three weeks from 9th to 28th September 2013. The aim was to offer a chance for students to access learning material on their own mobile phones whenever they need it and to produce content particular to local demands:
Schedule: two weeks teacher training and a third week teamwork of teachers and students. Topics of the workshop:
Development of locally relevant digitized content and upload to mobile phones. Test and peer-review
Use of a Dropbox for feedback and reviews. (possibilities. benefits and challenges)
Creation of a personal digital portfolio.
Didactical methods: Evaluation of digital learning material e.g. Open Content, OER.
Guidelines for Best practice: Mobile phones for learning'.
Initially 20 teachers registered; finally 14 fulfilled the requirements for a certificate. During the third week 13 students participated. For testing 20 mobile phones (Nokia E5-00 smartphone with MicroSDHC 2GB inbox) and 5 eReader (TrekSTor E-Book Reader Pyrus mini, 4,3" Digital Ink) were brought from Europe, together with an additional WLAN router to
support mobile Internet access. Noah, an ICT student of KETASCO assisted in technical and organizational aspects, his
support was highly appreciated and contributed to the success of the workshop.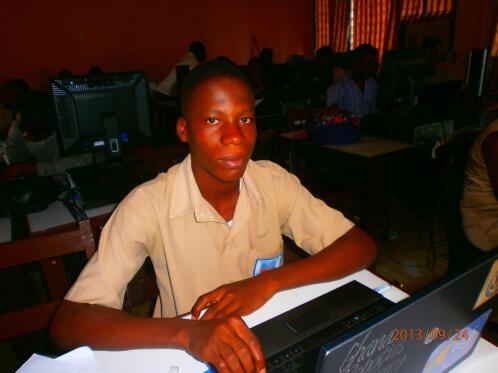 Students were introduced by teachers in creating a digital portfolio and use of a drop-box. Together they created courses for specific subjects and topics:
Social Studies: Adolescence Pregnancy
Social Studies: Adolesence Chastity
Physics: Projectiles
Physics: Atom Physics, Basics
English Language: Nouns
ICT: Classification of Computer Hardware
Business Studies: Law of agency
Graphics and Art: Elements of Design
Chemistry: Inter Atomic Bonds
Economics: Demand
Mathematics: SET Theory
The courses were presented from a student accompanied by teacher to the auditorium. Finally four external examiners
(teachers from other SHSS) approved the success of the workshop and the quality of the developed material. They gave feedback to the participants in the three categories:
Teachers' Portfolios (evaluation of reports, structure, achieved learning outcomes, keywords, take home statements, summary
Content of developed Courseunits (micro-content) developed by teachers and students units (small groups, 1-2 teachers+ 1-2 students). Assessment of course-structure, -design, suitable for small screens, visualization/images. Output as epub and pdf.
Guidelines for good practice, posters. The assessment checked on completedness of relevant facts and if the take in account needs of both parts (teachers and students) to gain better acceptance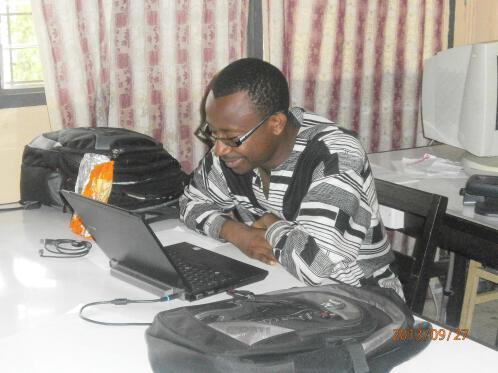 Challenges were seen in the frequent power outages, which impair the work in the computerlab. Noah is also the tutor of a team working on robotics. They prepare to participate in a comettion on robotics.
Outcome:
The second workshop led to a better understanding of the issue of mobile devices for learning than theoretical statements A similar acceptance was found in the interview with the headmaster. Teamwork with students offered new insights as well for teachers as for students and can be recognized as a basis for further developments in
teaching and learning. Teachers were encouraged to pass their learned skills on to students and colleagues afterwards.
In the opening ceremony the headmaster reported to all students and teachers about the new trends coming up in education. He addressed that this could help to become critical thinkers, referred to new didactical methods and benefits by integrating mobile devices in learning and teaching. He proposed a reform of the guidelines for the use of mobile devices at school. 14 teachers were handed over their certificates of successful completion of the workshops. Finally 4 laptops from Austrian donors were handed to the school to benefit students and teachers in the new built library.
We hope that the expertise gained in the workshops will affect further developments.
Publications of the project in international journals:
Grimus, M., Ebner, M., Holzinger, A. 2013a. Mobile Learning as a chance to enhance education in developing
countries – in the example of Ghana. In: mLearn 2012 Conference Proceedings. Specht, M., Sharples, M.,
Multisittla, J. (Ed.), Helsinki, Finland, p. 340-345, ISSN 1613-073, Volume 955, http://ceur-ws.org/Vol-955/
Grimus, M. and Ebner, M. 2013b. M-Learning in Sub Saharan Africa Context- What is it about. In . Jan
Herrington et al. (Eds.), Proceedings of World Conference on Educational Multimedia, Hypermedia and
Telecommunications 2013 (pp. 2028-2033). Chesapeake, VA: AACE. Retrieved 28.10. 2013 from
http://www.editlib.org/p/112251.
Acknowledgments:
The support to the Workshops with mobile devices (mobile phones and laptops) and the provided prices have contributed a lot to the success of the project. This is why I would like to thank Mr. Tom Trauner for assembling of the phones and the donation of lot of material. My thanks address also the Austrian Computer Society which supported the project with pen drives, T-shirts and caps. Many thanks to the anonymous donators who supported the project with laptops via mediation of Dr. Baumer.
Particularly I would want to thank my mentor, Univ. Prof. Dr. Martin Ebner of the University of Technology Graz, who helps me any time with advice and suggestions; his contributions benefit a lot to the success of the project.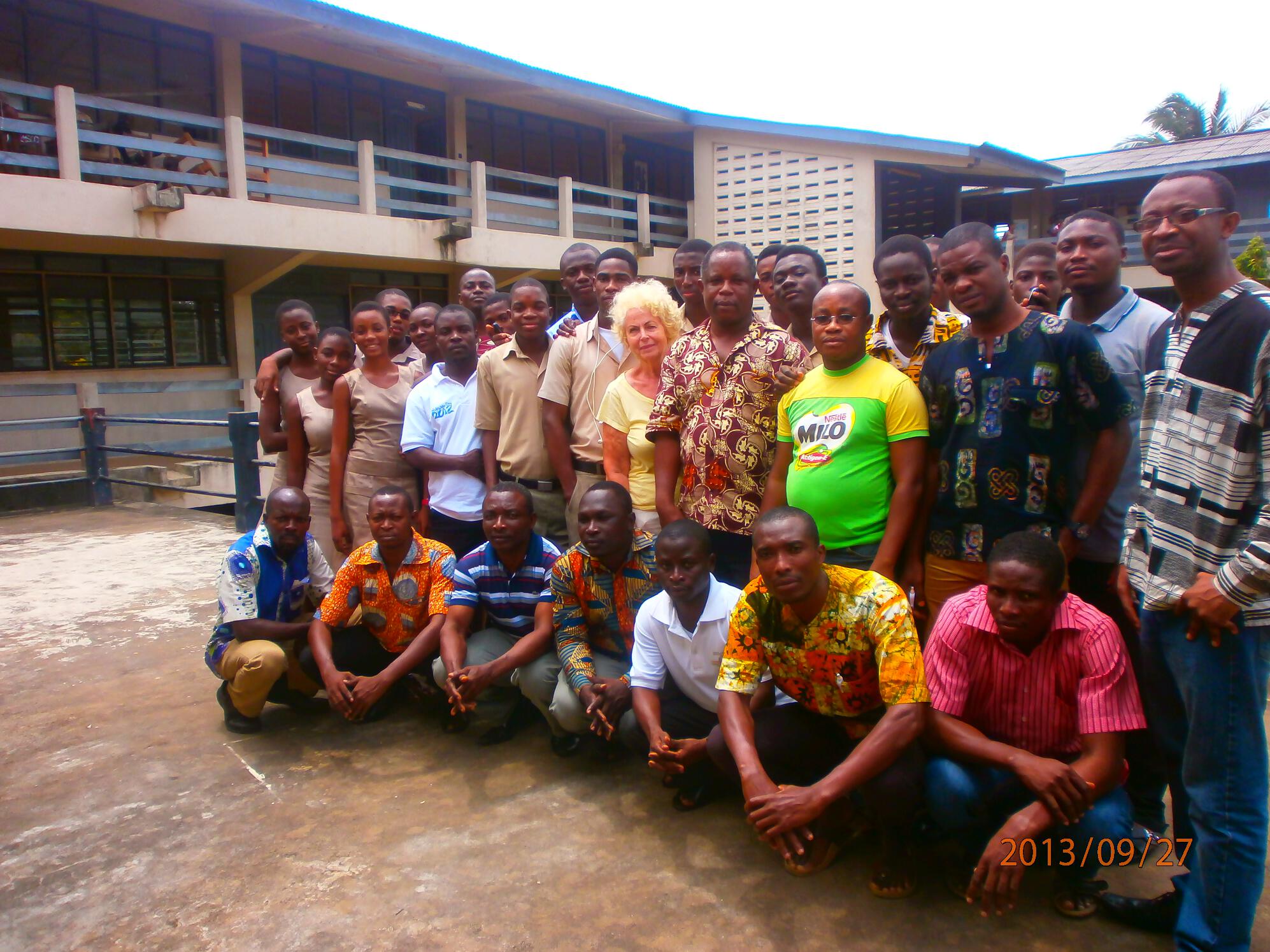 |