A year ago, our NGO ICT4D.at – Austrian Network for Information and Communication Technologies for Development – launched the workshop The Nimble Building Days in collaboration with the Austrian Red Cross (Wiener Rotes Kreuz – Flüchtlingshilfe). The event took place at the Kurierhaus, a 4,000 m2 refugee center in the city center of Vienna. We had a limited budget and three days to realize the embellishment of the refugee center, supported by motivated participants, the intensive use of Peer-to-Peer and other donation platforms. Therefore, the use of these digital platforms had a central role in our approach, combining solidarity, eco-responsibility (second-hand, DIY, …) with the constraint of limiting costs. Our aim was to sensitize the political sphere and the Red Cross to the financial benefits of such approach where a limited budget and the desire for a sizeable operation have encouraged us to find other ways. We considered the city as an immense source of materials, more accessible and affordable, newly visible through these online platforms. Digital tools free up creativity while contributing to making us citizens and professionals more responsible, more concerned about their environment and the project conditions. But most of all, the operation was an undeniable human success.
A year after, 2 other operations of different scales have been conducted still in collaboration by the Red Cross Vienna. Here are some pictures of the last project in Altmannsdorfer Straße (Vienna) in its final stage. Members of ICT4D.at, refugees, friends and volunteers have been working together to transform the courtyard into a a playful gr  een space for the residents of the center. Elements of our first project have also found a second life such as the "Kurierhaus Green Sofas" made out of unused Emergency bed and which have survived the whole winter. We hope that they will last for a little while. Furthermore, part of the ground floor had also been turned into a new social and educational hotspot during a previous Nimble Building Days event.
You made a wonderful job guys and happy birthday to TEAM NIMBLE! A new project including a maker space for refugees is on the way and we are always open for new collaborations and sharing ideas.
Enregistrer
A year and a half ago Chloé, Paul, Florian and me started the project "Team Nimble" on behalf of ICT4D.at and organised a big event called "Nimble Building Days" in a refugee home in Vienna in July 2016.
The world has turned and a lot happened over the last months. The necessity of integrating migrants into the Austrian society is obvious for many reasons. This need is very difficult to communicate to a lot of natives though. Right-wing populists influence the political scene heavily and even moderate politicians spread words of fear instead of reasonable thoughts. Despite of a big movement of solidarity back in 2015 the common motivation decreased after terrorist attacks and mostly negative media coverage. Sustainable engagement with the new citizens is more necessary than ever though. Every time I work with refugees I see how difficult it is to overcome cultural gaps. It takes time, it takes many small engagements, it takes many misunderstandings before every one feels comfortable and knows what to do. You learn to appreciate tiny improvements, nice little gestures. Like a Syrian cup of coffee after trying fruitlessly to explain the purpose of voluntary work with a few German words.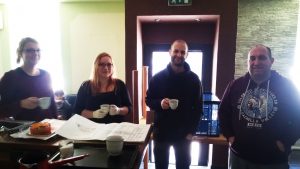 The spirit of "Team Nimble" is no magical wand that cures intercultural problems instantly. It is the feeling of not being alone in a complex and fast-changing society where no one wants to be left behind. It is the concept of using the work on common housing and living space as a catalyst for the development of social links and networks. From all my experiences up till now I can say that it is a veritable path for enabling integration. Collaborative work on projects for the benefit of the entire community might be a potent strategy for connecting cultures and for the sake of a more interwoven society.
In 2016 the Red Cross Vienna rented a former guest house and cafe in the Altmannsdorfer Straße in the 12th district of Vienna for the project IWORA ("Integrationswohnraum"). 7 families live there and it serves them as an intermediate step on their search for proper affordable housing in the city. One family inhabits a flat several months in average. Right now those families are mostly of Kurdish origin and fled from the war in Syria.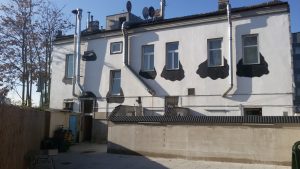 Our connection to the Red Cross Vienna has already been very strong before the start of this project. So we met in October 2016 to take a look and check out the situation. It turned out to be a place with a lot of potential for community living space. The cafe on the ground floor of the building seemed to be the perfect place for making a community room out of it. The big courtyard outside bears potential to make a comforting place with outdoor furniture, raised-bed gardening and a playground for the children. We decided to initially focus on the community room.
First step: Cleaning the room. Before the Red Cross took over the place it was a rather filthy and dark bar. We had to clean thick layers of dirt and flush half empty bottles down the drain before getting a notion of the room's potentials. Funny anecdote: The seating furniture of the bar was covered in black fake leather which obviously did not help to brighten up the room. Scratching the surface revealed cream-colored real leather on every bench.
Second step: Planning and writing a concept. It was profound enough to get funded with 2500 euros from the C&A Foundation and the Red Cross. We met again before Christmas to buy materials and tools for the event. The general credo was to make the room bright and to create a family-friendly space and a practical learning environment.
The main event of the Nimble Buidling Days 3 took place on a weekend in the end of January. From our first event at Kurierhaus we learned that strict schedules don't go along well with the creative chaos of Team Nimble. As a result we simply tried to give it a vague frame and wrote down a checklist with our daily goals, potential risks and unanswered questions.
What came out was nothing less than the creative chaos mentioned before. On day zero I made preparations with the Hausleiter and some curious residents. Although they were told what was about to happen some of them didn't get it at this point.
On the next day several helpers joined the event and it slowly became a vivid working environment. We got familiar with some motivated residents. In total we were about ten people working together during Saturday and Sunday. The mood was relaxed andwe had a lot of fun. Anders filmed the whole process (watch his documentary below). Our loose schedule helped keeping an eye on the most important steps without beingtoo strict. There was enough room for spontaneous decisions. Time flew by of course and on Sunday in the evening we were exhausted. And happy.
It was not perfect of course. We didn't manage to involve most of the residents in the process. It was hard to motivate them to leave their flats for some hours to join us. But we also had to simply accept that some families and mostly women had to deal with more profound problems.
We had to rethink some of our plans during the process. We had to buy additional material and tools. Some things we bought or planned turned out to be superfluous. Some steps took us much longer than expected. That's why we had to add two additional days for finishing the renovation work.
In the end it paid off though. The community room is bright and comfortable now. It provides solid infrastructure to use it as a learning environment and for group meetings and workshops. A corner for children with blackboards and toys will hopefully motivate also women and children to spend more time in the community room from now on.
So the first part of the Nimble Building Days 3 has been a valuable and beautiful experience again. We connected with some of the residents. They connected with us. We have something in common now. A nice project we worked on together. Although our efforts are nothing more than just a tip of the iceberg called integration they are also nothing less. The best thing that can happen is that our project inspires other people to join or start a social movement. We will find out eventually.
PS: To demonstrate you how nimble and fun collaborative work can be, Anders made also a brilliant little timelapse film 🙂
|