Tomorrow I will give a shot introduction to ICT4D at the Vienna University of Technology (TU Wien). I got invited by the Department of Geodesy and Geoinformation to contribute to a round of guest lectures of TU researches who implemented in the past related "Projects in Development Aid". I will talk about our ICT4DMZ project, a current project in India and as well as give an overall introduction to ICT4D.
I will also not be alone, since I invited Christoph Derndorfer to take over the part about OLPC. He is the editor of OLPC News and will share with us his lessons learnt from over a decade of OLPC. You shouldn't miss that!
Venue: Freihausgebäude (Wiedner Hauptstr. 8) – grüner Bereich, 2. OG, Raumnummer: DA02F16
Date & Time: 17.12 2019, 18:00
Everyone is invited to join the discussion.
I was invited by the Department of Geodesy and Geoinformation from the Vienna University of Technology to give a guest lecture regarding ICT4D. I will give a short overview, talk about the history and where the ICT4D community is currently heading. There will be a focus on practical projects from our past, since they lecture titles Projects in Development Aid.
Aim of course
Goal of the lecture is showing the participants the challenges of development aid projects. The participants will see that skills like social competence and flexibility are essential for success.
Subject of course
The focus of the course is the development aid program Appear (Austrian Partnership Program in Higher Education and Research for Development). After a general introduction, five speakers will present their respective projects. An essential aspect of the lectures are, in addition to the problem definition and the (technical) solution, the challenges of working in developing countries, dealing with inadequacies of the infrastructure, political developments, social challenges, economic conditions, etc.
You can find more detailed information here.
Pass by if you find the time, anyone is welcome:
Fri, 16.11.2018, 17:00 – 18:45
Address: Gußhausstraße 27-29, 1040 Vienna,
Neues EI, Stiege I, 3. Stock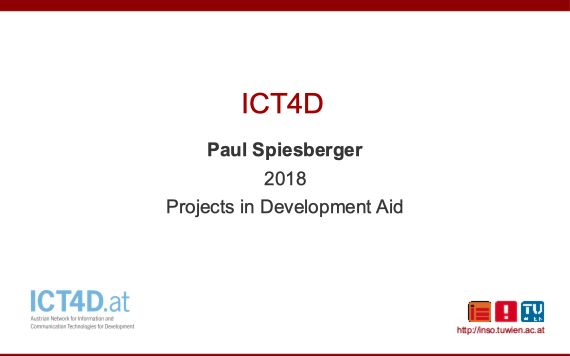 I got invited to give a talk about ICT4D in a lecture called Beyond the Desktop due to my affiliation to the Vienna University of Technology. The lecture covers a broad spectrum of technology applications and aims at design thinking. It targets Master students who combine in their studies software engineering, user interface design and user experience design. The goal of the lecture is to also look beyond the usual software applications and illustrate other exiting fields such as wearable technologies, ambiguous computing and also this semester for the first time ICT4D. Beyond the Desktop aims at:
Employing and acquiring skills in user interfaces beyond the traditional Desktop.
Getting to know various technologies to solve problems in this field.
To be able to understand and apply principles in design and evaluation according to HCI fundamentals for future mobile applications.
Prototyping new kinds of actions between humans and computers
In my guest lecture I will give a broad overview of what ICT4D is and where it originates. I will illustrate some ICT4D projects in the field and also focus on past failed projects to show the misperception of ICT4D. Followed then by a presentation of our ICT4DMZ project and my experience form India, since both projects were implemented in cooperation with INSO and DECO, the hosting research groups.
If you are interested in a dialogue about ICT4D, then feel free to join me:
Venue
GM4 Knoller
Hoftrakt, Stiege IV, 2. Obergeschoß
Getreidemarkt 9, 1060 Wien
Directions in German
Time: 14.06.2018, 16:00 – 17:30
Language: English
See you there!
|