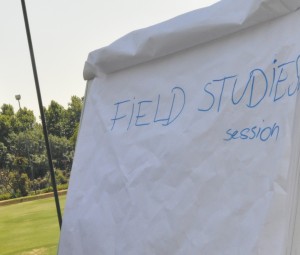 A few days ago I attended a talk by Jeanette Blomberg at the University of Technology Sydney (UTS). Jeanette worked at Xerox PARC in the 80s and is currently at IBM research. The talk was about ethnography and design, based on her experience from working as an ethnographer in a technology context for the last 25 years.
Since ethnographic research is really relevant for the design of ICT4D solutions and probably most of our readers have used ethnographic methods themselves in their work before, I decided to post a short summary of my notes here.
Jeanette started with a nice introduction about ethnographic research and presented the following principles of ethnography:
study activities in their everyday settings
focus on relations among activities and people (interactions) and not on single tasks or isolated individuals
descriptive accounts of activity
member's point of view
focus on what people do
She further emphasized how ethnography should be seen as a collection of multiple methods for collecting data, including informal interviews, observations, self-reporting, video analysis, artifact analysis, etc. It's also important to "adjust as you go", since ethnography is a very improvisational approach, which requires iteration. This is a very important issue in my opinion and something that I personally often find difficult to implement in an academic context, where you have to define your research approach in detail beforehand.
Another interesting insight that I took away from this presentation was that participatory design (PD) is often used as ethnographic method, meaning that ethnographers don't only observe people without interfering (one of the myths about ethnography), but also involve them in the design process. Apparently a joining of PD and ethnography happened in the middle 80s.
PD in an ICT4D context has been done (e.g. for developing community radios), but as Gary Marsden said during a session on mobile interaction design at last year's MobileActive conference, it often doesn't work to involve users for informing the design process in developing countries. Or more specific, the context and hence the requirements are different to developed countries, where PD and user-centered design (UCD) have been successfully applied and explored for many decades.
The talk ended with a discussion of how both technologies and goals have changed over time. Technology is currently developing towards an anytime/anywhere approach and technology-enabled services. (Very true for ICT4D.) Goals have changed from improving the quality of work life (in the 80s) to designing more usable and useful technologies, and more success products. Recent trends show that now the most important goal often is to design more sustainable ("green") products. (Again, something that is very true for ICT4D, considering that resources are scarce in developing countries.)
Thanks to Jeanette Blomberg for this really insightful talk and thanks to UTS for organizing the event.
Here comes our contribution to e-STAS – Symposium on Technologies for Social Action – next mo

nth in Malaga, Spain. I will attend the symposium and will meet great people and make new friends, all of them ruling ICT4D. Adrien Mangin which is co-organizing the event invited us to attend, so we just said yes and we spontaneously made up this article. It is only the first draft but kind of stable. Enjoy:
How do Information and Communication Technologies (ICTs) influence society in Lesser Developed Countries (LDCs)? In our opinion, ICTs are the most promising tools that can shift the power balance between the rich, the poor, the institutions and the people to be offered in decades. In areas such as democracy, journalism or the business/financial sector, new and innovative movements are emerging, empowering the poorest of the poor. The first part of this article attempts to express our views on how this is being accomplished and provide examples demonstrating the enormous power of Information and Communication Technologies for Development, known as ICT4D. The second part of this article suggests a research approach and methodology that we use to evaluate how people in LDCs interact with ICTs using a User Centered Design approach, which what we also call UCD4D.
|