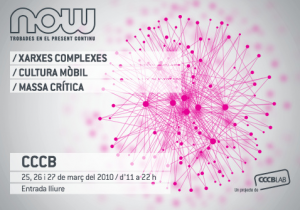 We are very pleased to announce that our documentary received an invitation to be showed at the NOW festival in  Barcelona, at the CCCB (Centre de Cultura e Contemporània de Barcelona).
The festival is going on between 26-27/3, and Hello Africa is to be screened on Saturday 27 March, 19:00 in the main foyer, listed under the New Activism category.
The festival describes itself like this:
NOW is a reflection on the present based on the scientific, technological, artistic, social and spiritual transformations that are taking place at the start of the 21st century. It is a process of research, creation and dissemination that aims to bring together different local and international agents involved in the actions that are promoting a change of paradigm in the information and knowledge society and in globalised cultures.
If you want to follow the event on Twitter, the hashtag is #now10. There is also a live streaming of the ongoing events on their webpage.
Tags:
barcelona
,
CCCB
,
documentary
,
hello africa
,
ICT4D
,
ICT4D.at
,
mobile phones
,
NOW
,
screening
,
Spain
,
UZI Magazine
Hello Africa goes to Barcelona this weekend
was published on 25.03.2010 by Anders Bolin. It files under
global
You can follow any responses to this entry through the
RSS 2.0
feed.
|