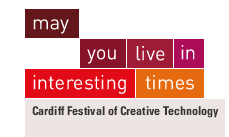 Our documentary Hello Africa continues to tour the world. Previously shown in Accra, Ghana, at the Maker Faire Africa event, 14-16 of August (Which we attended and covered in detail here) , and just recently we were honoured to be invited and have it screened at a festival event called May You Live in Interesting Times, in Cardiff, Wales, 22-24 of October. This was a three-day festival "that celebrates the latest intriguing uses of everyday technology and social innovation, enabled through shared ideas", and the film was screened daily on their festival hub. Here's a brief description of the core idea behind the festival:
.
"With technology now firmly placed in the everyday we have put together a festival programme that explores how participation is increasingly the driving force behind much digital content. Mass-technology has enabled individuals and communities to become connected and share information."
.
Unfortunately we had no possibility to attend this great event ourselves, but according to Carolina Vasquez who is a festival coordinator there, the movie was highly appreciated by the audience and a "great success". Check out the screening program here, and the Hello Africa entry here.
|