I remember a phone call in October 2018. Birgit, now member of our NGO, asked me if ICT4D.at wants to be part of an Erasmus+ funded project involving several countries on the African and European continents. The premise: Supporting and mentoring young social entrepreneurs and leaders from Namibia, Romania, Zimbabwe, North Macedonia, Mozambique and Austria and empowering them to solve societal challenges of their communities and to work for a better world.
Of course I felt immediately intrigued and so were the other members. After some calls with the partner organisations and internal meetings we decided to become part of this journey. We tried to plan ahead as profoundly as possible. We prepared for our trips and gathered ideas for workshops. And we were looking forward to meeting young social entrepreneurs and the teams of Mladiinfo and Young Africa in person. What we didn't have in mind during our preparation phase though was a global pandemic.
Time to celebrate resilience
Three and a half years later YES We Care 2 recently reached the finish line. The project got quite a beating by COVID and all it's strings attached. That means we had to cancel our plans in 2020 after the project was already up and running for a few months. It was possible to move workshops and meetings to online spaces of course. But the overall outcome of the project became uncertain and we weren't able to organise real life meetings. Our goals seemed fall apart almost entirely. The organising teams therefore had to reset and come up with a new timeframe for the rest of the project. And they did a good job.
Despite the major setback and thanks to the commitments and organising work of the involved teams it is great to see that YES We Care 2 turned out to be a resilient undertaking in the end. We can now sum up certain milestones and show numbers and achievments reached within the last years:
3 contact making seminars took place in Africa
40 young people were skilled up on SE topics within the online events
2 online trainings were held for educating young entrepreneurs on Sustainability and Communications
24 social business and ideas were mapped in 6 countries
11 videos of young social entrepreneurs and experts were created
The YWC2 website reached more than 6.300 users and gathered 14.000 page views (Feb 2019-Oct 2020)
And the YWC2 Instagram and Facebook pages gained a lot of traffic and interactions (Instagram: 390 followers, 71 posts; Facebook: more than 1600 fans and followers, 170+ posts which reached more than 50.000 people)
To celebrate the achievements I had the pleasure to create info graphics and illustrations that visualise the milestones and numbers of YES We Care 2. 🙂
Feel free to use and distribute the graphics considering the CC terms below.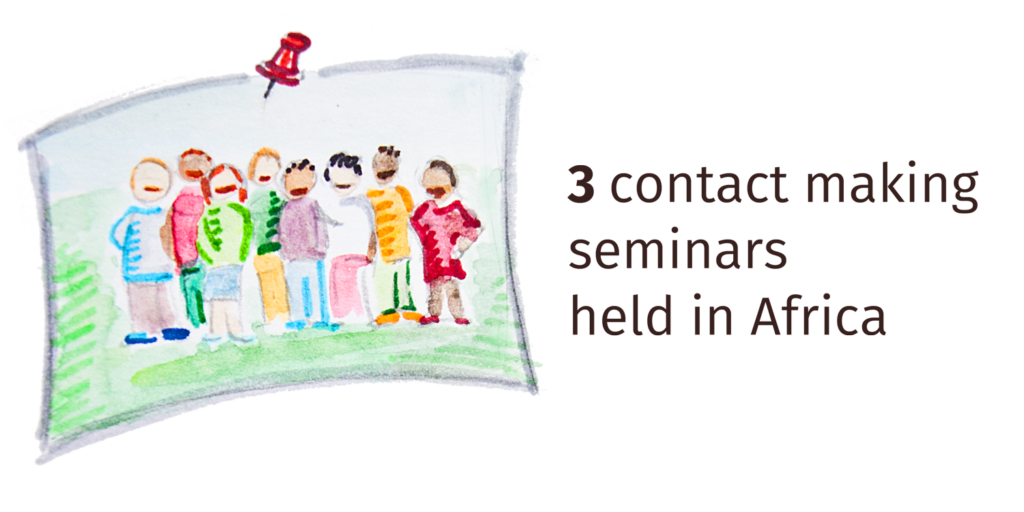 This work is licensed under a Creative Commons Attribution-ShareAlike 4.0 International License.
We recently started to work with mladiinfo from Macedonia, Risky Businesses from Romania and YoungAfrica from Zimbabwe, Mozambique and Namibia on our YES We Care 2 – Youth Empowerment through Social Entrepreneurship. We support our partners with our ICT know-how and contribute with our experiences from the field. The overall goal is to map social entrepreneurs in Zimbabwe, Mozambique and Namibia and offer them trainings, networking and guidance to further grow their businesses. ICT plays a vial role in establishing a successful business and needs to take local realities such as limited resources and different interface into consideration. Read more here about the current project and find here more information about the past first project implementation.
Kick-Off in Harare
We started the project with a kick-off event in Harare, Zimbabwe where the consortium met for the first time in person. We discussed and planned the upcoming studies visits in the three African countries and how we will succeed in the implementation. The meeting was a lot of fun, surfaced many challenges within our planning and brought us all closer together.
First Study Trip to Beira in Mozambique
For the last few days the city of Beira in Mozambique was our working place. Although "working" is not quite the right term. It was a mix of study visits, cultural networking and enjoying the country. In total it was quite intense, we were visiting a lot of places, met a lot of interesting people and promising NGOs – even the mayor of the town gave us an official welcome.
Our goal within the project was to find local social entrepreneurs to invite them to a training session in Macedonia next year. Our project "YES We Care 2" aims to give those motivated people and their ideas an educational boost and a network to reach out to potential sponsors.
Yet it was not easy to find social entrepreneurs in the local scene since the term is relatively unknown in Mozambique. There might be already several well running businesses which fulfil the criteria of a social entrepreneurship but they are not on the radar of our local partner. Speaking of which: Our study visits and trips around Beira were organised by Young Africa Mozambique. They run a training centre in Beira and in Dondo, a nearby spot in the country side, where they provide education, vocational trainings and many other courses with very practical aspects for young students. In different franchises the students learn to become bike mechanics, farmers, electricians, cooks etc.
Young Africa introduced us to those franchises and we got more than a glimpse on the social impact of the organisation. They also arranged visits with local government officials and businesses and other NGOs. One of the first meetings was with the mayor of the town. Sitting in the mayor's office, presenting our project, taking pictures – all that gave our trip a very official start and we felt honoured to be invited. The mayor mentioned that we need to try prawns and that supporting young citizens might be even more important after the big cyclone earlier this year.
We were very impressed by the rather quick recovery of the city. The damage of the cyclone is still visible in many places (e.g. many of the roofs are still gone) although the citizens did a great job in rebuilding the structures. As always, the ones who suffer the most are the poor inhabitants. And there are a lot. We passed by many slums when we were going around by car and it gave us yet another reminder how privileged we are to travel around the globe, sleeping in clean beds and having regular meals.
Our discussion cycled daily around the circumstances these people are living in. The question is: How can we help the motivated entrepreneurs and project leaders in the most sustainable way? We cannot solve their problems, but only support them in helping themselves. For us, it is obvious that we can achieve that by establishing strong networks which last longer than our short trips and most importantly providing tools to them to help themselves. Start a business, create jobs and rebuild the city.
The diverse members of our group were also quite colourful and it was a pleasure to work with all of them: Mhlonipeni from Zimbabwe, Constance from Mozambique, Shemo and Lulesa from Macedonia, Robert from Romania, Eric from Belgium, Paul and Georg from Austria. Finding topics to talk about wasn't hard. Politics, cultural habits, sharing ideas and telling jokes only scratch the surface. There were always funny cultural differences and language barriers. We spent hours trying to bridge those gaps. Trying to count in the different languages was maybe the most hilarious part.
In the end, we shook a lot of hands, built up networks, led very interesting conversations and discussions about social entrepreneurship and how to improve the situation for young entrepreneurs in Beira.
One good example was 3R Mozambique. They create a clean environment for current and future generations through the transformation of the waste. Furthermore, 3R provide integrated waste management services for medium and large organizations and build waste treatment infrastructure across Mozambique.
We also met Baisikeli who import second-hand bikes from Denmark supported by their sponsor. They repair the bikes, sell them in local shops and promote eco-friendly transport in Beira. If this wasn't already enough, they work with Young Africa in Beira to train young students to become bike mechanics and also create bikes for handicapped people. Many still loose their ability to walk due to a still existing mine problem in the surrounding area. Recently they also built bikes with a pizza oven included, they plan start new businesses with mobile pizza bikes!
We also used the opportunity to connect with local universities. Paul met colleague from the Universidade Zambeze. The local public university which suffered badly from the cyclone. Almost all of their computers were destroyed and they now face the challenge to teach computer science for 500 students with only 20 computers. We talked about how we can support them and explored possible collaborations.
Overall, we simply had a lot of fun. Mozambicans are very friendly people and we are very grateful for the opportunity to learn more about the Mozambican culture. Therefore, we want to thank Young Africa and our project partners for the wonderful collaboration: Mladiinfo and Risky Business.
Written by: Paul Spiesberger and Georg Steinfelder
|